If you take a look at Marion County in Florida from the air (seriously, Google Earth it), you'll find the landscape heavily dotted with curious, sand-colored, oblong loops. Each one is a horse track, and any one of them could be the training ground for the next great Triple Crown winner. Their sheer number, from Anthony to Summerfield, is a testament to the Ocala area's tireless contributions to the world of thoroughbred racing. If you're in the market for a track property to train tomorrow's champions, Ocala is the place to buy. The following are features and amenities that Showcase Properties can help you procure. Be sure to check out the table at the end for all the awesome training facilities we have listed right now!
Acreage and Barn Size
At Showcase, we understand that acreage, track and barn size are perhaps the most important elements you'll be considering when searching for the perfect training facility. Efficiency is key when running a training horse farm, and we're here to help you find the property that suits your needs.  Do you need multiple small barns, or considering a larger barn with more stalls? We have properties with shedrow style, broodmare barn, or large stalls sizes available for the buyer looking for other options.  Do you need a manager's office or a farm manager's living space? We'll work with you to answer your questions. Our agents are highly experienced in selling horse track properties and will devote their resources to helping you find the facility that fits your needs!
Track Length and Track Access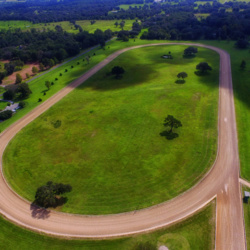 In addition to size of the property, we know that size of track also matters. Many horse farms in the Ocala area have 5/8-mile and 1/2-mile tracks perfect for younger horses who are just beginning their training. Marion county also has plenty of longer tracks if you require greater length for keeping ready-to-race horses at the top of their game. Do you want a track exclusive to your property, or access to a track maintained by a third party? We have several properties with track access freeing you to continue your training without the hassle of daily maintenance. Some of our listings even include a working starting gate. Whatever you need, our agents at Showcase will work with you to find the perfect facility.
Other Goodies
Ocala's horse track properties offer many enticing extras that can diversify your training efforts. Several training facilities listed include updated equine pools for physical therapy and aerobic exercise — a must for any athlete! We also specialize in finding amenities like round pens, Eurocisers, covered riding arenas, and jump fields for our clients. Our inventory is so detailed we can find you the ideal barn built to your preference. Do you prefer concrete block or wood barns? Whether you prefer the stripped-down simplicity of a barn and a track or a turnkey facility,  we've got a listing for you.
At Showcase, we're excited to list some of the most beautiful and well-equipped training facilities in the Ocala area. Take a look below to explore our current listings and or we will show you any listing on the market until we find your perfect track property!
[table id=5 /]
Comments
comments