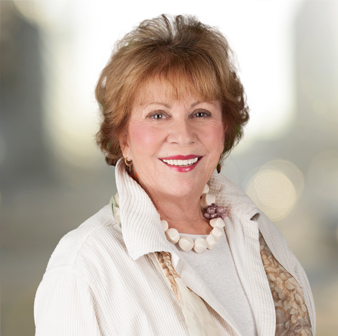 Louise Bono | Broker Associate, REALTOR ®
Louise is originally from England, but began her real estate career in the 70's in Miami Beach with the Keyes Co. selling art deco, waterfront mansions, and getting her broker's license after becoming a member of their Million Dollar Sales Club.
In 1978, she moved with her family to Ocala after purchasing a 2-year old filly from OBS and established Turning Point Farm, where they became involved in breeding, training, and racing thoroughbreds. Their very first filly became a stakes winner and the second dam of their most successful racehorse, Delaware Township. In 2001, Louise and Harry Bono won the prestigious Joe O'Farrell Memorial away from OBS.
Louise and Harry formed Bono Realty and for nearly 20 years specialized successfully in the sale of farms, land, and golf courses.
Now retired from the horse business, they are living quietly on a golf course, where Harry enjoys the game nearly every day.
What is your favorite aspect of living in Marion County?
First, you have to love how beautiful this county is, from the picturesque horse farms to the pristine rivers, park, biking paths, and golf courses to the mysterious forest and charming small towns outside of Ocala. Every direction offers something different and the roads to get anywhere are well maintained. 
What keeps you passionate about real estate?
I enjoy the matchmaking aspect of connecting the buyer and seller. Finding the perfect home for a family or the perfect property for an investor is important to me. Making the numbers work, completing all of the many details, and following through makes each sale an adventure. 
What do you do in your spare time?
Most of my spare time is spent in my garden. It is where I relax and enjoy the beauty and challenges of my roses. Twice a month I volunteer at the Dunnellon Library bookstore, where I discover new books and new friends. I am secretary of a Garden Club, which I have enjoyed for many years and where I continue to discover the world of mother nature. 
Do you prefer cats or dogs?
Marque is our magnificent 5-year old female Doberman. She is the sweetest, kindest girl, but you will not find her in our office as you will many others. Marque has a protective instinct, whereas our little Winstone, a sweet Cavalier King Charles Spaniel, loves everyone. No cats, for obvious reasons.
What is your favorite kind of cookie?
I have the best Biscotti recipe that I make often for family and friends (Bono's Best Biscotti.) I enjoy making it, but my favorite cookie to eat is the one Shari McAllister makes for Christmas, which has a chocolate kiss in the middle. I can't wait for Christmas!
---