A 20-acre Thoroughbred Training Facility in Central Florida's Horse Country.
3790 SE 146th Avenue, Morriston, FL
Contact Barb Stanley for the most up-to-date pricing   •••    OM605805
Request More Information on Lejeune Training Facility
Request Your Digital Brochure of Lejeune!
This Morriston, Florida training facility is well-prepared for thoroughbred usage. Lejeune Training Facility is part of the renowned Oak Ridge Training Center, which counts among its graduates 2010 Kentucky Oaks winner Blind Luck and 2012 Tampa Bay Stakes winner Roman Tiger. The Center is also known for having one of the best one-mile dirt tracks in the US (including a regulation-size, six-stall starting gate) having specially calibrated to take your horses' training to the next level. It also includes a 7/8 mile turf track, as well as access to an Official Starter.
Lejeune is one of the most private parcels on Oak Ridge's 330 acres, set on 20 acres at the end of the road with south-side frontage on the track. With a 12×24′ office space in middle of the barn convertible to an efficiency apartment, and plenty of room to build a home, Lejeune is fully functional and ready for all of your thoroughbred training needs.
For a more comprehensive list of upgrades, or to ask for more information, contact Barb today!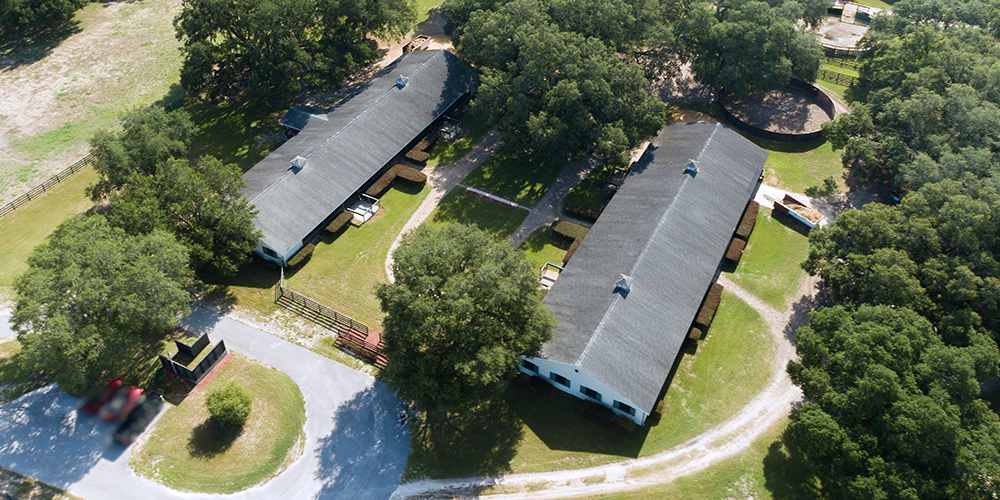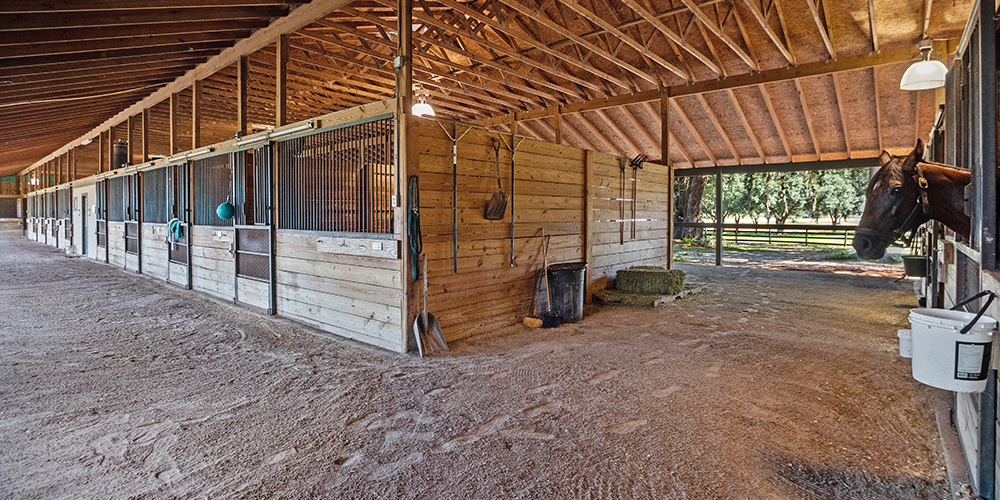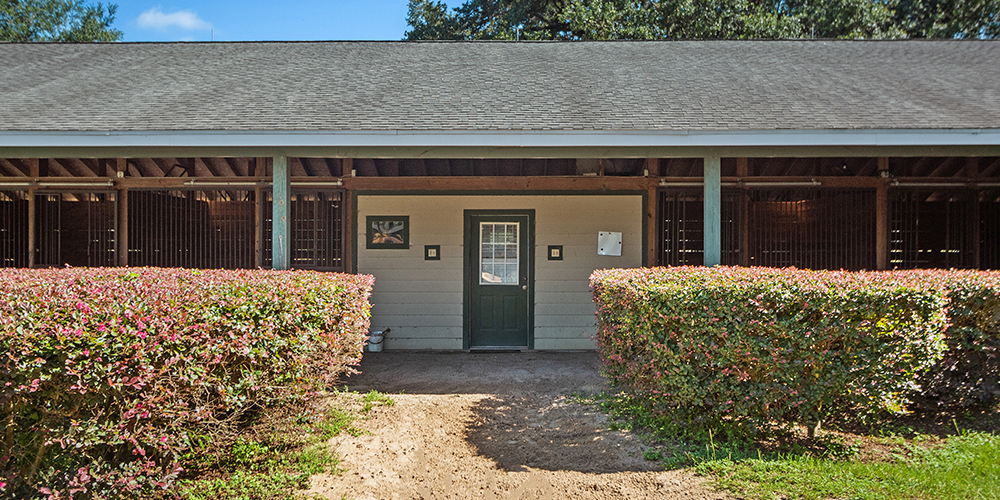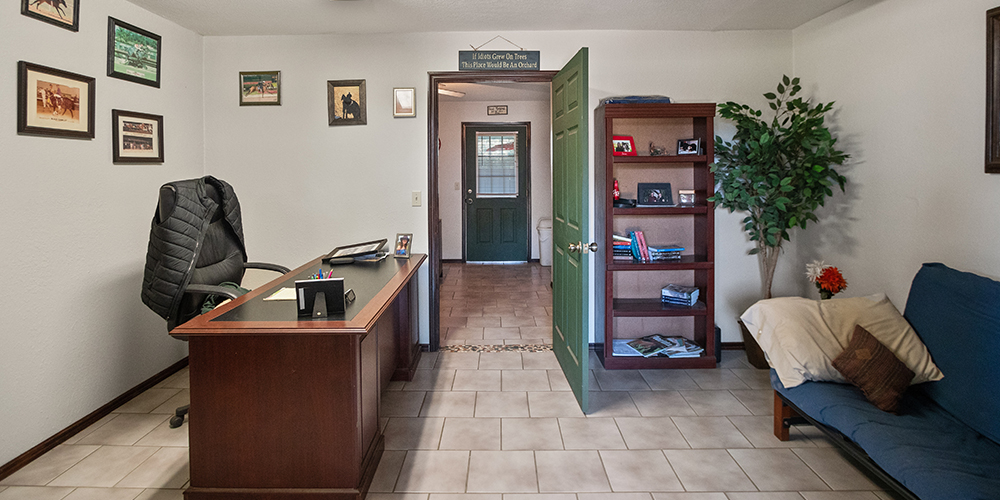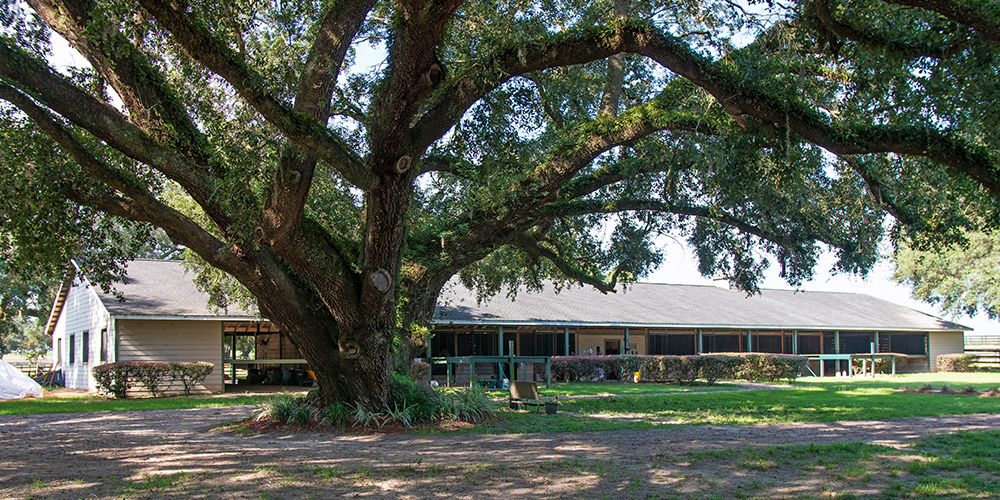 A training facility is only as good as its amenities and resources, and Lejeune delivers. Whether training your own horses or those of clients, Lejeune is equipped with everything you need to turn green yearlings into top-performing athletes. The facility's amenities include:
• Direct access to Oak Ridge's one-mile dirt track
• Access to a 7/8-mile turf training track
• Two artfully-designed racetrack-style barns parallel to the track, totaling 48-stalls
• Barn courtyard shaded by a beautiful oak tree
• 12 x 24′ office with bathroom and convertibility to an efficiency apartment
• Tack storage space
• 8 cross-board fenced paddocks
• One round pen
For more information on Lejeune's features, amenities, and home-building possiblities, contact Showcase REALTOR® Barb Stanley.
Morriston, Florida is full of the natural beauty that has made Central Florida horse country famous—and one of the best places in the US to train thoroughbreds. The Morriston area offers the best of Florida: rural privacy with access to an impressive variety of metropolitan attractions.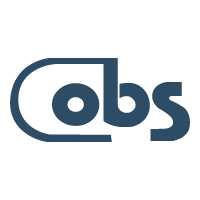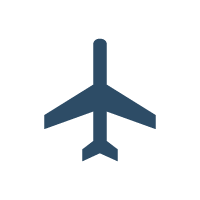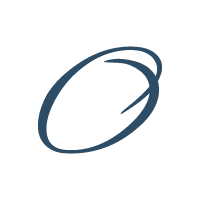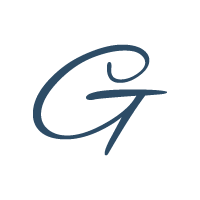 Ocala Breeders' Sales
14.7 Miles
(20 minute drive)
Ocala International Airport
14.9
(21 minute drive)
Downtown Ocala
17.6 Miles
(27 minute drive)
Downtown Gainesville
29.5 Miles
(41 minute drive)
Equestrian Culture
Central Florida is famously known as a vibrant hub of equestrian life, especially the thoroughbred industry. Ocala Breeders' Sales makes its home here and hosts five thoroughbred sales a year that attract an international pool of buyers and sellers: The Winter Mixed Sale, March Sale of Two-Year Olds, Spring Sale of Two Year Olds, July Sale of Two Year Olds and Horses of Racing Age, and the October Select and Open Sales of Yearlings, Two Year Olds, and Horses of Racing Age. OBS also hosts racing events as well as workouts at the Ocala Training Center. A short drive to the south, racing enthusiasts can also enjoy day trips to Tampa Bay Downs in Tampa where the Tampa Bay Derby is the premier annual event every spring.
Florida Attractions
What would Florida living be without a trip to Disney? Morriston is well within day trip distance to all of Florida's world-famous parks and resorts at Disney, Islands of Adventure, and more. But theme parks aren't the only attractions Florida has to offer. The nation's oldest city, St. Augustine, is nearby on the coast and offers numerous opportunities to glimpse Florida's rich history up close—along with its beautiful Atlantic beaches. To the south is Bok Tower Gardens where you can experience the unique music of one of only 185 carillons in the United States, explore the historic grounds, and hike to one of of the highest points in peninsular Florida. For those who look even higher, the Space Coast to the east offers not only a day at the beach but also the chance to experience NASA's Kennedy Space Center as well as view shuttle and rocket launches.
Lejeune Training Facility truly has it all: everything you need to train Derby-quality equestrian athletes, a place to call home in the heart of Central Florida horse country, and a gateway to Florida's sun-soaked, luxurious lifestyle. At Lejeune, you'll always love where you live!
Not Quite What You're Looking For?
Well supported by a network of experienced farriers, tack and feed stores, state of the art medical facilities, comprehensive transportation options, and much more, Marion County is a hub for Florida's equestrian industry. As such, there are plenty of options available for equestrians of all skill-levels and disciplines. Take a look at what else Barb Stanley has available:
Nic-A-Dee Farm
4280 NE 97th Street Road, Anthony, FL 32617
OM604148
This 5-acre property is perfectly set-up for easy horse care. The drive meanders through paddocks to the 9-stall barn (two of which are foaling size) near the back of the property, set under lovely big oak trees. There are a total of 8 paddocks and a round pen, covered run-ins, and one 6-bay run-in, a utility garage/shop, and the potential to create an apartment in the barn.
Barb is a lifelong equestrian and an avid owner and trainer of Morgan horses. She has a special place in her heart for partnership training, and in her spare time she can almost always be found playing with her horses.