Labor Day approacheth, and it's one of the last lazy summer days before barbecues and sundresses are replaced by sweaters and football games. Send summer off in delicious style with our Labor Day cookout menu full of enough sweet and savory flavor to hold you over even as the days begin to shorten. Enjoy!
Libations:
Frosé and Infinite Ale Works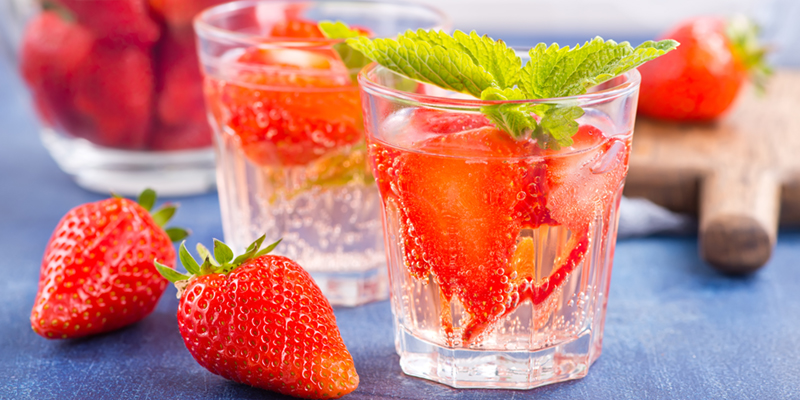 If you're celebrating Labor Day in Florida, it's still probably going to be just as hot as the 4th of July. Keep yourself and your guests chill with a tall pitcher of frosé, the designated "it" drink of the summer! Multiple ritzy cocktail bars around the country have laid claim to inventing this gorgeously refreshing wine slushie, but you don't need any fancy gadgets or ingredients to make your own at home. Here's what you do:
Ingredients
• One bottle rosé of your choice
• Ten oz (or about two cups sliced) strawberries, plus more to garnish
• One tablespoon granulated sugar
• 1/4 cup vodka
• Two tablespoons grenadine (you can also substitute Campari for a little extra flavor)
• Rose water to taste (optional)
Instructions
1. Pour the rosé into ice cube trays and let freeze overnight for at least eight hours
2. Combine the strawberries and sugar in blender and let sit at room temperature for about ten minutes.
3. Add vodka, grenadine (or Campari), rose water (if using), and rosé cubes. Blend on high until smooth. Pour into glasses and garnish with strawberry. For a thicker consistency, freeze the blended mixture for 30 minutes and blend again before serving.
For those guests who aren't tempted by wine, consider offering some awesome local beer from Infinite Ale Works. Infinite has over 40 craft beers on tap every day, all of which are available to be taken home in 64 oz growlers. Wow your partygoers with some fresh and crisp West Floridian Belgian Quadruple Ale, or dusky and delicious Into the Dark Unknown Imperial Stout.
Appetizers:
Pico de Gallo and Chips With Guacamole
Time to move on to the munchies! Everyone loves a good appetizer: something simple yet undeniably yummy to start the party off right. We've got two recipes for you that are sure to get your guests psyched for the main course.
Our first is a fresh twist on the old standby of chips and salsa: chips with pico de gallo and guacamole.  Pico de gallo delivers all the same flavor as salsa with the lightness of fresh veggies, and the guac keeps it filling but not appetite-ruining.
Ingredients
• Five firm Roma tomatoes
• Three to four ripe avocadoes
• 1/2 large or one small white onion
• Three jalapeño peppers
• Cilantro, lime juice, and salt to taste
Instructions
1. Mince tomatoes, onion, jalapeños.
2. Combine tomatoes and jalapeños in a bowl and stir until mixed. Add onions and stir until mixed.
3. Chop cilantro fine and add to bowl.
4. Squeeze lime over ingredients and add salt. Stir until mixed.
To make the guacamole, all you need to do is scrape the meat from the avocados, mash them until chunky with the bottom of a cup or a fork, and fold in the desired amount of reserved pico de gallo. Add another squeeze of lime for flavor and to preserve the color of the avocado. Serve together with your favorite brand of tortilla chips!
Bacon Brown Sugar Smokies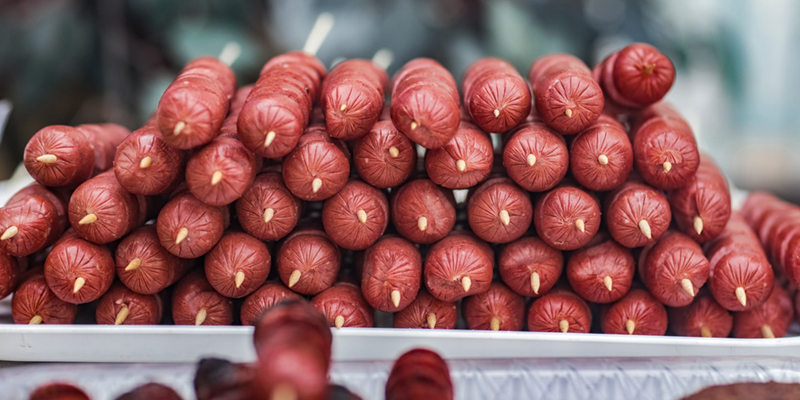 Our second appetizer of brown sugar and bacon lil' smokies  is a sweet and savory creation that's a snap to put together (and totally addictive!).
Ingredients
• One pack lil smokies
• One pack bacon
• Eight oz. brown sugar
• toothpicks to serve
Instructions
1. Line a baking sheet with aluminium foil and preheat oven to 400 degrees.
2. Cut bacon strips in half
3. Wrap each lil smoky in a half piece of bacon and place close together on cookie sheet with the end piece of bacon down
4. Sprinkle with brown sugar.
5. Bake at 400 degrees for 30 minutes, or until sugar is carmelized and bacon is fairly crisp
6. Serve on a platter or plate with toothpicks
The Main Event:
Beer Can Chicken With Cola Barbecue Sauce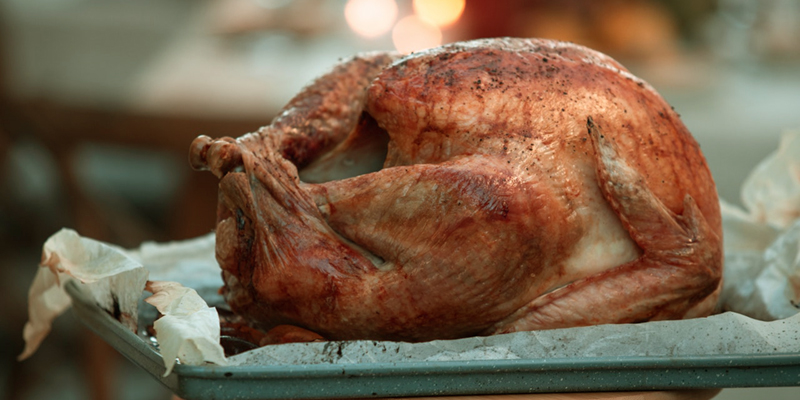 Our main course takes a little extra effort, but it's so worth it. Beer can chicken combines cooking on the grill and cooking with alcohol–what more could you want for Labor Day deliciousness? The cola barbecue sauce adds a flavorful twist to a cookout classic.
Ingredients (main)
• One 12 oz can of beer
• One chicken (three and a half to four pounds)
• Two tablespoons basic barbecue rub (recipe follows)
• Two cups cola barbecue sauce (recipe follows)
• Four to Six cups hickory or apple wood chips, soaked for one hour in water to cover, drained
Chicken Rub
• 1/4 cup firmly packed brown sugar
• 1/4 cup sweet paprika
• Three tablespoons ground black pepper
• Three tablespoons kosher or sea salt
• One tablespoon hickory salt
• Two teaspoons garlic powder
• Two teaspoons onion powder
• Two teaspoons celery seeds
• One teaspoon cayenne powder
Combine all ingredients in a mixing bowl and stir to blend together. Store in a small airtight jar for six months.
Cola Barbecue Sauce
• One cup cola
• One cup ketchup
• 1/4 cup Worcetershire sauce
• One teaspoon liquid smoke
• Three tablespoons steak sauce
• One teaspoon onion flakes
• One teaspoon garlic flakes
• 1/2 teaspoon freshly ground black pepper
Combine all ingredients in a heavy, nonreactive saucepan and gradually bring to a boil over medium heat. Reduce heat to a gentle simmer. Simmer for six to eight minutes until sauce is reduced by 1/4. Use immediately or transfer to airtight jar, let cool, cover, and refrigerate. Will keep for several months.
Instructions
1. Pop the tab off the beer can. Using a church-key style can opener, make a few more holes in the top in the can. Pour out half the beer into the soaking water of the wood chips. Set can of beer aside.
2. Set up the grill for indirect grilling. Preheat to medium. If using a charcoal grill, place a large drip pan in the center. If using a gas grill, place all the wood chips in the smoker box or in a smoker pouch and preheat the grill to high until you see smoke, then reduce the heat to medium.
3. Remove the packet of giblets from the body cavity of the chicken and set aside for another use. Remove and discard the fat just inside the body and neck cavities. Rinse the chicken, inside and out, under cold running water, drain, and blot dry inside and out with paper towels.
4. Sprinkle 2 teaspoons of the rub inside the body and neck cavities of the chicken. Rub the bird all over on the outside with 2 teaspoons of the rub.
5. Spoon the remaining 2 teaspoons of rub through the holes into the beer in the can. Beer may foam slightly. Insert the beer can into the body cavity of the chicken and spread out the legs to form a sort of tripod. Tuck the wing tips behind the chicken's back.
6. When ready to cook, if using a charcoal grill, toss all the wood chips on the coals. Stand the chicken up in the center of the hot grate, over the drip pan and away from the heat. Cover the grill and cook the chicken until the skin is a dark golden brown and very crisp and the meat is cooked to an internal temperature of 180 degrees, about 1 1/4 to 1 1/2 hours. If using a charcoal grill, you'll need to add 12 fresh coals per side after 1 hour.
7. Using tongs, carefully transfer the chicken in its upright position on the beer can to a platter. Let rest 5 minutes, and then carefully remove the chicken from the beer can. Be careful as beer will be extremely hot. Quarter or carve the chicken and serve with Cola barbecue sauce.
Dessert:
Cherry and Peach Galette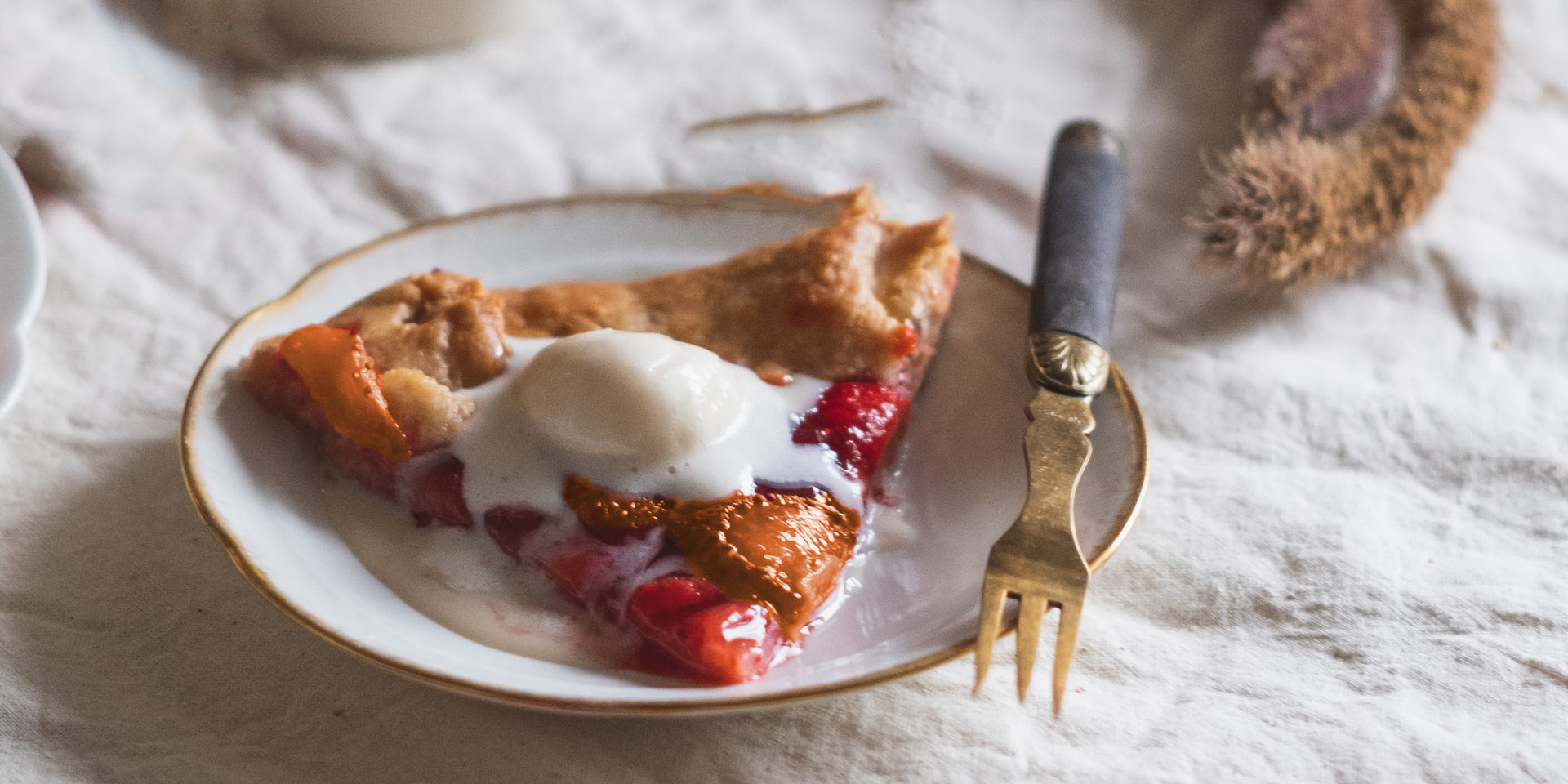 Nothing says summer like the sweet simplicity of fresh fruit! Enjoy the yummy, sweet-tart marriage of cherries and peaches in this freeform, French cousin of pie called galette. Perfect with vanilla ice cream or gelato.
Ingredients 
• Two tablespoons unsalted butter
• Two sheets frozen puff pastry
• Three tablespoons all-purpose flour, plus more for dusting
• One large egg
• 1/2 cup sugar
• 1/4 teaspoon ground allspice
• Two teaspoons vanilla extract
• 1/2 teaspoon finely ground lemon zest
• Two teaspoons fresh lemon juice
• Two and a half cups cherries pitted and halved
• Two ripe peaches, peeled, pitted, and cut into 1/2 inch-thick wedges
Instructions
1. Position a rack in the lower third of the oven and preheat to 450 degrees F.
2. Butter a baking sheet with 1 tablespoon butter.
3. Unfold 1 sheet puff pastry on a floured surface. Beat the egg with 1 tablespoon water and brush over the dough. Unfold the other sheet of puff pastry and lay it on top; press the sheets together with a rolling pin, then roll out into a 14-inch square.
4. Transfer to the prepared baking sheet and refrigerate until firm, about 30 minutes. (Refrigerate the leftover egg wash for brushing the galette.)
5. Combine the sugar, allspice, vanilla, lemon zest and lemon juice in a large bowl; transfer 2 tablespoons of the mixture to a small bowl and set aside for sprinkling.
6. Add the cherries, peaches and 3 tablespoons flour to the remaining sugar mixture and toss.
7. Trim the edges of the pastry with a pizza wheel or sharp knife to make a 12-inch round. Spoon the cherry mixture in the center, leaving a 2-inch border.
8. Cut the remaining 1 tablespoon butter into small pieces and scatter on top. Fold in the pastry edges over the filling, pleating as needed.
9. Bake the galette until puffed and golden, about 20 minutes. Reduce the oven temperature to 350 degrees. Remove the galette from the oven, brush the crust with the reserved egg wash and sprinkle with the reserved sugar mixture.
Return the galette to the oven and bake until the juices thicken and the pastry is cooked through, 30 to 45 more minutes (depending on the juiciness of the cherries). Transfer to a rack and let cool at least 10 minutes so the filling sets.