Built on a former working cattle ranch in southwest Ocala, FL, On Top of the World Ocala was conceived as the ideal Florida retirement community by developer Sidney Colen—and by any stretch of the imagination, he succeeded. On Top of the World is an active adult community like no other in Central Florida, offering a stunning wealth of amenities, a vibrant social scene, and horse country living at it is finest. Located just off of HWY 200, On Top of the World's location offers convenient shopping, dining, and medical options, making this one of the best places for easy adult living. 
A Glance at On Top of the World
Price Range – Below $100k – mid $400's
Home Types – Attached, single-family
Number of Homes – 10,000
New/Resale – New and resale homes
Age Restrictions – 55+ 
Gated – Yes 
Construction Dates – 1981 – Present
Builder – On Top of the World Communities
On Top of the World offers its residents not one, not two, but three separate golf courses. The Links and Tortoise and the Hare are private courses, for the exclusive use of On Top of the World residents and their guests. The third, Candler Hills, is a semi-private course and club designed by golf architect Gordon Lewis, who has crafted some of the most beautiful and prestigious golf courses across the state of Florida. Each course is immaculately manicured and offers playability throughout the year without sacrificing quality. If you're not confident in your skills quite yet, have no fear! Clinics and lessons are offered by PGA and LPGA professionals on-site, as well as driving ranges, practice facility, and a pro-shop. 
When you've put away your clubs for the day, you can unwind at one of the community's three restaurants. Dining it at The Club at Candler Hills ensures picturesque views out onto the golf course. Brunch is served each Sunday from 9 am – 2 pm, or enjoy their delectable lunch and dinner options throughout the rest of the week. The Pub is a popular spot for resident's– serving up breakfast, lunch, and dinner with a full-service bar with a laid-back ambience. Open every day of the week, The Pub is sure to become a regular spot for new residents. And if you're looking for a quick coffee fix, or a simple breakfast or lunch, Sid's Coffee Shop & Deli will be a favorite! Open Monday – Saturday, Sid's serves up fresh coffee, soups, salads, and sandwiches. 

On Top of the World comprises two stylistically distinct sections, with different neighborhoods nestled within them. The largest section is Meridian Preserve, comprised of the Avalon, Crescent Ridge, and Indigo East neighborhoods. Meridian Preserve homes and lawns are fully maintained, a service included in monthly dues. The second section, Candler Hills, is located closer to the golf course of the same name and is a gated neighborhood offering upscale estate homes with beautiful views of the fairway. It contains the Balmoral, Stirling Meadow, Larkhill, and Sanctuary neighborhoods. Candler Hills residents also have exclusive access to the Candler Hills Community Center. Residents of both Meridian Preserve and Candler Hills have access to the combined 250,000 square feet of amenities and community space On Top of the World has to Offer. 
Community life in On Top of the World is engaged and vibrant, with over 175 member clubs available to join. These clubs are aimed to bring together residents with similar interests, with a center around:
Social events like trivia, bingo, and car shows 
Arts & crafts, including ceramics, quilting, and painting 
A wide variety of card games 
Many different styles of dance 
Games like mah jongg, chess, and Scrabble 
Special interests including literature, politics, gardening, and technology 
Plus much, much more. On Top of the World offers a unique environment that lets you fully explore and develop your hobbies and interests, with no lack of new friends to share the experience with. Build your skills, share your own knowledge, and enjoy the new connections you make along the way!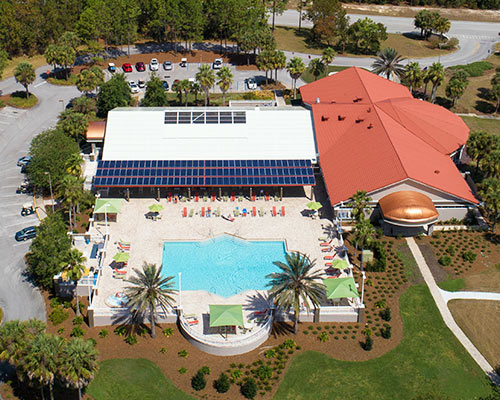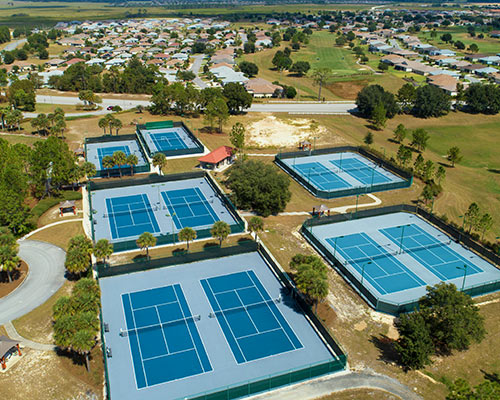 From fitness classes to ongoing education to group meet-ups, On Top of the World maintains an impressive calendar of regular monthly activities, and the extensive facilities in the community ensure you'll always be active and engaged. There are almost endless activities to explore, including: 
Swimming  
Tennis 
Walking & biking 
Pickleball 
Mini golf 
Racquetball 
R/C flying and driving 
Basketball 
Weekly farmer's market with local Central Florida-grown produce
Dancing lessons
On Top of the World offers a variety of state-of-the-art facilities to host their community activities, including:
Circle Square Cultural Center –
This beautifully constructed entertainment venue, located in On Top of the World's Circle Square Commons, features spectacular events and performers regularly. Circle Square Culture Center also offers the largest outdoor venue for banquets in Ocala, able to seat 600 guests or 830 guests in a theater-style setting. Theatrical productions, dances, conventions, expos, fundraising events, and more are also hosted here.
The Ranch Fitness Center and Spa
A combined luxury day-spa and state-of-the-art fitness center, The Ranch is open seven days a week. Equipped for cardio, strength-training, group fitness programs, and indoor heated pool for guided or self-guided exercising. For those looking for a different pace, mind-body classes are available to help you find inner balance as well. The Ranch has no shortage of offerings for those needing extra pampering– hair and nail services, facials, body wraps, and specialized massage services are available. 
Master the Possibilities Education Center –
A nonprofit learning center offering classes in hundreds of courses including academic and special interests, fine arts and crafts, health and wellness, computer training, and culinary classes. These classes are largely free for residents, or require only a small fee. 
The Arbors
Recently completed, The Arbors includes a variety of activities and spaces– newly renovated fitness center, Olympic-sized heated indoor pool, meeting rooms, and billiards room. The Arbors also includes a total of 10 tennis courts, outdoor pools, and is adjacent to Long Leaf Trail for those looking to soak up the Central Florida Sun on a clearly-marked trail. 

Whether you're looking to downsize or upgrade, On Top of the World has a home for you. A variety of styles and floor plans are offered in many distinct neighborhoods, and square footage ranges from 1,000 to over 3,000. On Top of the World is also uniquely committed to ensuring that all of their homes are constructed with sustainability and energy efficiency in mind. By their own estimation, a new-construction home in On Top of the World could save you over $1,000 is annual energy costs—an important figure to consider when moving to sunny Central Florida.
There's a ton of housing options in several neighborhoods within On Top of the World. Browse some of these available listings below, or contact one of our experienced members to help narrow down the prospects in your home search.