"Café Society" was invented in the cobblestoned streets of New York, London and Paris back in the 19th Century. This was then considered the hip, up-and-coming, and oh-so-fashionable young crowd who gathered in restaurants, sidewalk cafés and tea shops to talk about literature and art, sip diffidently at cups of espresso while archly commenting on the state of the world, and to see and be seen.
Artists, iconoclasts, writers, and wannabes collided and sparred, where Bright Young Things determined to make big changes in the world over croissants – and where, by the end of Prohibition, some cliques became celebrities. Paul Cezanne had Les Doux Garcons, while Miles Davis had the San Remo Cafe. Gertrude Stein was a frequent patron of La Rotonde in Paris, Capote and Chaplin favored Harry's Bar in Venice, and a gent by the name of John Ronald Reuel Tolkien read out early drafts of The Hobbit to his fellow Inklings at The Eagle and Child in Oxford. Long before there was Paris Hilton at The Limelight, there was Dorothy Parker at the Algonquin Club.
The sidewalk café has lost none of its allure or popularity. While not everyone is necessarily an aspiring artist or musician, the quiet atmosphere of a little nook where we can read, work, or create amid the sound of quiet conversation and the clink of cups and saucers appeals to us. It's an easy way to change up the scenery and environment and get a different perspective, meet with a friend and catch up, or just to sit and contemplate the view and people-watch.
Whatever your inclination for escaping to one, there are some great little cafés in Ocala and Gainesville where you can slip away to study, work, or write your magnum opus.
Here's the Five by Five:
Inspired by San Francisco-style coffee houses, owner Sarah Partee created a simple menu of farm-to-table food – vegans and vegetarians will love it – mouth-watering bakery goods, and absolutely divine blends of coffee, cappuccino and espresso. With its mellow atmosphere and quiet vibe, it's the perfect place for an afternoon decompression.
Tucked in the historic and arts district of Ocala, this place is all about the bean and creating a robust flavor experience with well-researched blending techniques. Offering hot and cold beverages, plus a small menu of food that complements each drink, their passion and reverence for coffee is both inspiring and enveloping.
As their motto says, this is NOT your average coffee bar. If you're an adventurous spirit, this place is as bold and expansive as the blends they offer. There's nutritious kombucha for health and vitality, the earthy Kava – a non-alcoholic, ancient beverage from the South Pacific islands – and the bracing, electric Nitro Brew Coffee, which is a smooth, creamy cold brew so dense and delicious it's almost a meal. They also have a variety of tea, espresso, and coffee blends that are as creative as the rest of their menu.
Open to the public, this little gem on Circle Square Commons is a favorite nosh spot for residents of On Top of The World. Boasting a satisfying menu of light breakfast foods and smoothies,  as well as luncheon sandwiches, soups, and salads. A variety of famous Starbucks hot and cold blends are available too, from espressos to cappuccinos and Teavana. With its modern and contemporary atmosphere, this is a great place to meet up for a meal.
Right in the heart of Downtown Ocala and next-door to the Marion Theatre, Stella's has the vibe of a European cafe with none of the snobbery. Stuffed front to back with gourmet food and wine, dishware, artisan cheeses and chocolates, it's a foodie's delight. Meticulously crafted pastries and coffees, plus a reasonably-priced menu offering charcuterie, salads, handmade flatbread pizzas and generous sandwiches give customers an old-world experience with modern flair. It's not difficult to settle in with a cappuccino and a book and lose yourself for a few hours.
For something completely different, check out this fun outdoor cafe in Gainesville's 4th Avenue Food Park. Every cup is made with locally blended coffee, with their specialty Adventure Series of hot espresso and cold brews a popular favorite. There's also the "Oh Canada" specialty drink, featuring rich maple syrup from our neighbors to the North, and the chili-chocolate infused Maya Mocha. You can enjoy some live music and a fresh cup in the open air of one of the city's most beautiful parks.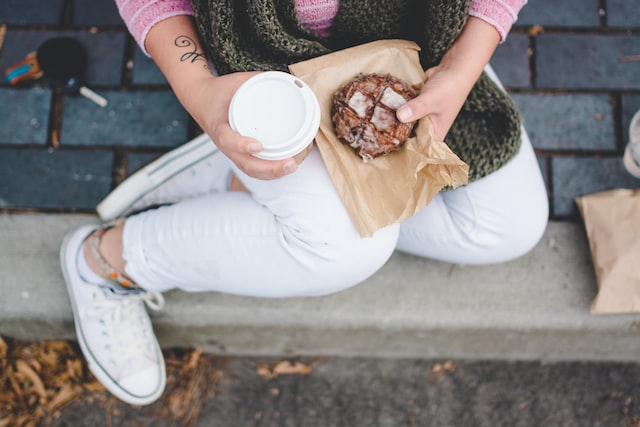 403 SW 4th Ave, Gainesville, FL 32601
These folks are serious about coffee, so if you're a dedicated brother or sister of the bean, this is a place you'll love. Every drink is a singular mission for the baristas, from hot and cold coffee, espresso, latte, and European pour-over – made with a variety of locally sourced beans. You can buy a few bags to take home with you, too.
Just minutes from the University of Florida, this is just one of the many locations for Foxtail's thriving brand. The cafe is right in the heart of Butler Town Center and easily accessible to students, faculty, and visitors, and offers its own roasted brew to a growing number of fans. The warehouse-style atmosphere is warm and inviting, giving patrons a welcoming place to study, work, or visit while sharing a meal and the perfect cup.
Energetic and bohemian, The Curia in Auk Market has just about everything: Local coffee, tea, beer and wine, baked goods, desserts, and a vegan menu that's so delicious, even carnivores love it. Dad's Bar has frequent live music and shows, with a variety of beers and wines customers can enjoy anywhere on the 2.5 acre oasis. Once you've visited here, you'll want to come back.
Open seven days a week, this is a popular spot for university students to come for a meal and a cuppa at one of the outdoor bar and patio between classes. The menu features a mouth-watering array of pastries, croissants, biscotti and cakes, plus a dreamy selection of hot and cold beverages including espresso, Americano, latte and cappuccino, plus Kratom and Matcha blends. With its echoes of the Old World fused with the contemporary energy of the University district, it's a fun place to soak up the sun and relax.
Do you have a favorite cafe recommendation in Gainesville or Ocala?
Send us an email and let us know about it!