Be the host with the most this Fall! As the days get shorter and pumpkin spice everything begins to pop up everywhere, keep these deliciously boozy recipes on hand to delight your friends and family. Caramel pumpkin pie with pecan streusel and bourbon brown sugar is the perfect twist on a beloved classic, and hot buttered rum is basically a warm, comfy sweater for your tummy. Paired together, they'll spice up any autumn gathering from Halloween to Thanksgiving and beyond!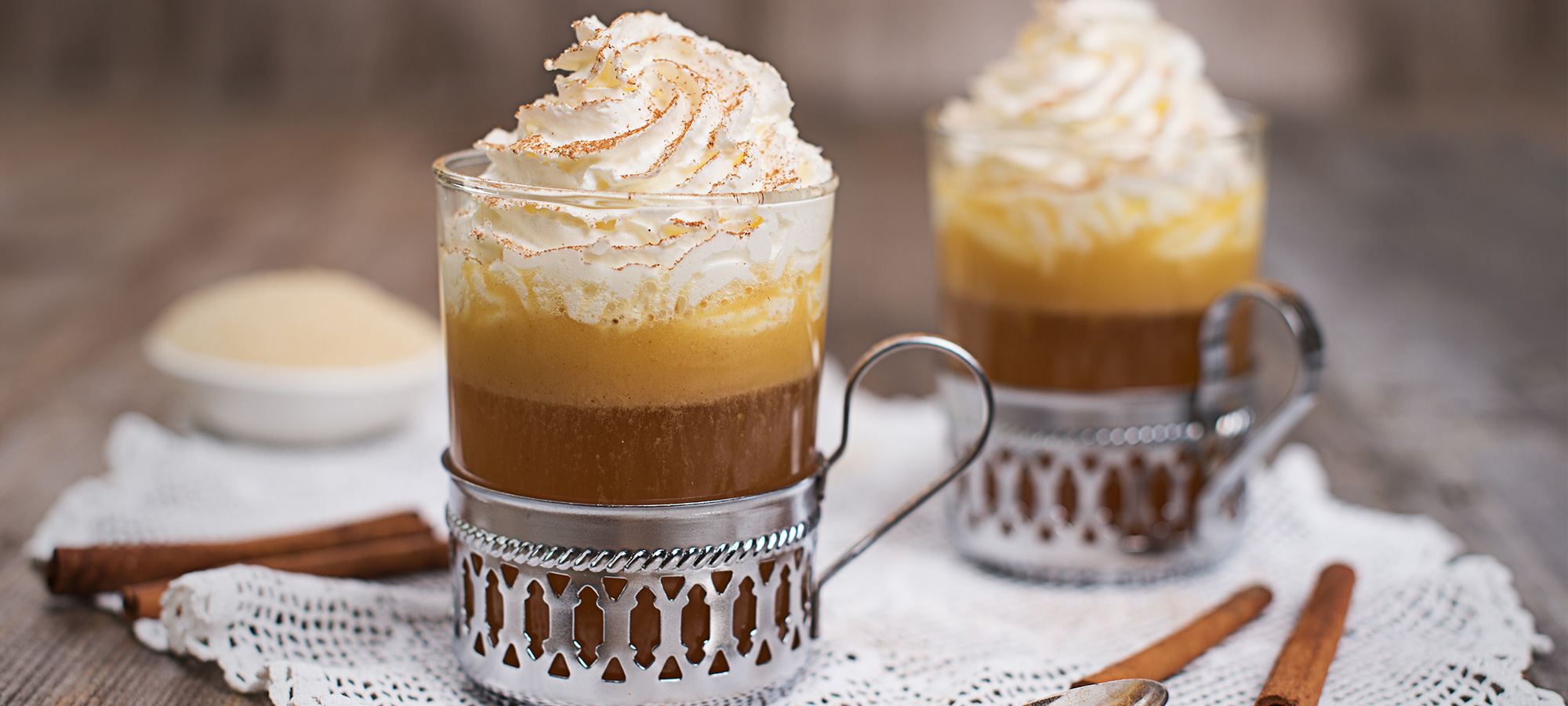 Hot Buttered Rum
Ingredients Needed:
• 1 stick unsalted butter
• 2 cups light brown sugar
• 1 teaspoon ground cinnamon
• 1/2 teaspoon nutmeg
• Pinch ground cloves
• Pinch salt
• 1 bottle dark rum
• Boiling water
Instructions:
In a bowl, cream together butter, brown sugar, cinnamon, nutmeg, cloves, and salt.
Refrigerate the butter mixture until almost firm.
Spoon about 2 tablespoons of the butter mixture into each mug (This recipe serves 12, but you can refrigerate the mixture for later if serving less or enjoying this recipe solo!)
Pour about 3 oz. rum into each mug– this is roughly 2 shots if you're using a shot glass.
Top with boiling water to fill, stir well, and serve. Be careful, it'll be hot!
Optional: Serve with a full cinnamon stick as a garnish or top with home-made whipped cream for added decadence! We include a recipe for brown sugar whipped cream below!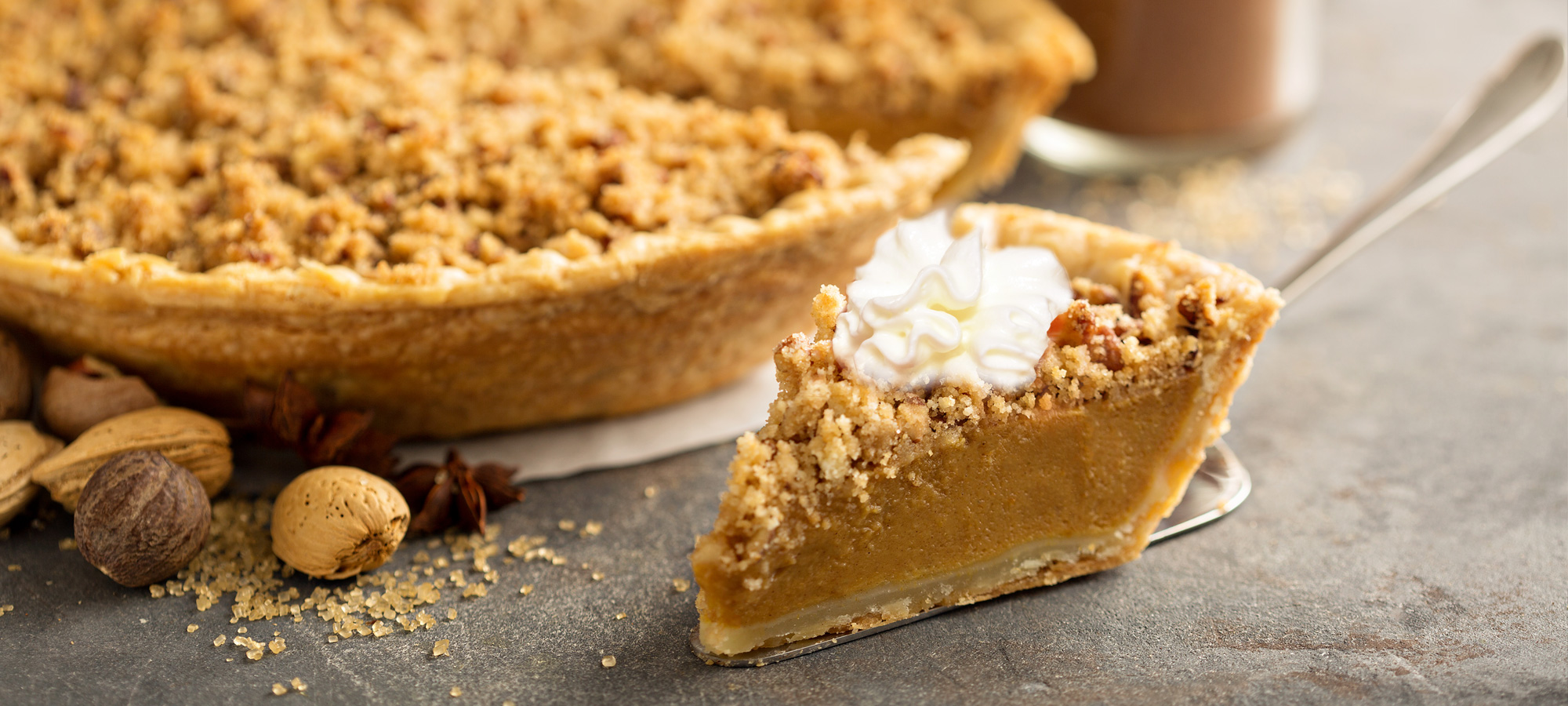 Caramel Pumpkin Pie With Almond or Pecan Streusel
and Bourbon Brown Sugar Whipped Cream
Ingredients Needed:
For the whipped cream:
• 1 cup heavy cream
• 2 teaspoons brown sugar
• 1 tablespoon bourbon
For the streusel:
• 2 tablespoons all-purpose flour
• 2 tablespoons brown sugar
• 2 tablespoons chopped chopped almonds OR chopped pecans 
• 2 tablespoons cold butter
For the filling:
• 1 9-inch pie crust, partially baked and cooled
• 1 cup sugar
• 3/4 cup heavy cream
• 2 tablespoons dark rum or cognac 
• 2 tablespoons unsalted butter, cut into smaller pieces
• 1 cup canned or fresh pumpkin puree
• 1 1/4 teaspoons cinnamon
• 3/4 teaspoon ground ginger
• Pinch ground nutmeg
• Pinch ground allspice
• Pinch salt
• 1 1/2 teaspoons pure vanilla extract
• 2 large eggs
Instructions:
For the whipped cream:
Whip cream until almost stiff. Pour in sugar and bourbon.
Whip until stiff peaks form.
Refrigerate until pie is ready, spoon over pie and streusel to serve.
For the streusel:
Mix ingredients together with fingertips until crumbly.
Refrigerate until ready to use, spoon over pie to serve.
For the pie: 
Center a rack in the oven and preheat to 350 degrees. Place the pie plate on a baking sheet lined with parchment.
Sprinkle 1/2 cup of the sugar evenly over the bottom of a large,

nonstick

skillet (Nonstick is important here!). Place the skillet over medium-high heat and cook until the sugar melts and begins to brown.
Gently swirl the skillet so that the sugar colors evenly. Cook the sugar,

without stirring

, until it turns deep amber to mahogany brown.
– The sugar will bubble or foam, and may even smoke– but relax, that's normal! While we are not aiming for burnt caramel here, we are looking for the caramel to deepen in color in order to develop more flavor.
Lower the heat to medium and add the cream into the skillet. To smooth out any potential clumps, continue to cook and stir until clumps are gone.
Add the rum (or cognac) and butter, and cook just until the caramel is smooth. Pour the caramel into a heatproof bowl and allow to cool for about 15 minutes. 
 In a large bowl, beat the pumpkin with a whisk to break it up and smooth the texture. Add the remaining 1/2 cup sugar and beat to blend.
Whisk in the spices, salt, vanilla and eggs, beating until the mixture is smooth. Whisk in the caramel.
To get air bubbles out of the filling, rap the bowl against the counter a few times, then pour the filing into the crust.
Bake pie for 10 minutes and gently scatter the pecan streusel over the top. Bake for an additional 35 to 40 minutes, or just until the filling is puffed and set. To check for doneness, tap the pan gently to check for jiggling. If the filling jiggles, it'll need a bit more time. Alternatively, a thin knife inserted into the filling should come out clean.
Transfer the pie to a rack and cool to room temperature, or cool and refrigerate. When you are ready to serve, lightly spread the whipped cream topping over the top of the pie.
Optional: Looking for a little decorative flair? You can add the whipped cream to a piping bag and pipe rosettes or a lattice pattern over the pie!
This recipe comes from Baking: From My Home to Yours by Dorie Greenspan.