As Floridians start cooling down from the boiling heat of midsummer, it's a good time to take our four-legged family members out for some exercise and outdoor excursions. There is a wealth of fantastic places you can bring your dogs to hike, camp, or hang out with their pals, and you can find a variety of options to enjoy in and around the city. Make sure to bring plenty of water for you and your pet when you go – hydration is super important – as well as sunscreen and shades to protect your skin and eyes in case you can't find shade.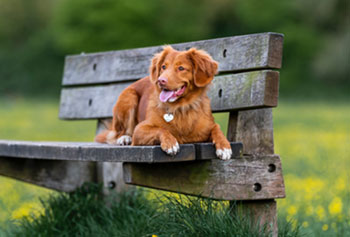 Part of the larger City of Gainesville's Possum Creek Park, this local getaway is popular for hikers and families, with its pavilions, nature trails, playground and sports field, so there's plenty of space to move around – literally acres of securely-fenced area in which to roam. It also has a large, off-leash pet friendly section with two different enclosures for big and small pups.  You can toss a ball or frisbee and let your dogs romp and socialize, and there are lots of shady benches and water fountains to keep both pets and owners hydrated.
When it rains, there's even a little flood area that turns into a small pool where your pup can splash, swim, and cool off, which is always a bonus during the hot Florida summer and may cause a little envy on your part. If you both need to stretch your legs, there's also a great wooded hiking trail you can explore together with your dog safely leashed.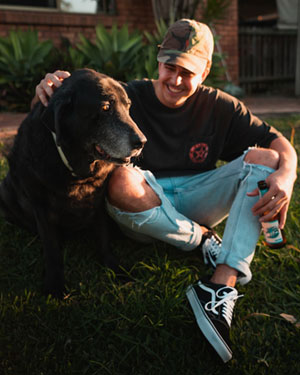 This seems like such an obvious idea, we're wondering why more people haven't done it.  With covered seating that's cooled/heated in summer and winter, Lebowski's is a dog-friendly outdoor bar with plenty of diversions for both dogs and their humans.  You can meet up with friends for a drink from Lebowski's diverse selection of beers, wines, and cocktails while your pet enjoys some four-legged fraternization with other furry patrons.
There's an off-leash area available for daily, monthly, or annual members, and a leashed-only section where anyone can hang out. Food trucks are available if you need a nosh, and there's a pet playground for your dog to run around in and play with the other canine customers. You have to register you and your dog for either the day, or you can buy a 10-day pass or purchase one of the monthly packages. Lebowski's also has a calendar of events available, plus you can rent the whole place for a party of your own.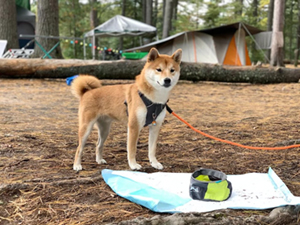 If you haven't checked out our recent blog about Payne's Prairie, now's your chance to discover this amazing place that's almost literally right in the backyards of both Ocala and Gainesville denizens. This pristine nature retreat is the first of Florida's official state preserves and conservation areas, with an abundance of walking and biking trails, waterways, and campgrounds for anyone who needs a longer sojourn away from the crowds. Once you're in it, you'll understand the lure of the quiet retreat, and why First Nation Seminoles made it their home.
 Dogs (and other domesticated pets) are allowed to join you camping in designated areas of all Florida State Parks, as long as they are properly leashed and supervised. Historic Payne's Prairie is one of our most beautiful and diverse local getaways, with over 22,000 acres of lush savannah, thriving wildlife, and lots of affordable campground options, from tent sites to full-facility RV hookups. Be sure to check out the State Park Pet Policy so you know what the rules are, and your pet will be safer as a result.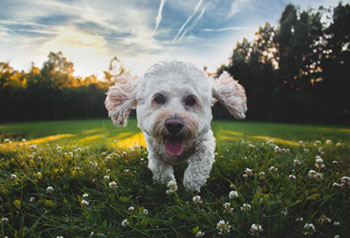 Bass Pro Shops
opened this 8,000sqft park free to the public in 2019, and it's not hard to understand why it became an almost immediate favorite of the community. The 8000 square foot park is a lush and grassy fenced area right next to the sporting goods shop, with an agility course and climbing structures for dogs, plus picnic tables and a gazebo where guests can relax in the shade on a hot day.  There's also plenty of water to go around and garbage cans for waste disposal so that everyone can do their part to keep the park clean. If you're in the mood to shop for an outdoor excursion, you can also take your dog inside the pet-friendly store instead of leaving them unsupervised.
This park is open from sunrise to sunset Sundays through Saturdays, and once your pooch is inside the gated area, you're free to let them off leash to roam free and play with others.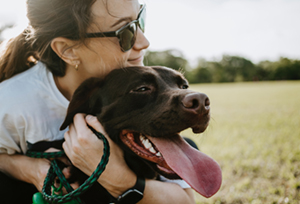 Named in 2018 for the legendary front man of the
Heartbreakers
, this park is conveniently located right in the heart of Northeast Gainesville, less than two miles from the University of Florida. There's a veritable cornucopia of activities here for people – including outdoor grills, racquetball and tennis courts, pavilion and a playground – but it's also one of the city's best places to bring dogs for an outdoor play session – particularly small dogs. What makes it so great is that there are two distinct and sequestered areas; one for the big dogs, and one for the wee ones. That way, if you have a Dachshund or you're socializing your new puppy, you don't have to worry about them getting injured playing with the overly-enthusiastic German Shepherd who wants to roughhouse. There's plenty of water available, as well as trash cans and doggy bags provided if you forgot your own at home. And if you want to take a stroll, you can explore the rest of the park with your dog leashed.
Check out the links for more information, and have a look at our column in this month's Gainesville Lifestyle Magazine!