June is when it's just pleasant enough to enjoy subtropical, sunny glory – but not so hot as to send us hibernating to the AC vents (that comes in July).
It's the Season of the Backyard, the Time of Dads, Brothers and Beer Brethren in small sunshine kingdoms.
As a real estate brokerage, you can imagine we see all kinds of cool and interesting backyard setups from the elaborate to the simple, the DIY to the professional. Some are easier,on-a-budget ideas, and some require landscapers and contractors. There really isn't a 'right' or 'best' way to do it up, because it all depends on what each person wants and how much time and money they're interested in putting into the project. We have some suggestions for adding extra panache from the basic to the decked out (pardon the pun), and you might find what suits you in the in-between.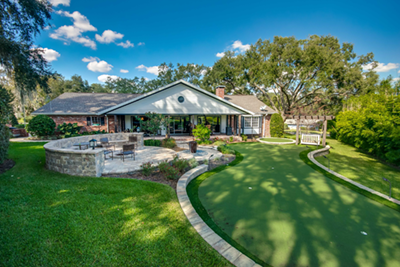 For the passionate golfer, nothing's better than a small (or large, depending on the level of devotion)
practice green right outside
. If you need a mental health break or just want to practice your swing, this is a perfect little corner to perfect one's chipping swing in anticipation of back-nine bragging rights – or to just tuck into and enjoy a little quiet time in the
zen of astroturf
.
It may seem a bit indulgent, but there are actually a lot of mental and physical health benefits to installing a putting green in your yard. For starters, a little exercise goes a long way, especially if you, like a huge number of the workforce recently, are working from home. Sitting down all day isn't the best thing we can do for our bodies, and even fifteen or twenty minutes of getting up and moving around at regular intervals can do wonders. It's even better to go outside in the fresh air and sunshine and take a few moments to stretch and swing.
If that wasn't enough, taking a few minutes for a refreshing putt can also help reduce stress and improve concentration and focus skills. Believe it or not (trust us, we have sources), golf has such mind/body good stuff going for it, you could possibly even live longer just for playing it, no matter how good or bad you are at it.
Plus, a small putting green gives a little extra character to brighten up the space, and it can add to the value of your home. And it's fun.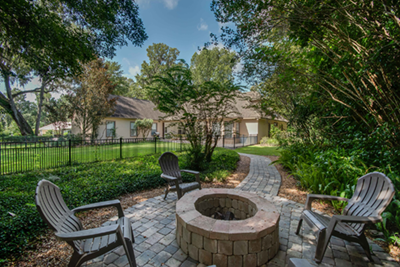 Who doesn't love a good old fashioned fire?
The smell of the wood, the crackle of the flames and cozy ambiance? There's just something intimate and comforting about it; a fireplace is a gathering spot where people draw up with a drink and maybe a couple of marshmallows on sticks to while away the twilight. Plus, again – it adds value to your home, and it's just a nice place to relax.
Fire pits serve as a cozy inclusion to any backyard – and the good news is they don't have to break the bank. With a variety of materials and sizes to consider, a fire pit adds a great gathering space with a modest amount of effort. It's always wise to do your research before choosing materials, but we did find some great ideas for do-it-yourself fire pits to inspire – from inexpensive options you can buy at Amazon or a home goods store, or ideas for how to design and dig your own creation.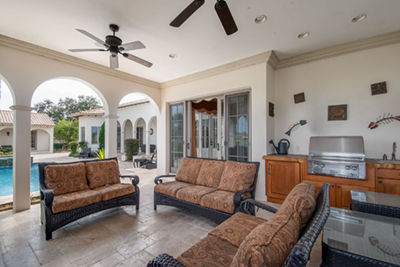 While the image of a man at the grill may be a bit of a stereotype, that doesn't mean it's untrue.
Backyard grilling is a staple of summer, but why stop there? An outdoor kitchen makes it even easier and more fun to have a nosh in the great outdoors; it looks great, adds that lovely brownie point of value to the home, and you don't have to cloister yourself in the kitchen while everyone else is out there having a good time.
We featured a recent blog about outdoor kitchens, and you might be surprised to find out how they can be a big boost for your energy footprint. The health benefits aren't too shabby, either; grilled food tends to use a lot less butter and fat, so not only does it fill the air with scrumptious aromas, it tastes great and it's good for you.
Again, you might not relish the idea of dealing with a contractor; there are some great pre-fab kits on the market that you can mix and match, and you might find some more manageable options here.
You can check out our column in this month's issue of Gainesville City Lifestyle, and have a look at some of the fantastic articles celebrating summer in Gainesville and Central Florida!
https://citylifestyle.com/palm-coast-fl/articles/home-and-design/backyard-brainstorms