Bridlewood Farm: Then and Now
Ocala didn't become Horse Capital of the World® overnight. It took the steadfast efforts of dedicated horsemen over decades to establish this area as a proven site for breeding, raising and training successful horses. Through the years, specific farms become industry leaders, their accomplishments branding them as icons in Florida's horse business. Showcase Properties of Central Florida, Inc. has had the privilege of representing both sellers and buyers of several of these iconic farms when they changed hands. To celebrate their storied histories and discover the plans their buyers are pursuing, you're invited to explore the "then" and "now" of these noted farms.
Our journey begins with Bridlewood Farm, for which Showcase Properties represented the seller.
 An entrepreneur and philanthropist, Chicago businessman Arthur L. Appleton was also a sportsman who loved the game of horseracing. He dreamed of establishing a successful breed-to-race operation and that's exactly what he did. Fortunately, for Florida's horse industry, he chose to accomplish this in Ocala. Located in a prime location in the northwest portion of Marion County, Bridlewood Farm was founded in 1976 by Appleton and his wife, Martha.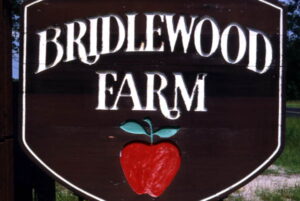 As one of the pioneers of Florida's Thoroughbred industry, Appleton's dedication to the sport of racing was widely known. He set the bar high through his efforts as a breeder and owner. Recognized as Florida Breeder of the Year in 1991, Appleton's farm bred, raised and trained some 100 stakes winners, including 12 grade one winners. Among them are Florida-bred millionaires Jolie's Halo, Super Nakayama, Forbidden Apple, Southern Image, David Junior, Wild Event, Eden's Storm, Black Bar Spin and In Summation. Florida-bred Horse of the Year honors went to Forbidden Apple in 2001 and In Summation in 2004. 
For two decades, Bridlewood functioned as the Appletons' private breeding and racing operation. In 1996, the transition was made to expand into a commercial farm. In addition to standing stallions and boarding horses for clients, Bridlewood became known as a breaking and training center. Among the most high-profile horses to first train at Bridlewood Farm was Smarty Jones, winner of the 2004 Kentucky Derby-G1, Belmont Stakes-G1 and 2004 Champion 3-year-old Colt.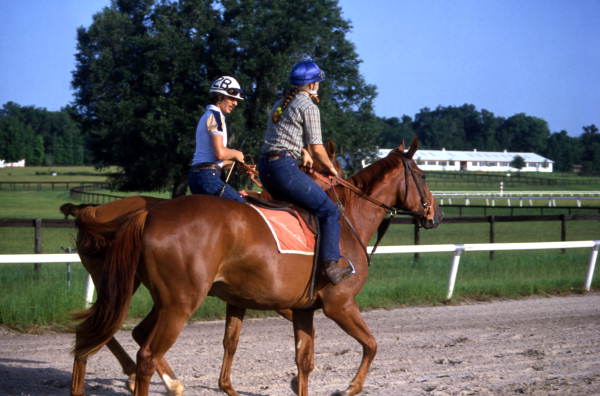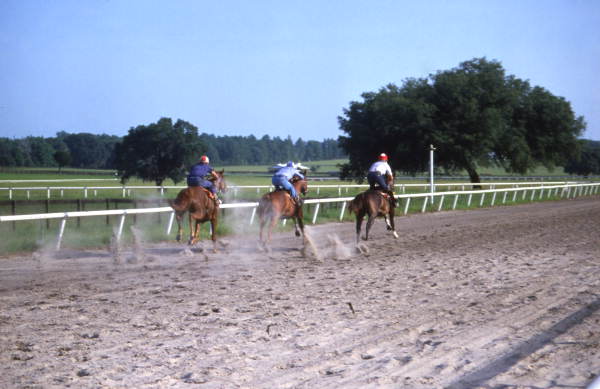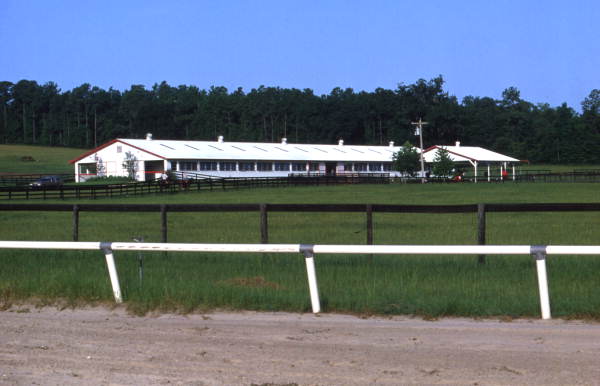 "Representing Bridlewood was a once-in-a-lifetime opportunity. At its peak, Bridlewood was one of the most well-known Thoroughbred facilities in the racing industry. Its reach went so much farther than just Marion County–-Bridlewood was a notable name throughout the industry for many years."
—Valerie Dailey, owner/broker of Showcase Properties
When Bridlewood's founder died at age 92 on January 15, 2008, he was hailed as a consummate horseman who set high standards.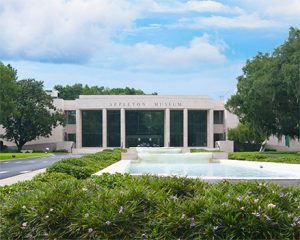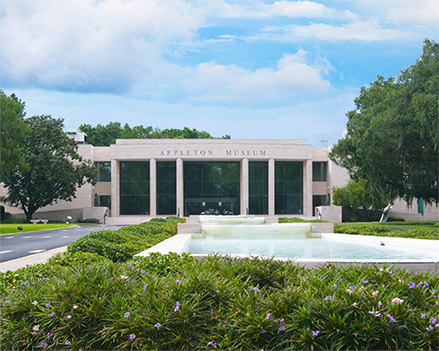 Appleton is remembered for his contributions to not only the Thoroughbred industry, but also to the community of Ocala. One of his greatest public acts of generosity was the establishment of the Appleton Museum of Art in Ocala, which opened its doors in 1987. Not only has the museum hosted a wide-ranging array of impressive art exhibits through the years, but it has also been the site of many charitable events for the local community.  
Although Bridlewood Farm had been an unquestionable success for many years, following his death, Appleton's surviving family made the decision not to remain in the business. When the farm went on the market, Showcase Properties represented the seller, Appleton's daughter, Linda Appleton Potter. Linda relied on Bridlewood's general manager George Isaacs to bring in the person he thought was capable of selling the farm, and he reached out to Valerie Dailey, owner/broker of Showcase Properties to list the property. 
"Representing Bridlewood was a once-in-a-lifetime opportunity," says Dailey. "At its peak, Bridlewood was one of the most well-known Thoroughbred facilities in the racing industry. Its reach went so much farther than just Marion County–-Bridlewood was a notable name throughout the industry for many years." 

When the historic 800-acre farm sold for $14 million to John and Leslie Malone in August of 2013, it became the highest-selling farm of any in Marion County, a distinction still held to this day. The local horse industry breathed a sigh of relief to hear that not only would the operation remain a Thoroughbred farm, but that the Malones would continue to operate it under the Bridlewood name. With well over two million acres to his name, John Malone is the largest individual private landowner in the country.
Chairman of Liberty Media Corp, (holdings include Sirius XM and the Atlanta Braves, the Discovery Channel, and Formula One Auto Racing), Malone is a prominent philanthropist who has donated many millions to educational pursuits. Although Leslie Malone is a life-long horse lover and equestrian, the purchase of Bridlewood Farm marked the Malones' first major venture into the Thoroughbred world. A high-level dressage rider and a strong advocate for the sport, Leslie maintains a dressage farm, Harmony Sport Horses, in Elizabeth, Colorado, and supports her own dressage team which competes in Wellington, Florida, each winter.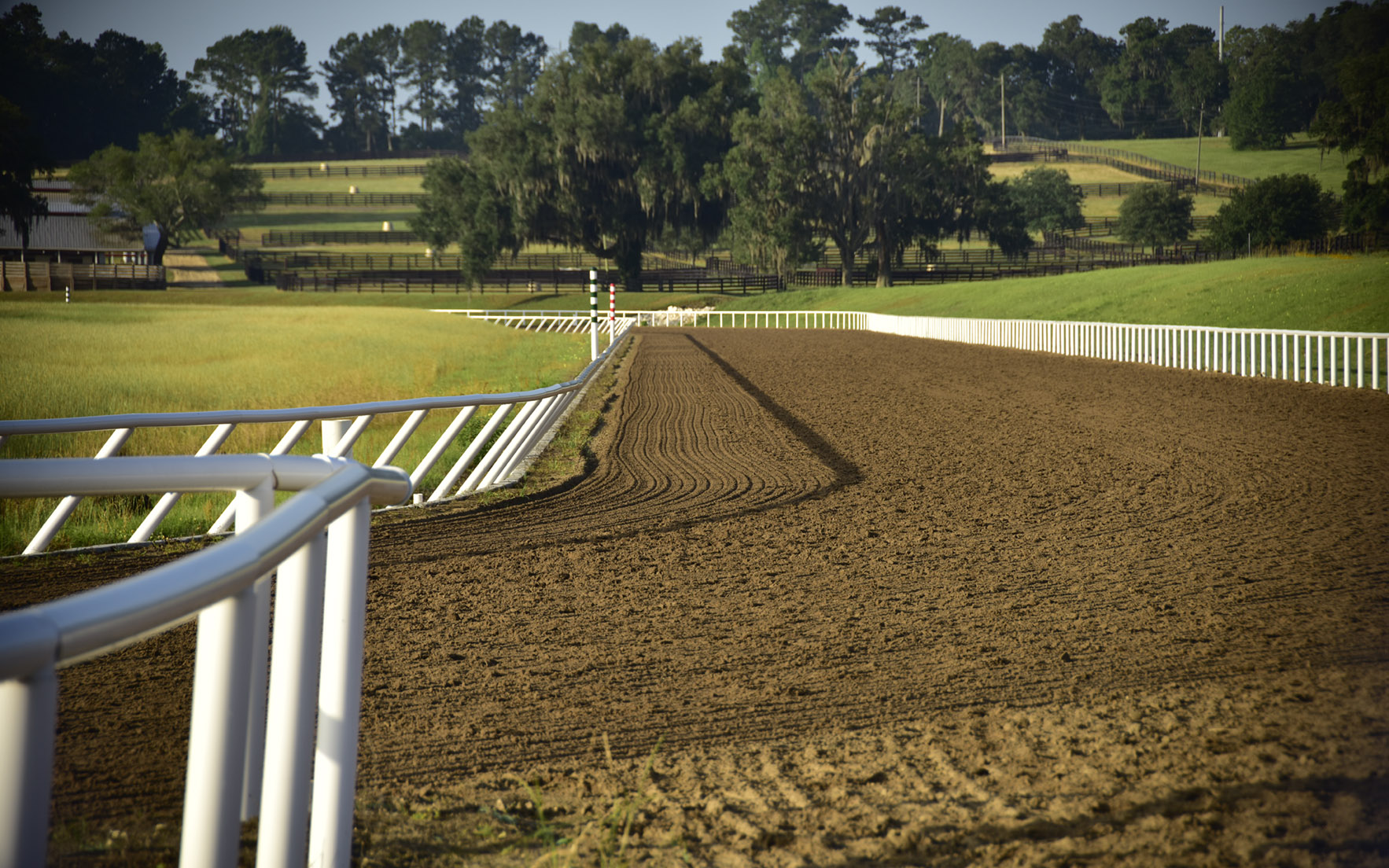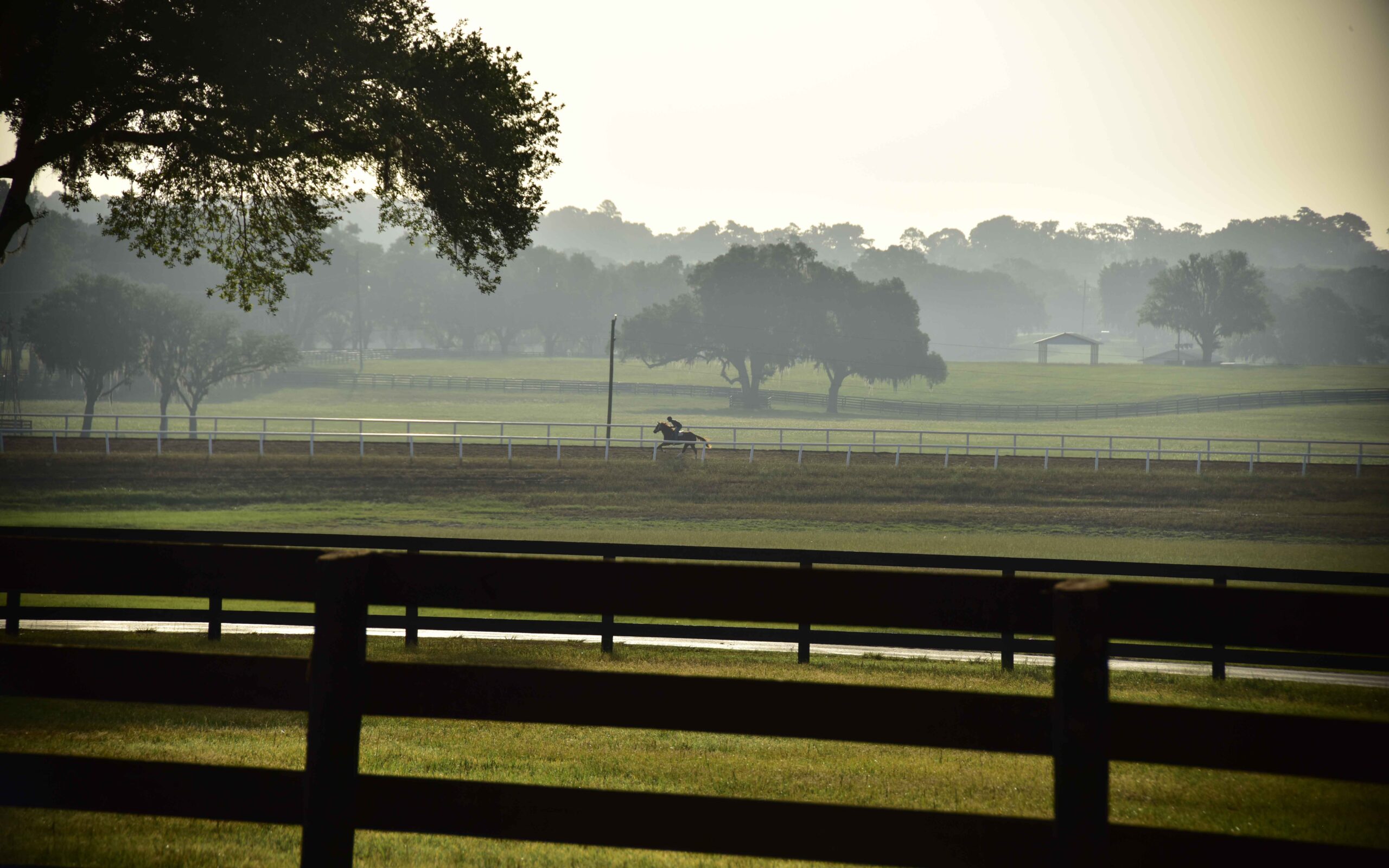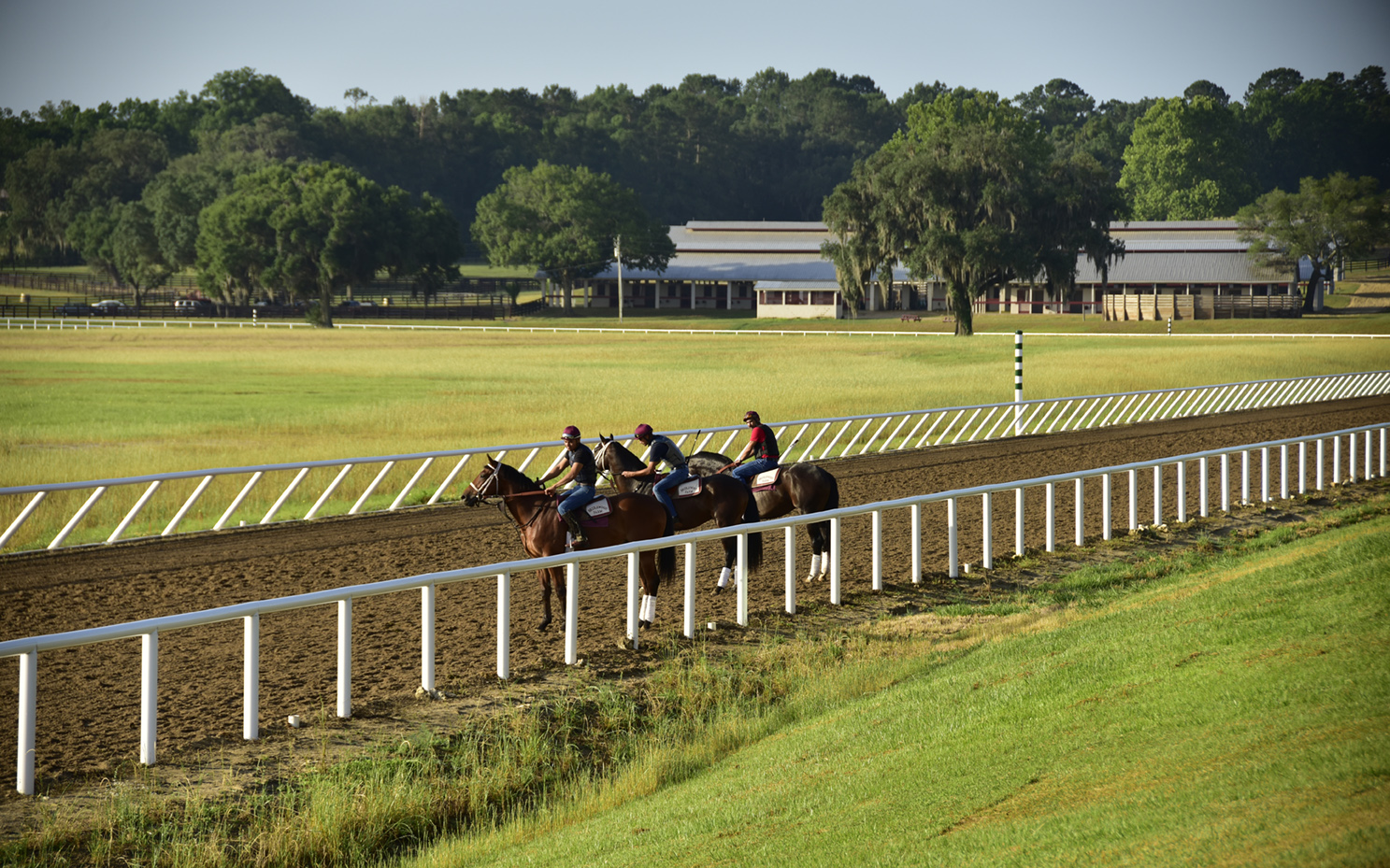 "Mr. Malone likes to own properties that have a rich history. He's a protector of land and a conservationist. If there's one legacy he wants to make for him and Leslie, it's that they're going to preserve this land," says George Isaacs, general manager of the farm.
A Kentucky native, Isaacs has worked in the Thoroughbred industry his entire career. He first came to Ocala to work as Bridlewood's stallion manager, a position he held from 1989 to 1992. After working as general manager for Eclipse-winning breeder Allen Paulson's Brookside South Farm from 1992 to 1996, Isaacs returned to the helm of Bridlewood Farm in 1996 where he has held the position of general manager ever since. While the initial purchase of Bridlewood was for 800 acres, today the Malones' holdings now include some 2,200 acres with the original Bridlewood acreage at the heart of it.
"Any time Mr. Malone buys a property he really likes, when land contiguous to it becomes available, he likes to buy it," explains Isaacs.
The Malones set out to reinvigorate and reenergize the historic farm and one way to do that was making sure management stayed in place. They also provided capital so management could do the best job possible while making improvements to the facilities. For the Malones, it wasn't enough that Bridlewood Farm had five decades of history as a successful operation. Their goal from the start was to return the farm to a prominent position in the industry. Isaacs notes that Leslie Malone takes the lead on capital improvements on their properties.
"Bridlewood was a leading stallion station in Florida for many years. With the recent Kentucky Derby-G1 winner Medina Spirit being a Florida-bred, we know Florida is a great place to breed, raise and train horses.
—George Isaacs, general manager of Bridlewood Farm

 "She's very much a preservationist and loves rebuilding and making old things new while honoring history," says Isaacs. "When they first bought the farm, she asked me for my want and wish list to get everything done." That extensive list included restoring structures, reinvigorating the stallion operation, building a stellar broodmare band, improving the training facility, and cultivating boarding and sales clients.
"Bridlewood Farm is a special place for a man and horse alike. To say I have had a blessed career at Bridlewood would be a understatement," says Isaacs.
"The Appletons were such great owners and stewards of the property, and we were able to have a lot of success and fun together for over 20 years. When the Malones purchased the farm in 2013, I knew in my heart right away that we were off to the races again," he adds. "The Malones are also wonderful owners and stewards of the property and their vision is simple and straight forward. We want to own quality horses and have some success and fun, but also be good employers and have a good footprint in the community."
In addition to Smarty Jones, grade one stakes winners who are graduates of the Bridlewood training operation include Gun Runner, winner of the 2017 Breeders' Cup Classic-G1 and 2018 Pegasus World Cup-G1; Fair Maiden (La Brea Stakes-G1); Duopoly (American Oaks-G1); Tapwit (Belmont Stakes-G1); Patternrecognition (Cigar Mile-G1); Newspaperofrecord (Breeders' Cup Juvenile Fillies Turf -G1); Catholic Boy, Carina Mia, Moonshine Memories and more.  Joan "Meda" Murphy, Bridlewood Farm's resident trainer, has been with the operation since 2013 and helped develop some of these top horses. Under the Malones' watch, improvements to the farm meant a serious upgrade to the training division. This included totally refreshing the existing barns and building two new training barns, for a total of 188 training stalls. The existing 7/8-mile dirt track was completely refurbished and has two starting gates. A new 5/8-mile turf course was built; the clocker's stand and observation building overlook both.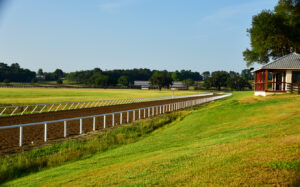 To provide even more conditioning options for equine athletes, a 5/8-mile tapeta synthetic surface gallop was added. This uphill gallop provides yet another option for developing racehorses, helping improve their cardiovascular fitness and overall stamina. Round pens, hot walkers, Eurocisers, an equine cold saltwater spa and a natural pond swimming facility all serve to enhance the training opportunities. 
"We want to do enough enterprise to be self-sustaining. The majority of the farm's sustainability comes though having a public training center," says Isaacs. "I think we have the finest training facility anywhere in the country and the finest team to train horses for our elite clientele." 
Bridlewood now features 13 barns with a total of 346 stalls, 145 pastures and paddocks. In addition to the 6,000-plus-square foot main residence, there are eight employee residences on the farm. 

We love where we live and we hope to inspire the same in our customers– you can browse horse farms for sale to learn more about what we have available in the Ocala / Marion County area. If you're interested in creating your own equine legacy in the Horse Capital of the World®, contact us and talk with an equestrian real estate agent today!
The Iconic Horse Farm series was created with the goal of exploring the history of the farms and local equine industry that helped make Ocala the city that we love. You can take a look at our previous Iconic Horse Farm series here.