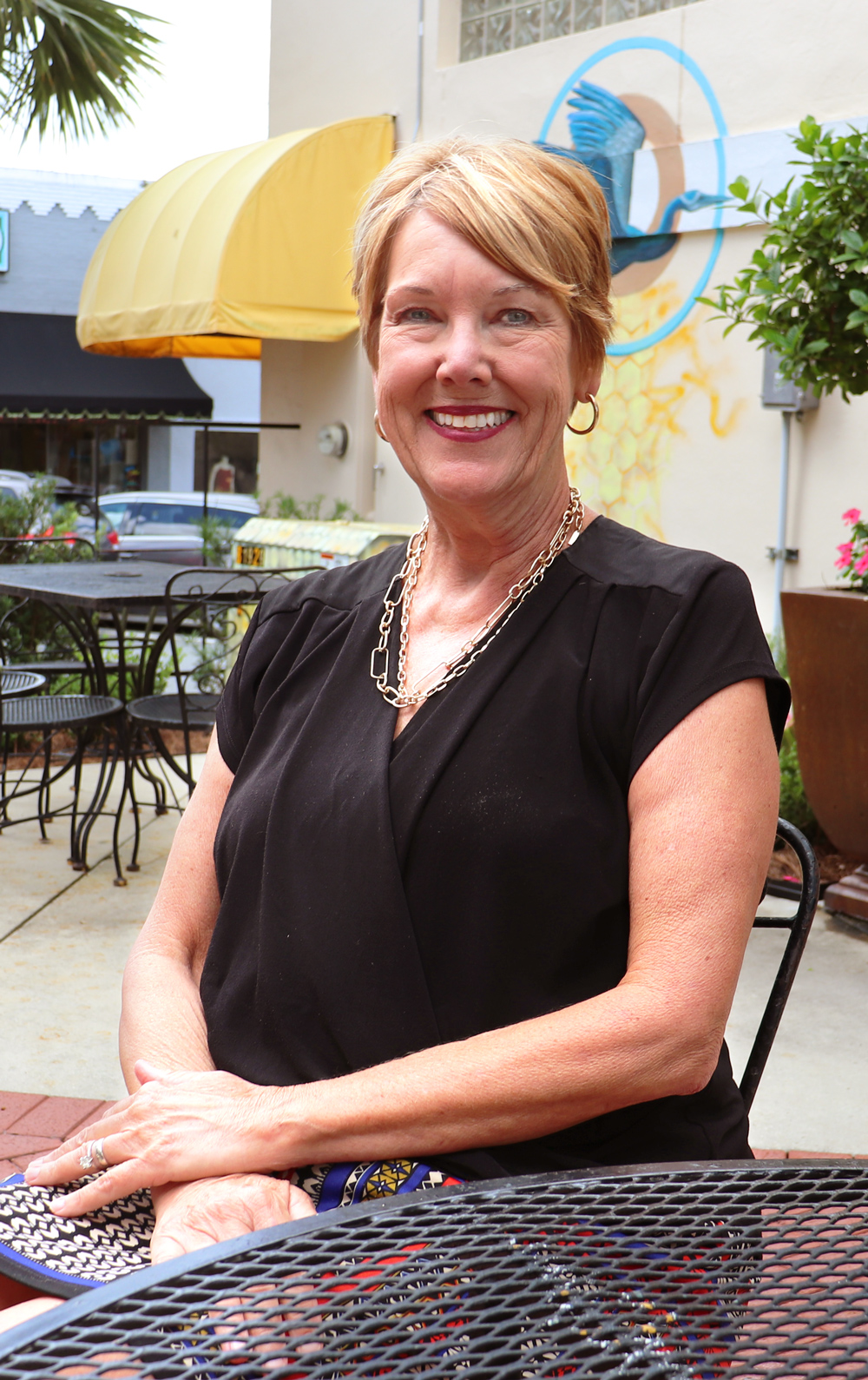 For Jaye Bailie, Executive Director of the Marion Cultural Alliance, there is no such thing as a typical day. Sitting with me outside on the sunny patio of The Brick, home base of the MCA's art exhibitions and offices, she details getting up early Mondays, Wednesdays, and Fridays to swim at the college—and that's about the only routine part of her schedule. But as someone who's life is as immersed in the arts as Bailie's is, you have to expect a certain amount of variety in your day-to-day. And Jaye doesn't just expect it—she relishes it.
"I really do pinch myself every time I walk through the front door," she tells me, "because this is an absolutely stunning place to work."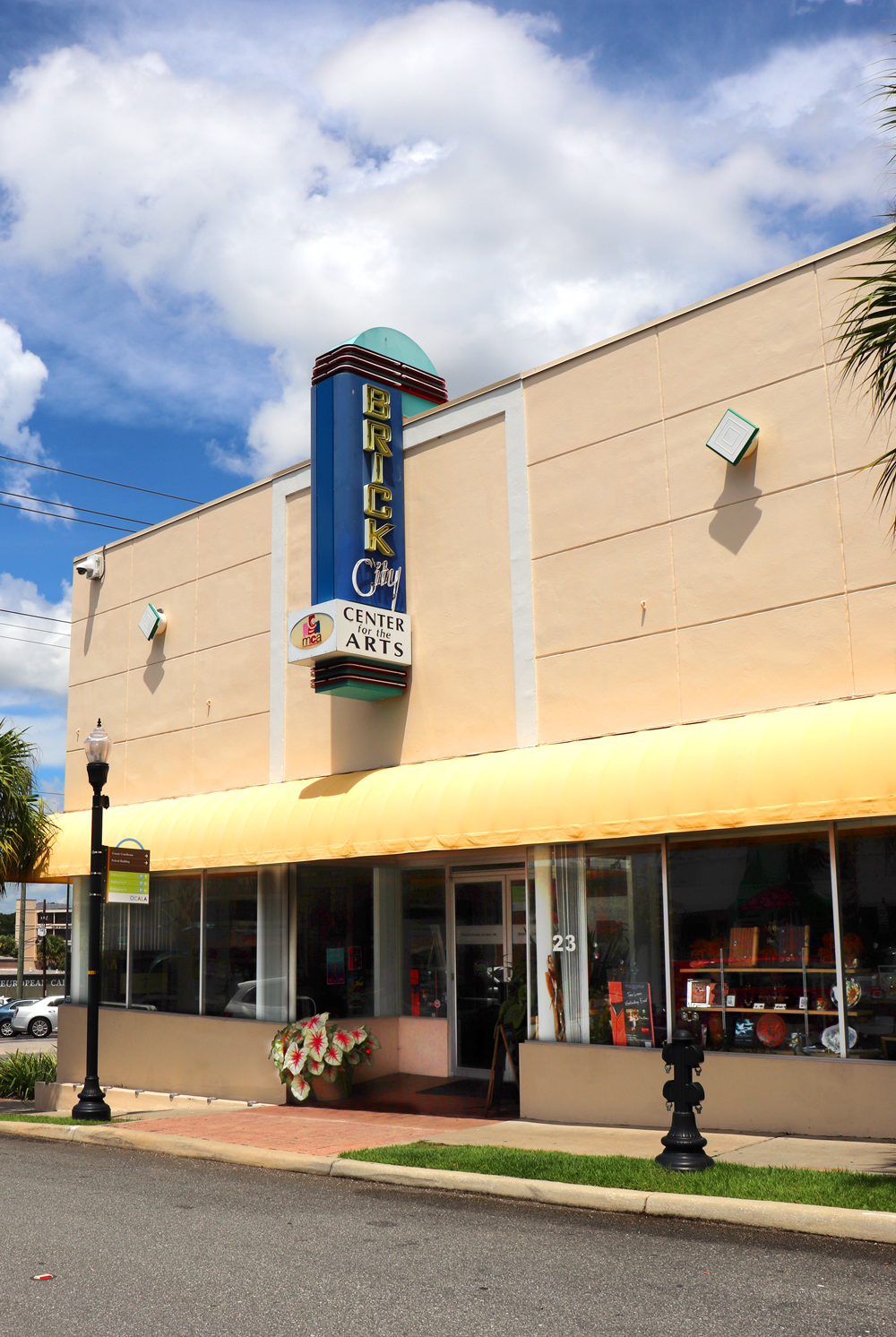 Stunning The Brick certainly is. Sitting just across from Stella's downtown, The Brick is the artistic hub of Ocala; of all Marion County. On the day I stop by to talk Jaye, the light and airy space is full of sun and color, its walls patterned with the MCA's latest exhibit: The Art of Aging. The exhibit, in partnership with Marion Senior Services, showcases the talents of Central Florida's artists aged 55 and up. It also exemplifies what drew Bailey to the position of Executive Director in the first place—Ocala's diverse and (some might say, unexpectedly) rich artistic diversity.
A Florida native from St. Augustine, Jaye has lived in Ocala since she was two years old, and has marveled to watch the community grow, all the while retaining its slow and easy charm. "We still have that southern gentleness about us," she notes. Over the hour that I sit with her, Jaye herself portrays a uniquely Southern warmth and gentleness that belies what must be an inexhaustible energy. Before stepping up to become the Executive Director of the MCA in 2016, Bailey served on both the Public Education Foundation as well as the Chamber of Commerce ("hitting all the highlights!" she jokes). The arts seem to be her true passion, though, and she firmly believes that art is essential to any community's flourishing.
"We know that art adds to quality of life," she explains. "Art also makes us think, it makes us question, it makes us…it really…art is its own language and people interpret it different ways. But it's important to have art in our lives, all different forms…it brings a sense of pride to our community."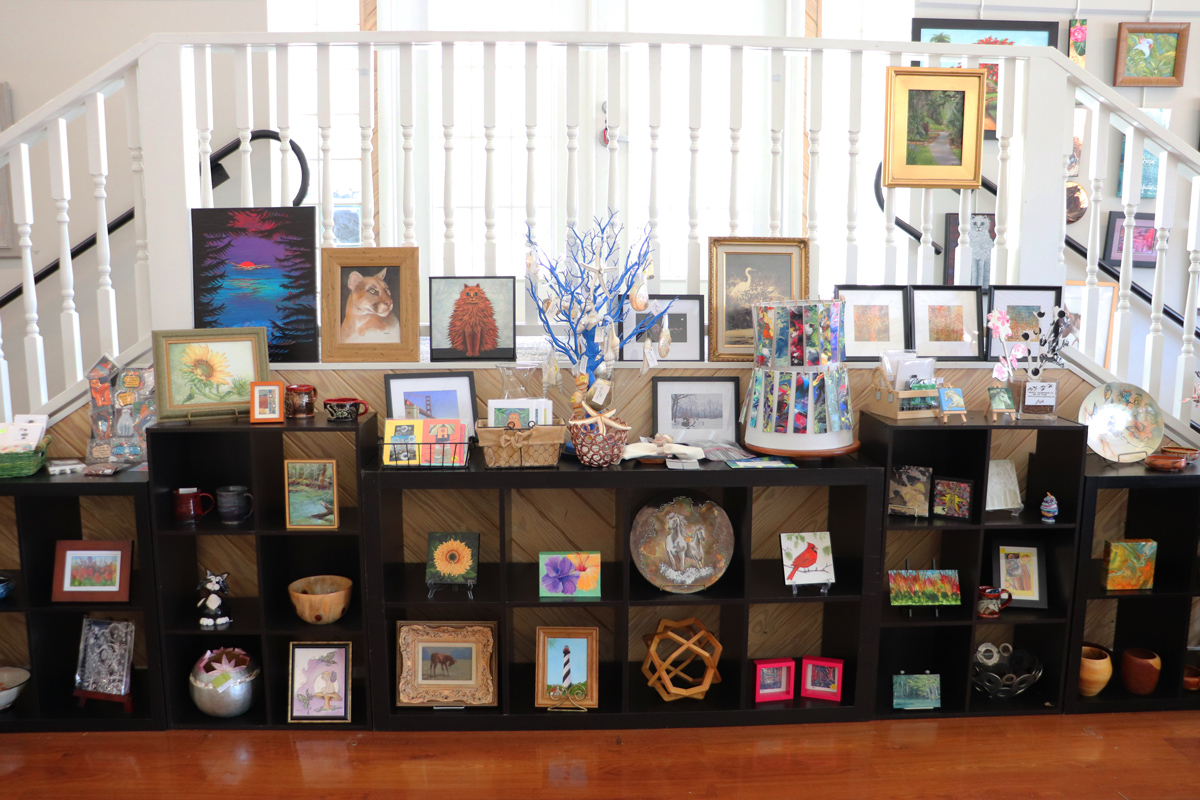 In what I'm beginning to see is the typical put-together, no-stone-unturned Jaye fashion, she also has the numbers to prove it. In a recently-completed study conducted by Americans For the Arts, it was found that the arts have a $56 million economic impact in Marion County each year and creates 1500 jobs. While some might think of the arts as the antithesis of business (as Oscar Wilde once proudly quipped, "all art is quite useless"), Jaye takes a much different view.
"We have to pay for website development, we have to order paper, we have to have repairs, we have an accountant. We use the services of a regular business. And all of that is creative to a healthy economy." The arts are such a clear boon to the community that the Tourism Development Council has made them an integral part of their second five-year plan. A concerted effort will be made to attract the art tourist along with the equestrian and nature lover to the area, to take in exhibits at the Brick, the unique collection at the Appleton Museum of Art, and the sculptures at Tuscawilla Park just to name a few.
But Bailie doesn't want the arts to be something just for tourists. She's passionate about getting people in the community involved, even if the arts haven't previously been on their radar before. When I ask her what she'd say to someone who hasn't had much exposure to the arts she replies, "Stretch your boundaries. Let your mind be stretched a little bit. I encourage people to experiment with the arts. One of the things that I tell young people is…when you're looking for things to put on your wall for your apartment or dorm room or whatever. Don't go to Ikea. Find an artist that you like and buy an original piece of art."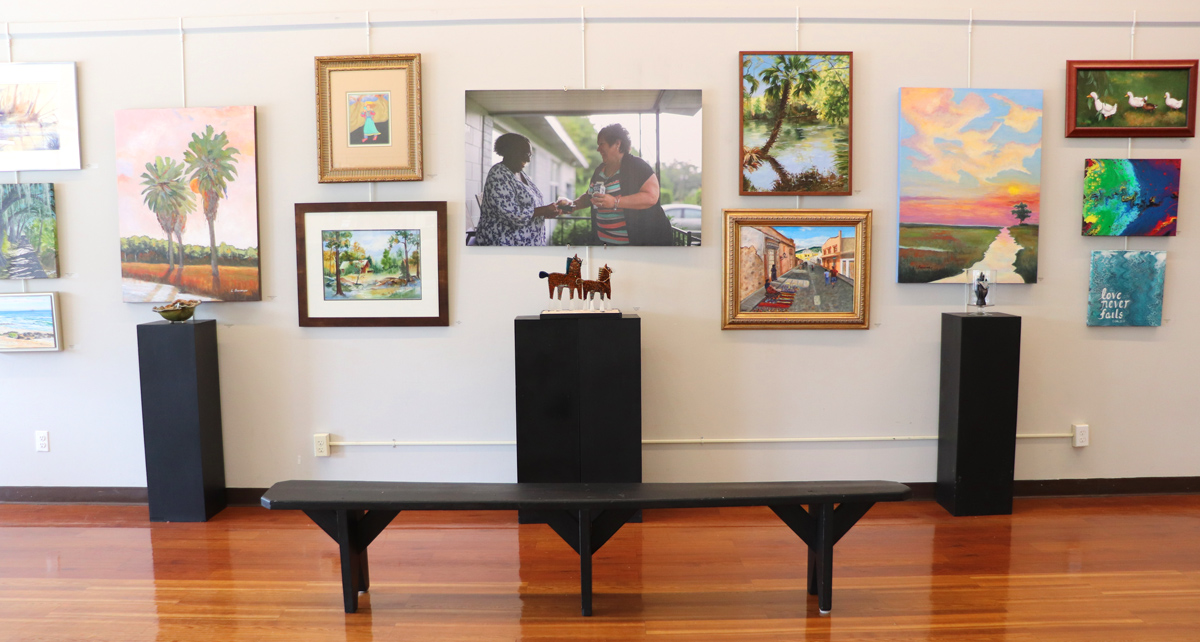 As the conversation continues, it becomes clear that there have never been more opportunities for Marion County residents to get involved. Jaye was particularly excited about the MCA's first juried art exhibition, Pleasures, which was held from September 6th -28th. Its subject matter dealt with stepping out of the stress of the every day and into engagement with the simple pleasures that make life worth living. It was also the first time the MCA welcomed a professional juror to select pieces, a major milestone for any artistic institution.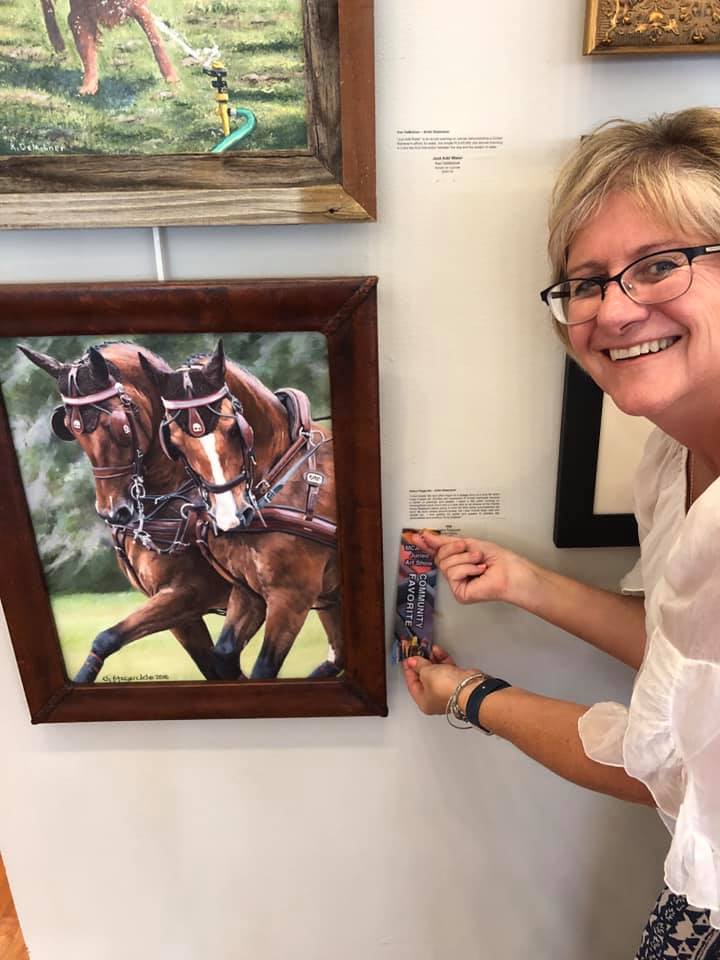 "This is the first time we've given prizes and community sponsored awards," she informs me, "it's very exciting. The response was tremendous from the art community." The MCA hopes to host more juried shows in the future to attract more local and regional artists, and gain visibility for their work.
As my afternoon with Jaye draws to a close, we turn to the subject of Showcase's close partnership with the MCA. We too believe that the arts are essential to a vibrant community—and Ocala has a special artistic flair that should be encouraged. "Across both Showcase and MCA we share a common love for this community," Jaye says. "We understand what a great asset we have here." Showcase is proud to sponsor the gallery at the Brick year-round, as well as the annual Applaud the Arts, a one-of-a-kind interactive art experience in which the next year's grants are announced. It's a privilege for us to work with someone as passionate about artistic enrichment as Jaye is. With her at the helm of the Marion Cultural Alliance, it's clear that the arts have a bright future in Central Florida.
You can follow Jaye Bailey and the Marion Cultural Alliance's latest efforts at www.mcaocala.org/. Established in 2003, the MCA's mission is to champion, convene, and create opportunities for artists and arts organizations. We recommend stopping by one of their Artist Receptions at the beginning of each month at The Brick to meet local artists, experience the exhibits, and then enjoy the First Friday Artwalks that take place downtown during the cooler months! 
The Community Spotlight Series was created to highlight local residents, businesses, events, and more that contribute to making Ocala the city that we love. You can take a look at the rest of this series here.