All photos courtesy of Gentle Carousel Miniature Therapy Horses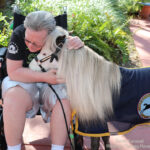 It's almost an instantaneous, instinctive response when we see a therapy animal at work, with their cute patches and vests designating them as being on duty. There's an immediate urge to pet and fawn over them, followed almost instantly by the 'no, ask permission first' that follows, as the outreached hand is snatched back as if caught in the cookie jar.
But we want to acknowledge and connect with these animals, because they're unique and special. They provide an extremely vital, specialized service for mental health, trauma, and physical health issues, and they're specifically trained for the job. While dogs are the most common of these, therapy animals come in all shapes and sizes, including cats, birds, reptiles, and – yep, equines.
Enter Magic, Scout, and their 21 hooved compatriots at Gentle Carousel Miniature Therapy Horses – one of the largest charity equine therapy programs in the world – with the tiniest of equine ambassadors.
Standing at a diminutive average height of between 34-38 inches, miniature horses look like thoroughbreds that took a Pym Particle ride with Ant-Man. But that's the only major difference; minis are small, but they're proportionate to their full-size brethren and retain the same physical appearance of large horses. The American Miniature Horse Association (AMHA) standard is thusly: If you see a photo of a mini – without anything in the image for scale – you shouldn't be able to tell the difference between it and a full-sized horse.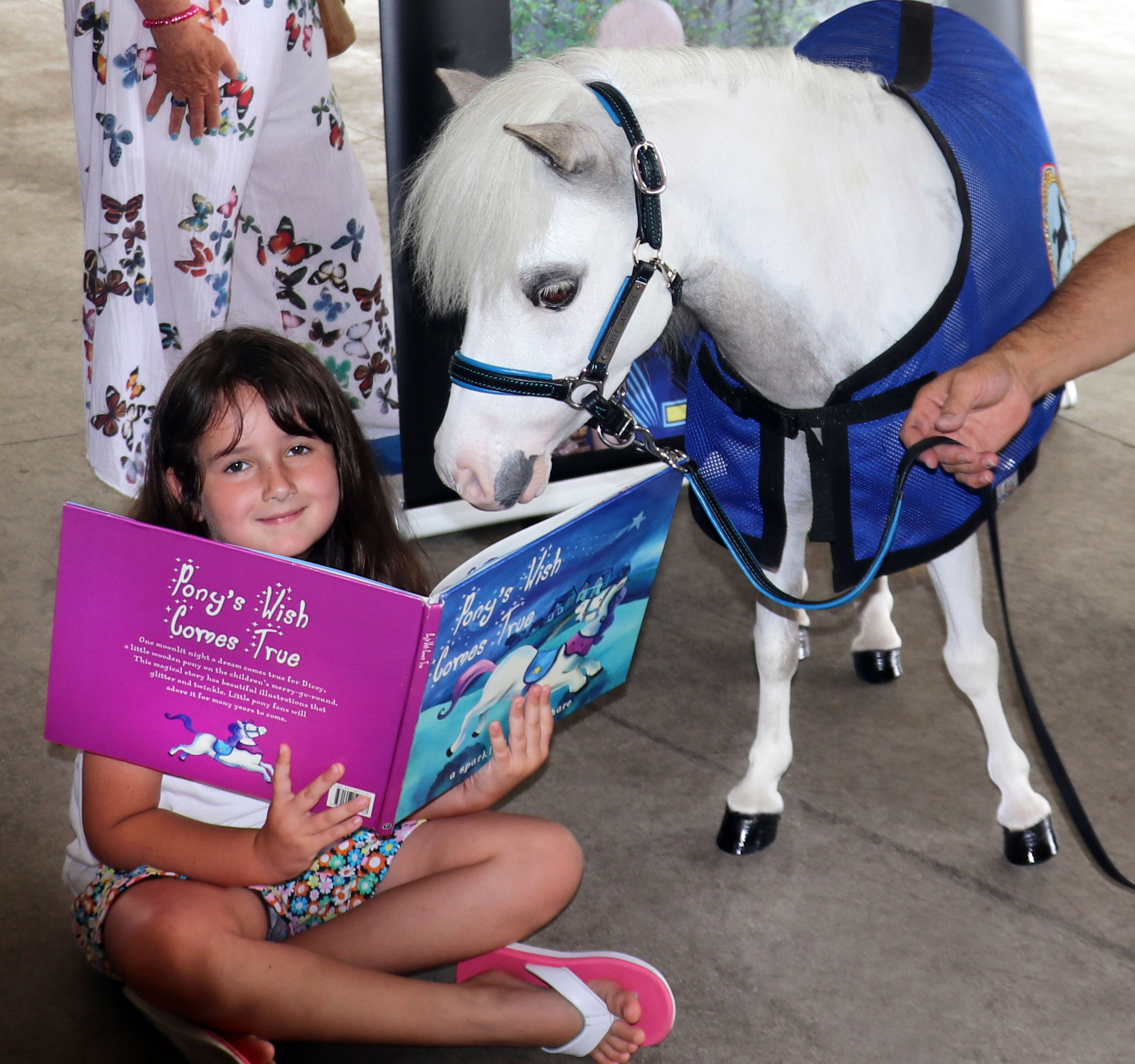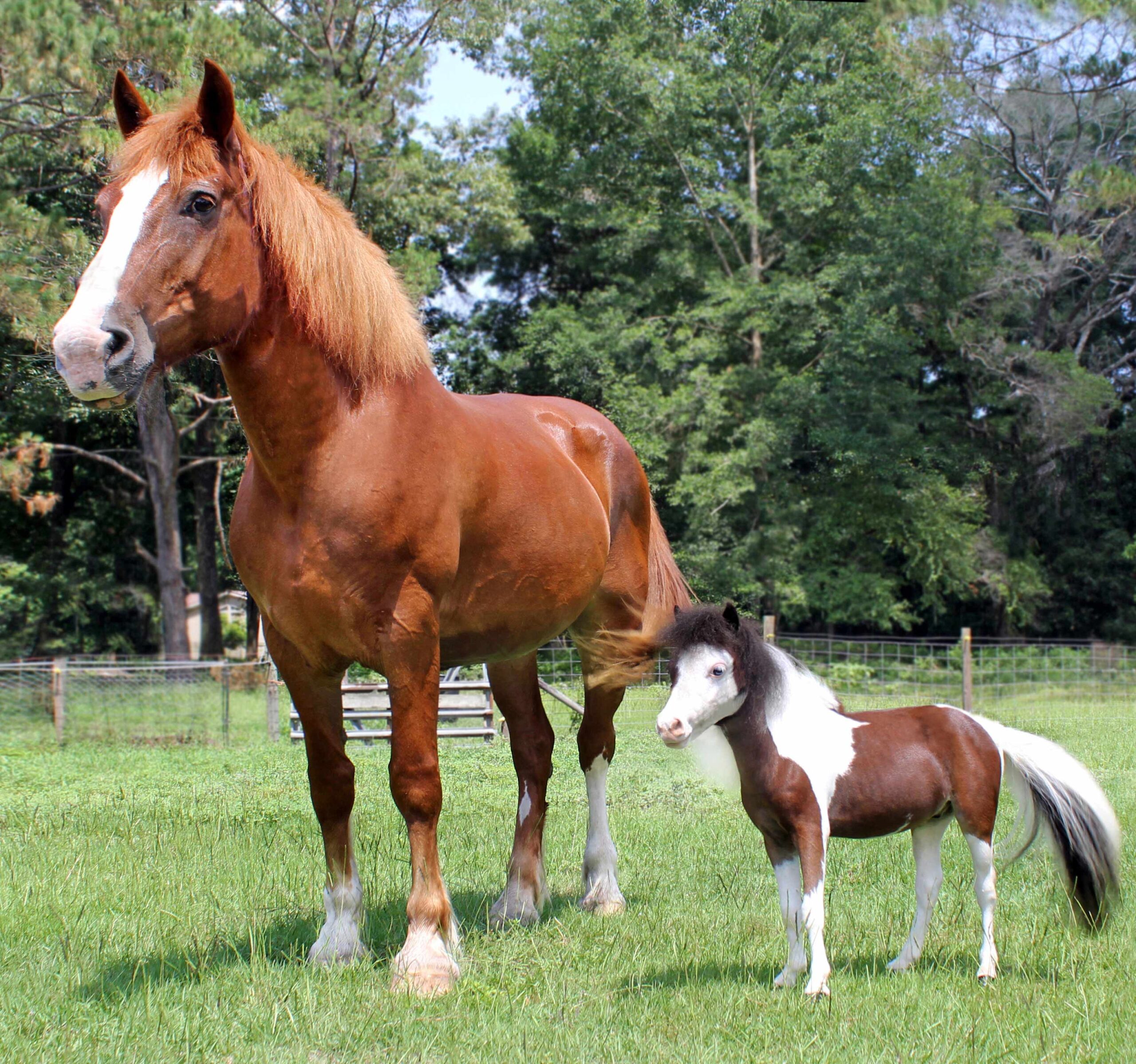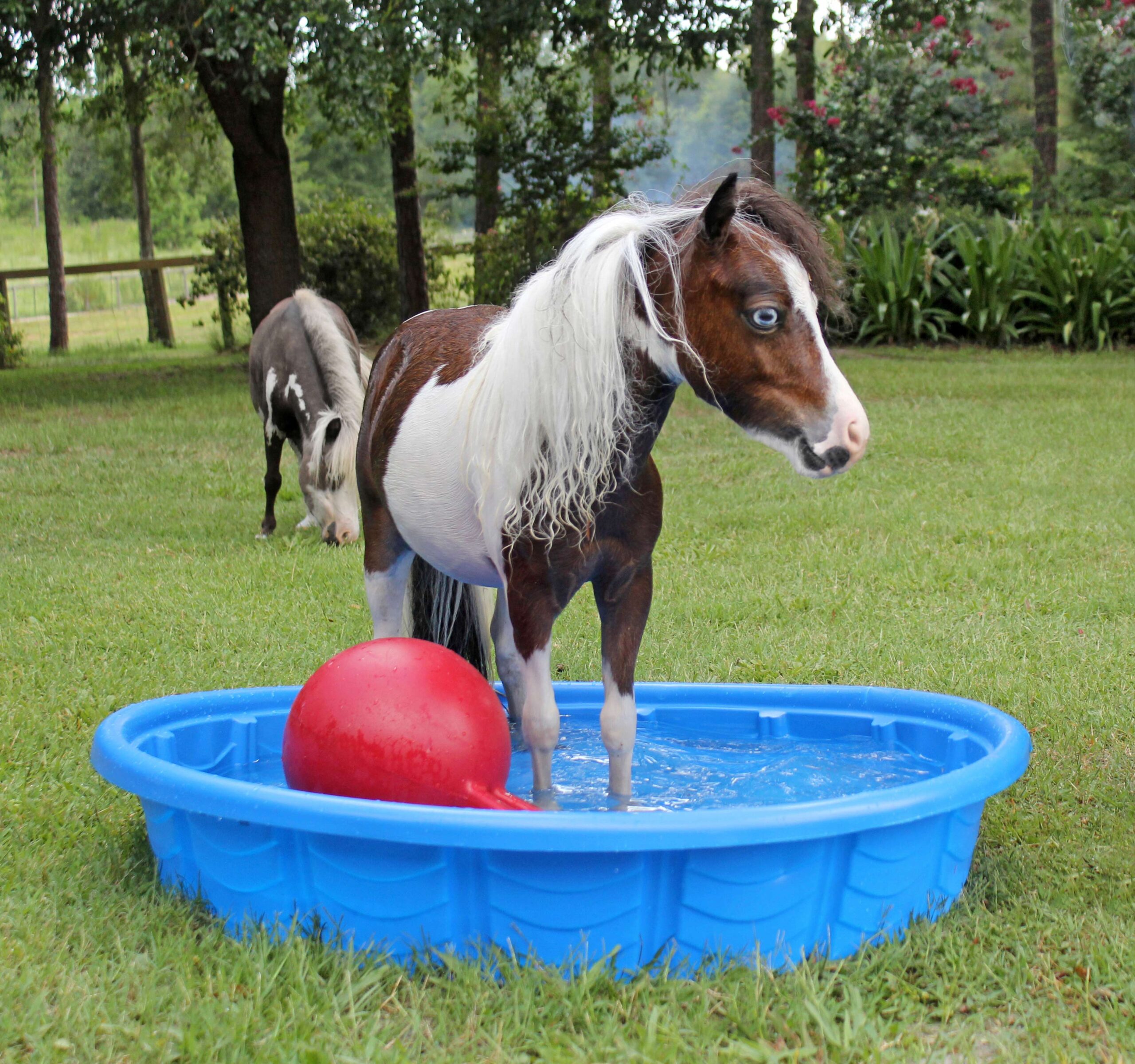 They're cute, but they're mighty.
"They're genetically the same as wild horses," explains Debbie Garcia-Bengochea, director of Gentle Carousel. "They have the same needs; the same food, the same veterinary care, the same room to move around and exercise. They get the same level of care as a large breed of horse." She pauses. "And they think like the big horses. They don't know they're small."
"They're genetically the same as wild horses. They have the same needs; the same food, the same veterinary care, the same room to move around and exercise. They get the same level of care as a large breed of horse. And they think like the big horses. They don't know they're small."
— Debbie Garcia-Bengochea, director of Gentle Carousel
Minis are bred to be friendly and gregarious, and to interact easily with people, which is one reason why they're often kept as pets – and why they're excellent therapy animals. At Gentle Carousel, the horses go through a minimum two-year basic training course, learning indoor and hospital protocols and behavior, working with both children and adults in a variety of settings, scenarios, and locations. It's an extensive and ongoing education for both horses and handlers, and specific to equines.
"It's different from the kind of training service dogs get; dogs are pack predator animals, while horses are flight animals," Bengochea explains. "So the methods and tactics are going to be different."
Horses aren't instinctively comfortable in an indoor setting the way domesticated dogs are, so working with their handlers to achieve a level of safety and comfort is paramount, since they're going to work with hospital and hospice patients. They learn to use stairs, elevators, and navigate different types of floor surfaces – let's be honest, sometimes hardwood and tile can trip us all up – and become familiar with loud sounds like ambulance sirens, alarms, crowds, and helicopters so they're calm and focused.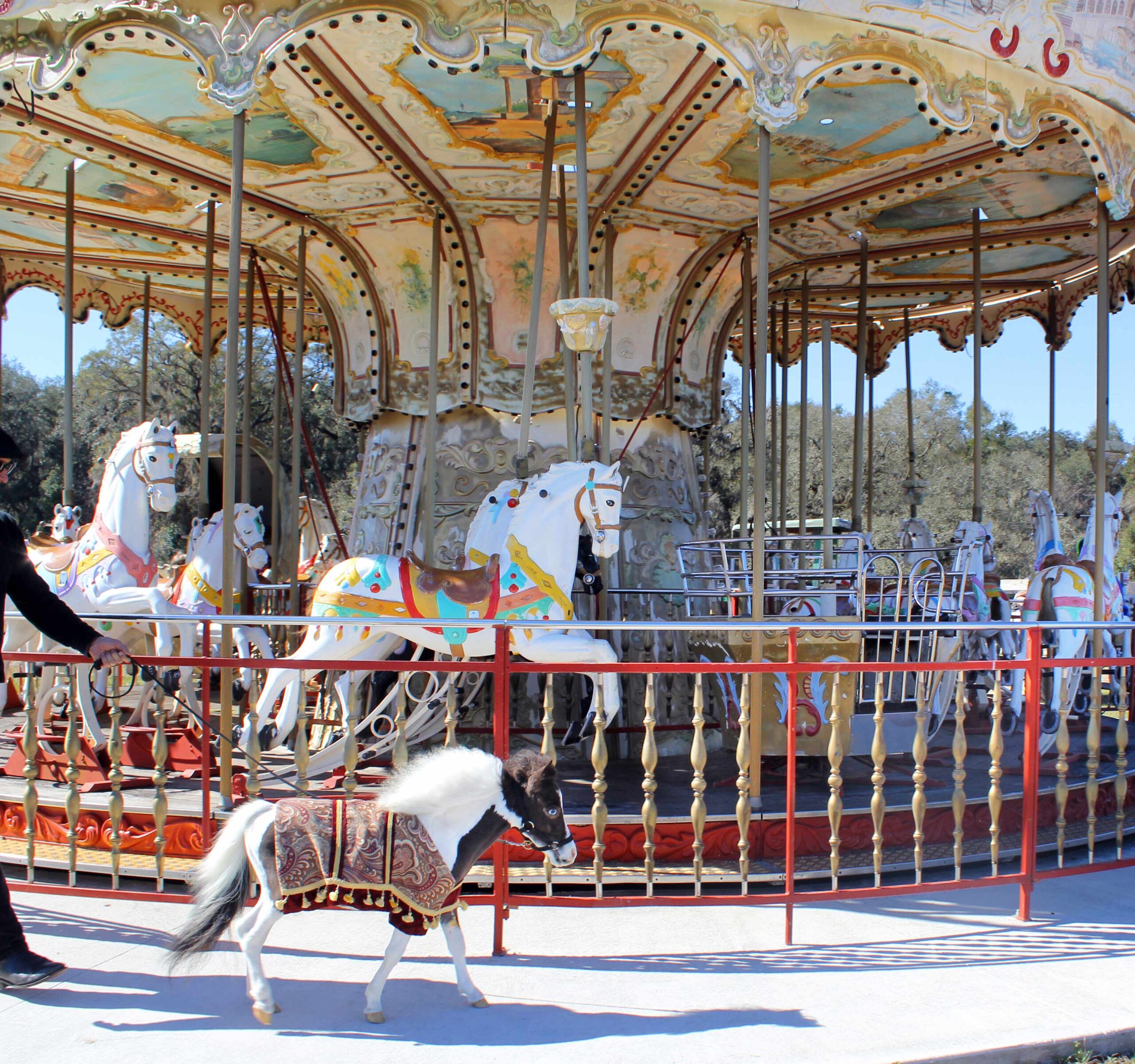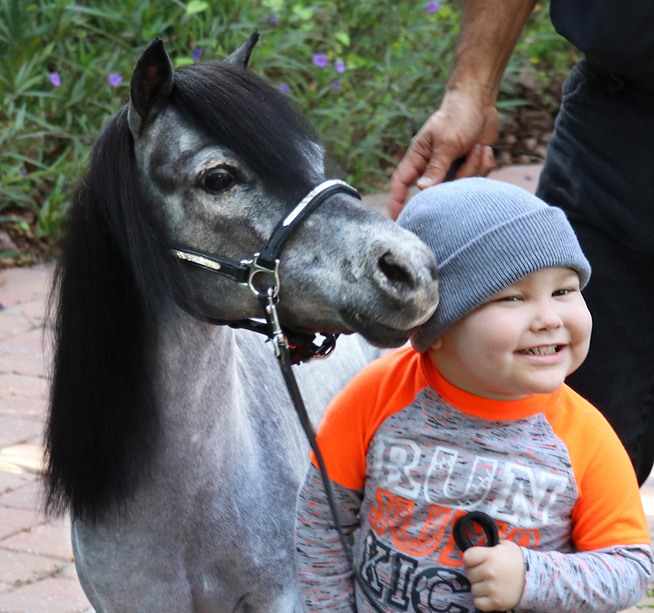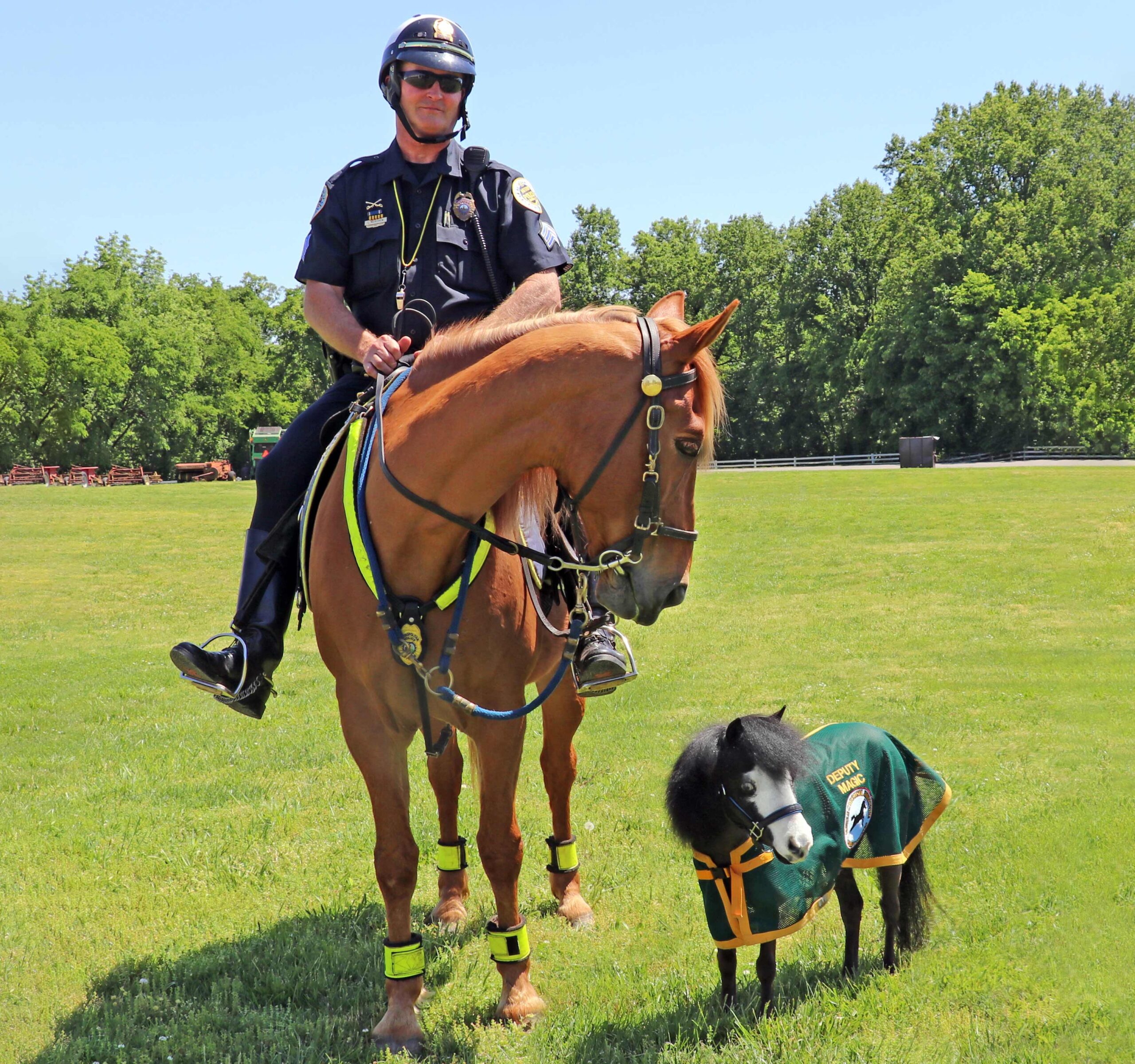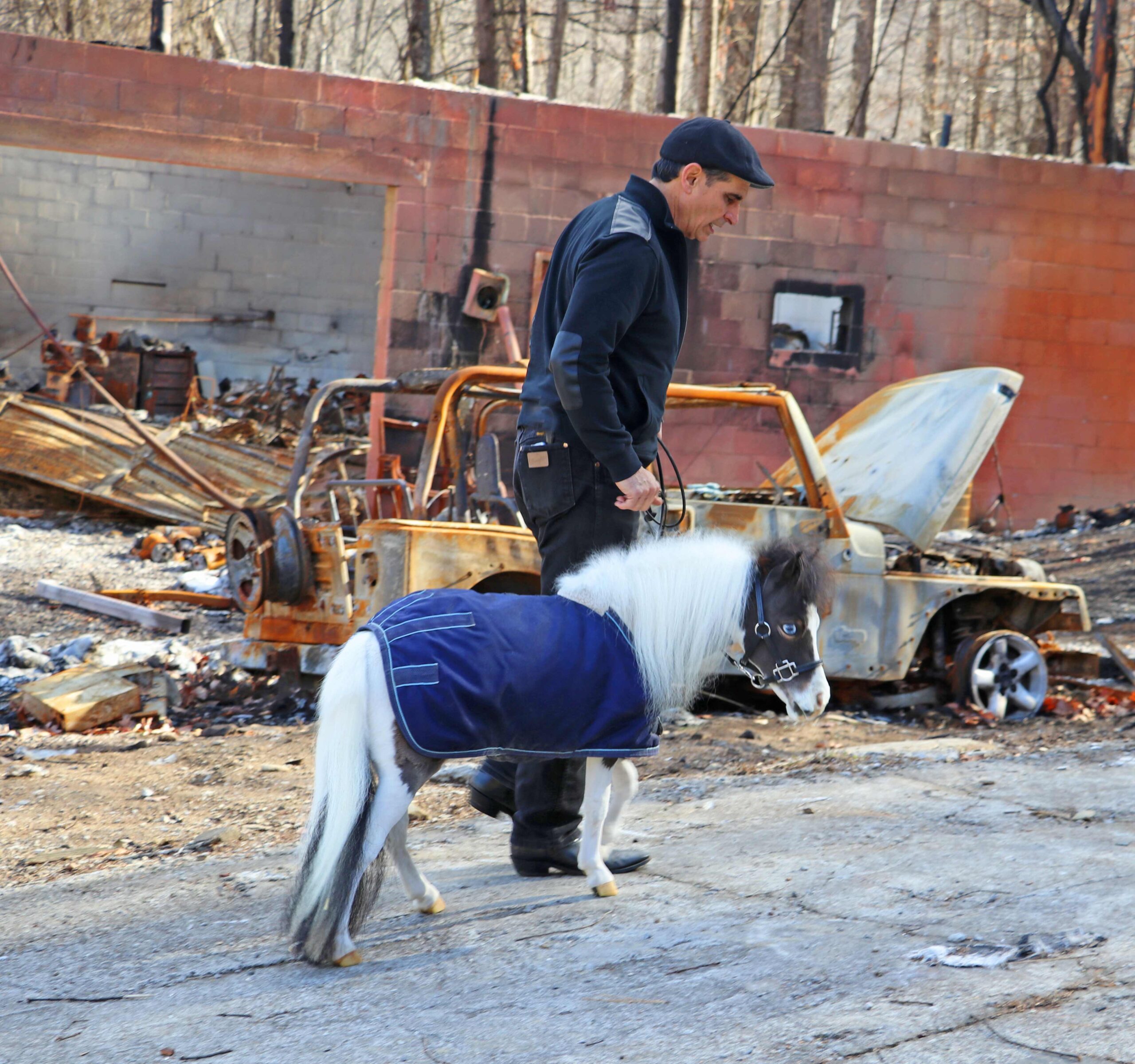 Oh, and they're house trained. That's one big difference from their larger counterparts. This is a good thing, considering they frequently visit hospitals and walk innumerable hallways.
They're also hard workers, visiting hundreds of treatment and care facilities each year, working with medical professionals in oncology, physical and speech therapy, and Intensive Care.
"Our mental health impacts our physical health, and I've seen direct examples of that," Debbie says. She's taken the horses to visit children in cancer treatment and to provide comfort in disaster and trauma situations, and has witnessed first hand how the small equines have worked virtual miracles.
"If you've worked with or been around animals, you know they're inspirational. They instinctively react to our body language or our tone of voice. Children are especially open, so the horses respond to that," Debbie explains. "Just getting them out to walk with Magic, Scout, and the other horses and enjoy some fresh air is a big deal. It's so important for stimulation and mental health."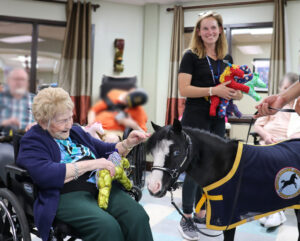 And it's helped with physical recovery, too.
"There was a little boy in Kentucky who was in the ICU and had been on a respirator for days, and he'd been listless and kind of non-responsive. We brought the horses in to visit him, and the engagement was almost immediate." She recalls. "The difference was incredible. He was out of the ICU the very next day."
Gentle Carousel travels all over the country visiting patients in care and hospice, appearing at events and educational programs, and to help whenever they can at natural disaster or trauma events. As a multiple award-winning 501C3 charity, they operate through donations that go directly to the care and needs of the herd.
"We ask a lot of these animals, so we want to give them as natural an environment as possible at home when they're not working, because they work in places most horses never see, and it requires a lot of discipline," Bengochea says. "Plus it can sometimes be stressful for them."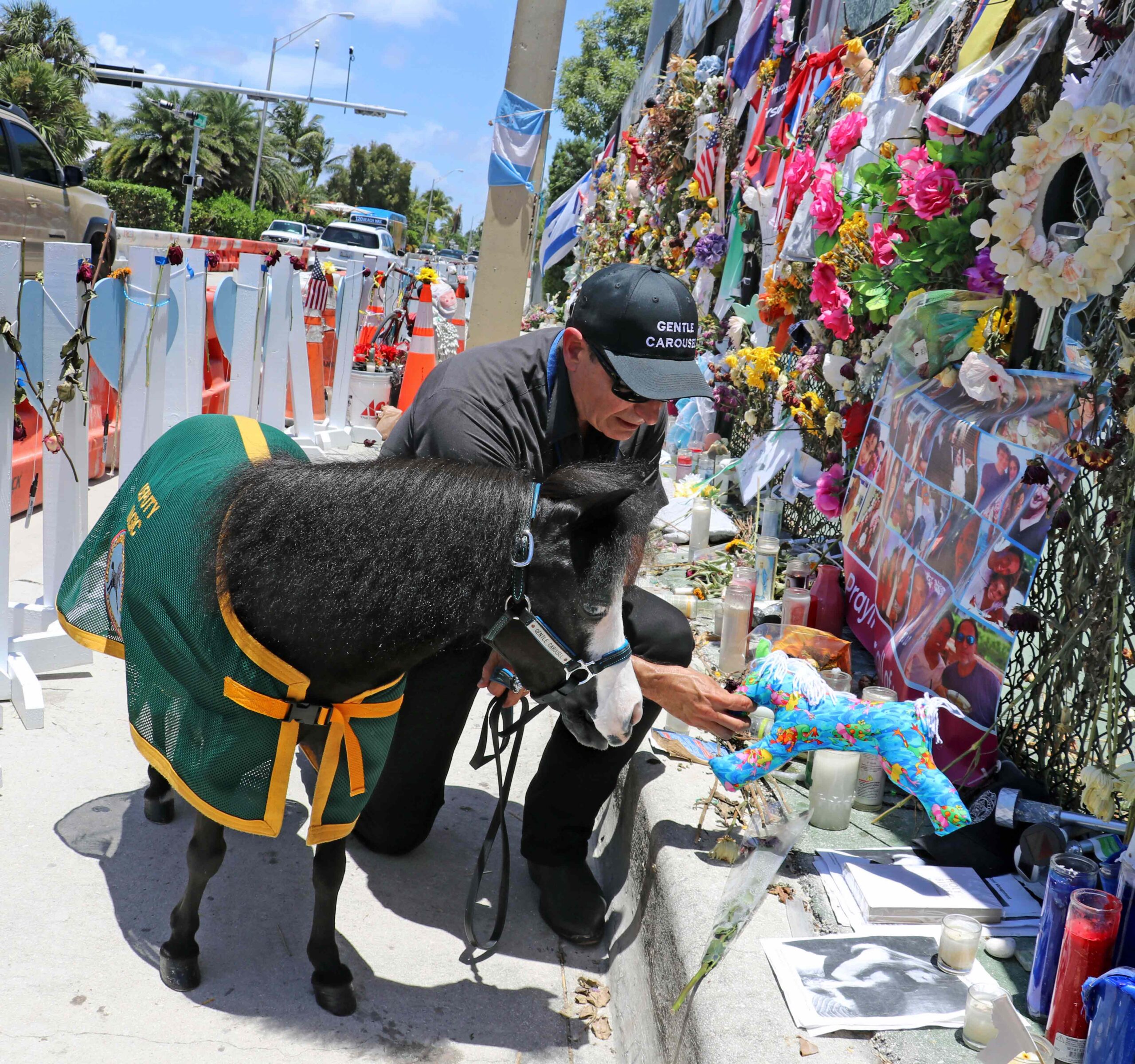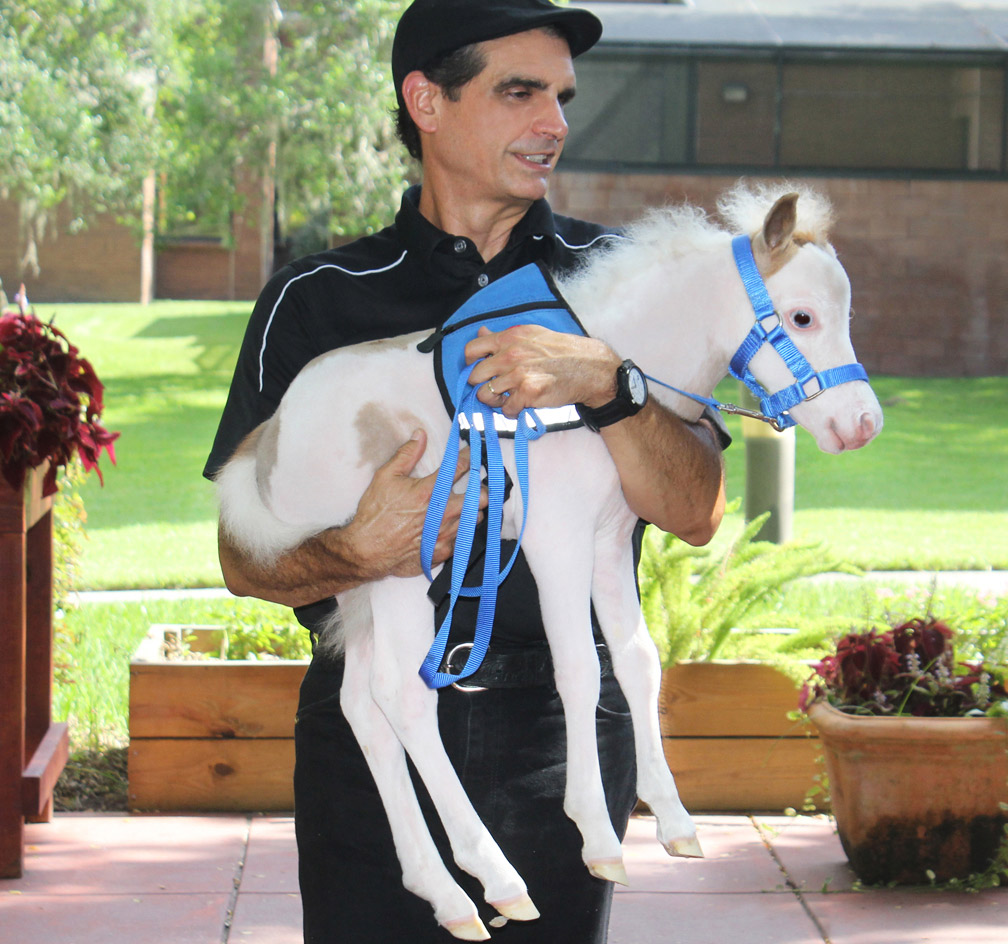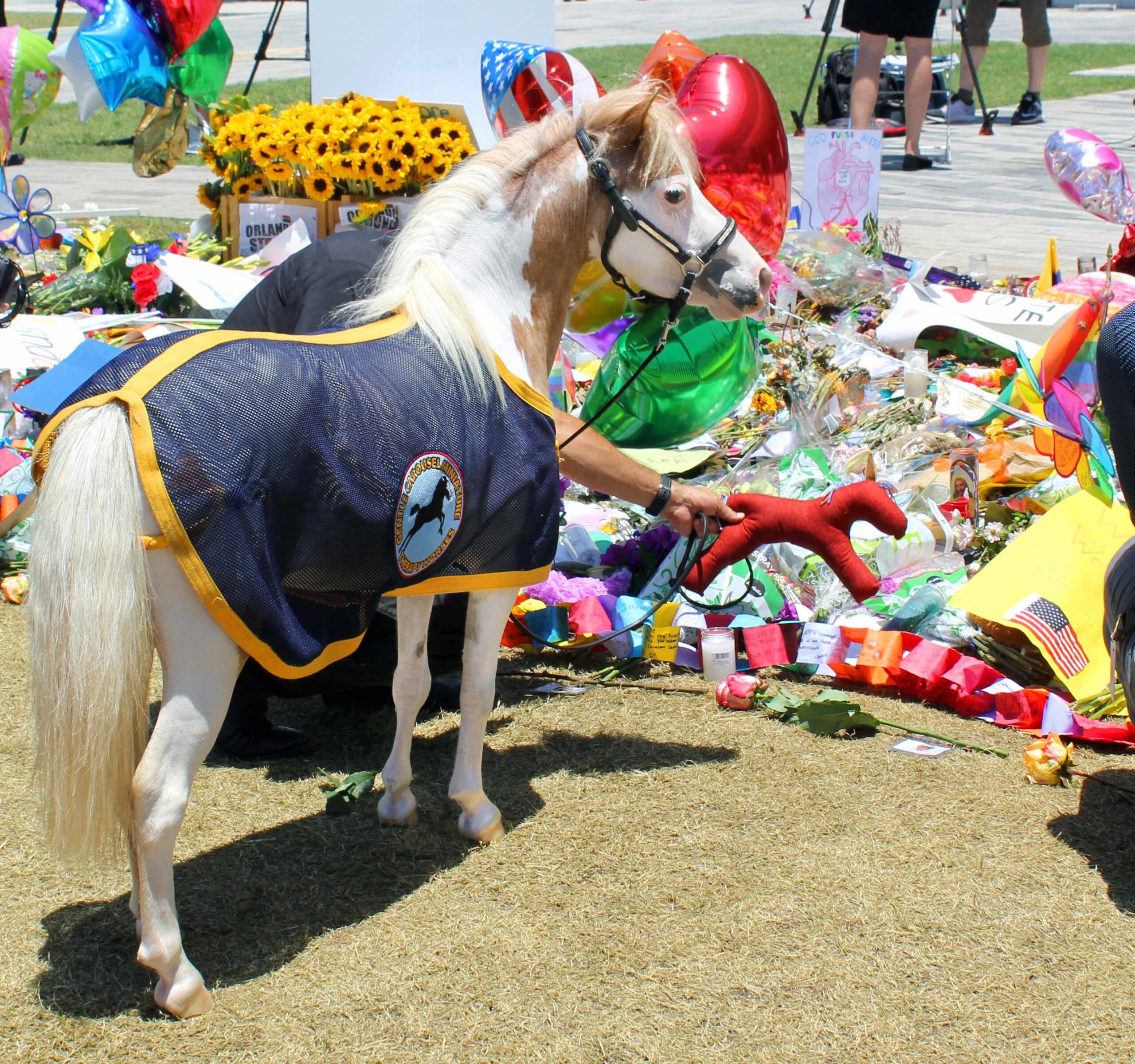 The miniature horses spend their home time in habitats that are designed to be as close to what a wild horse would enjoy – lots of pasture and space to move around, for instance. Horses need to move, and wild ones can walk up to 20 miles a day. These extremely social creatures move in two main groups – Wakanda's herd and Misty's herd – for safety and companionship, which is imperative for their health and well-being. The minis are fed the same food as their bigger brethren, and the ample room to move around makes it easier for them to eat and digest properly.
With big personalities in
Lilliputian
bodies and enough intelligence and curiosity to make them superstars, it's no wonder the horses have become rather famous – not just here in Florida, but around the country.
"Twenty-five years ago when we first started, we were sort of breaking the glass ceiling with miniature horses," Deb marvels. "Now we have people from all over asking us to come."
Magic, the "Hero Horse" of the family, is the most famous 'face' of the group, with her glossy black mane, piercing blue eyes, and effervescent joie de vivre. She's sort of the herd's Salma Hayek: Photogenic, hilarious, friendly – and able to charm pretty much everyone who meets her.
Magic helped survivors of Pulse nightclub, the Emanuel AE Church in Charleston, SC, and the people of Newtown, CT after Sandy Hook. She's been busy, but she always has time for the children, particularly the most vulnerable and scared, and always seems to work – well, her magic – on all of them. She's been featured in National Geographic, was named one of TIME's most courageous animals, and was even made an official deputy with the Alachua Sheriff's Office. She's also a big part of Gentle Carousel's literacy program, Reading is Magic, and has a book out: Mini Horse, Mighty Hope: How a Herd of Miniature Horses Provides Comfort and Healing.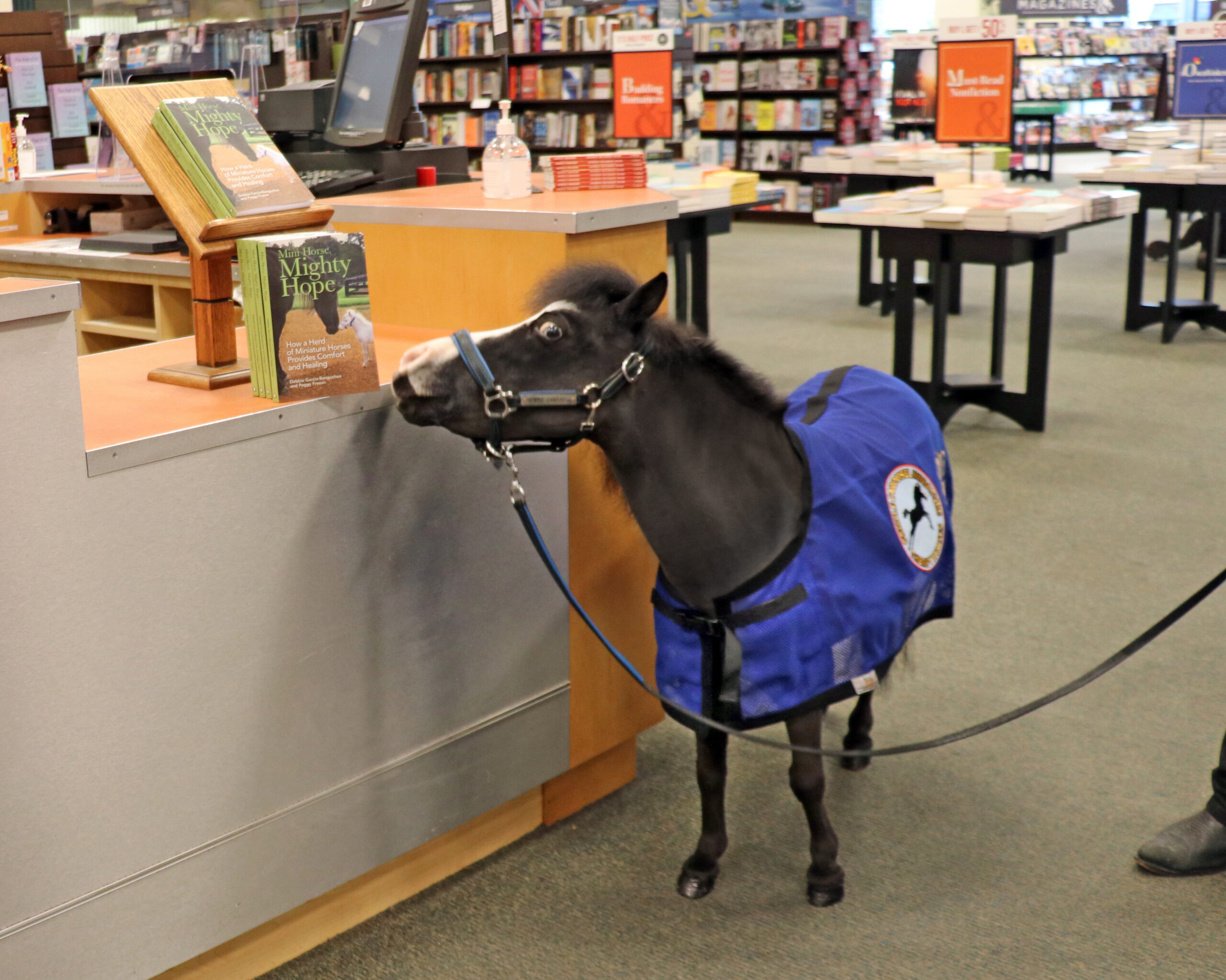 "She's amazing," Debbie says. "Everyone just lights up around her. She has a way of grounding people."
Little brother Scout is no slacker, either, although he's something of a scamp who likes to use his downtime to experiment with various forms of mischief. Like theft.
"He's our little cartoon character," laughs Bengochea. "He'll sneak into the house and steal stuff, like the poor dog's toys. He's a little terror."
Scout was "very very tiny" when he was born, but that wasn't a deterrent for him. He developed an independent, energetic streak when he was just a colt, showing off for his dam and making wandering forays into the family home.
"He'd come right into the house, and people would ask me, 'Isn't his mother worried about where he is?' But I'd just laugh, because no – she knew where he was. She was just happy to have some 'me' time alone before he came barreling back into the paddock!"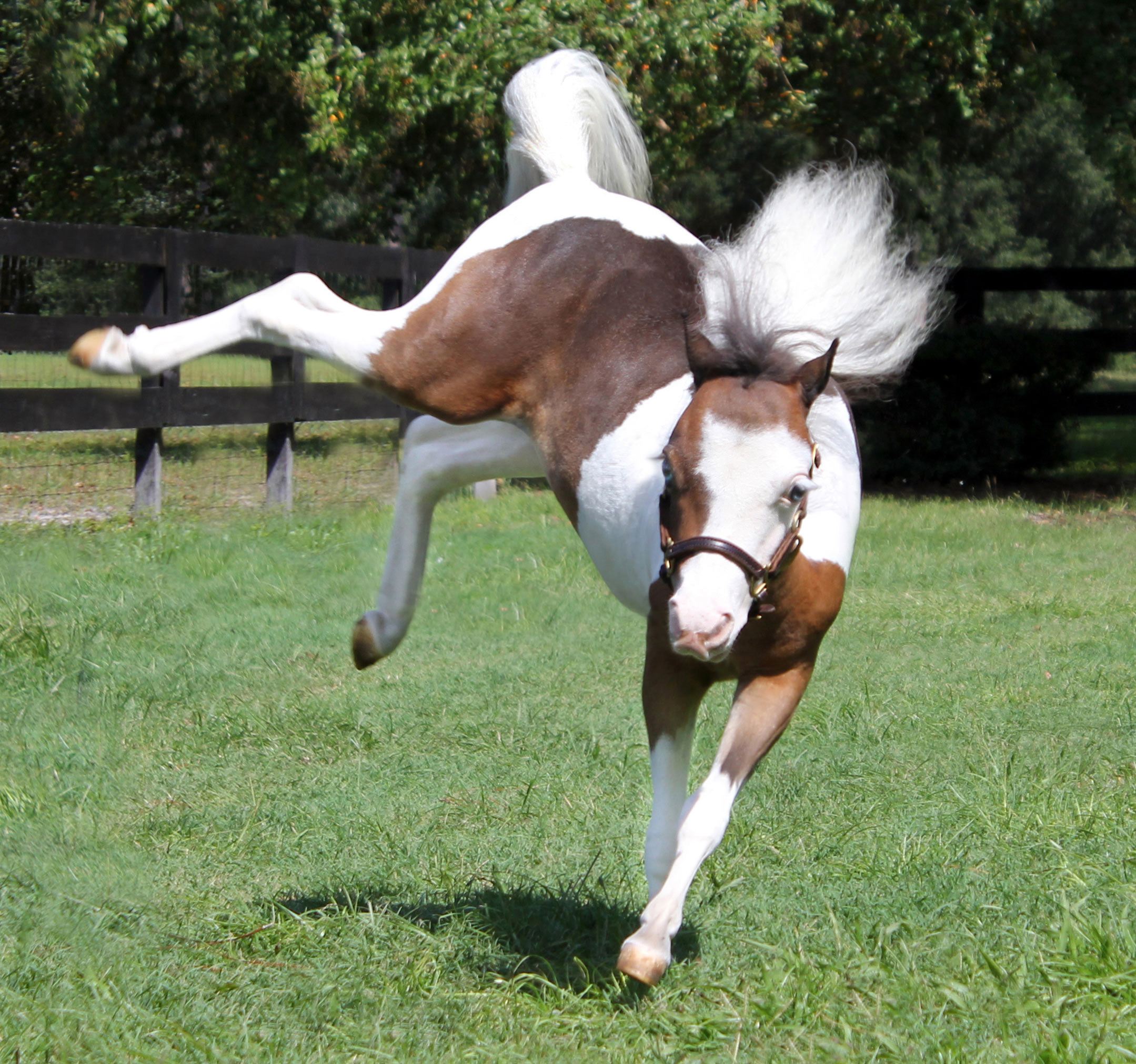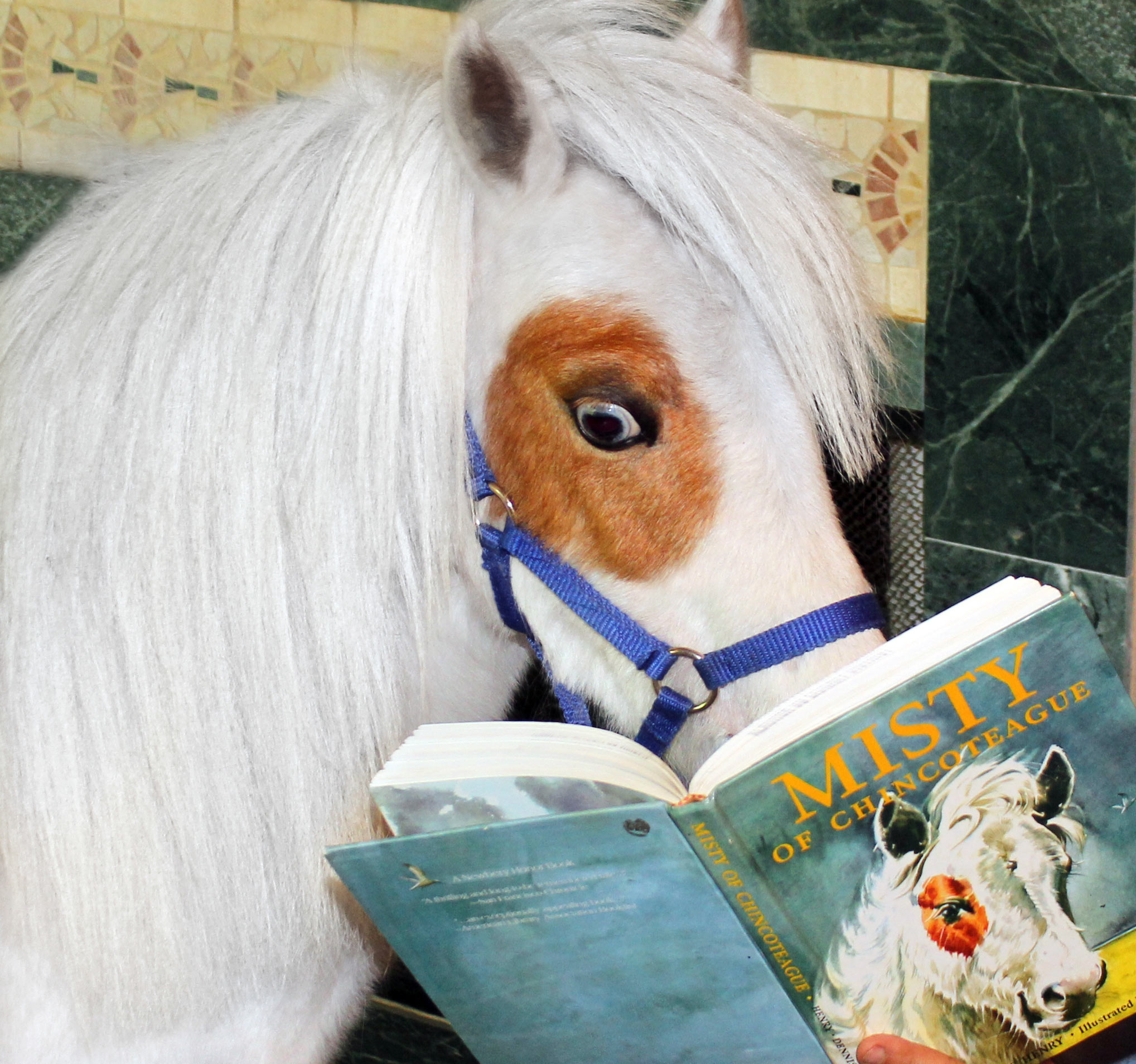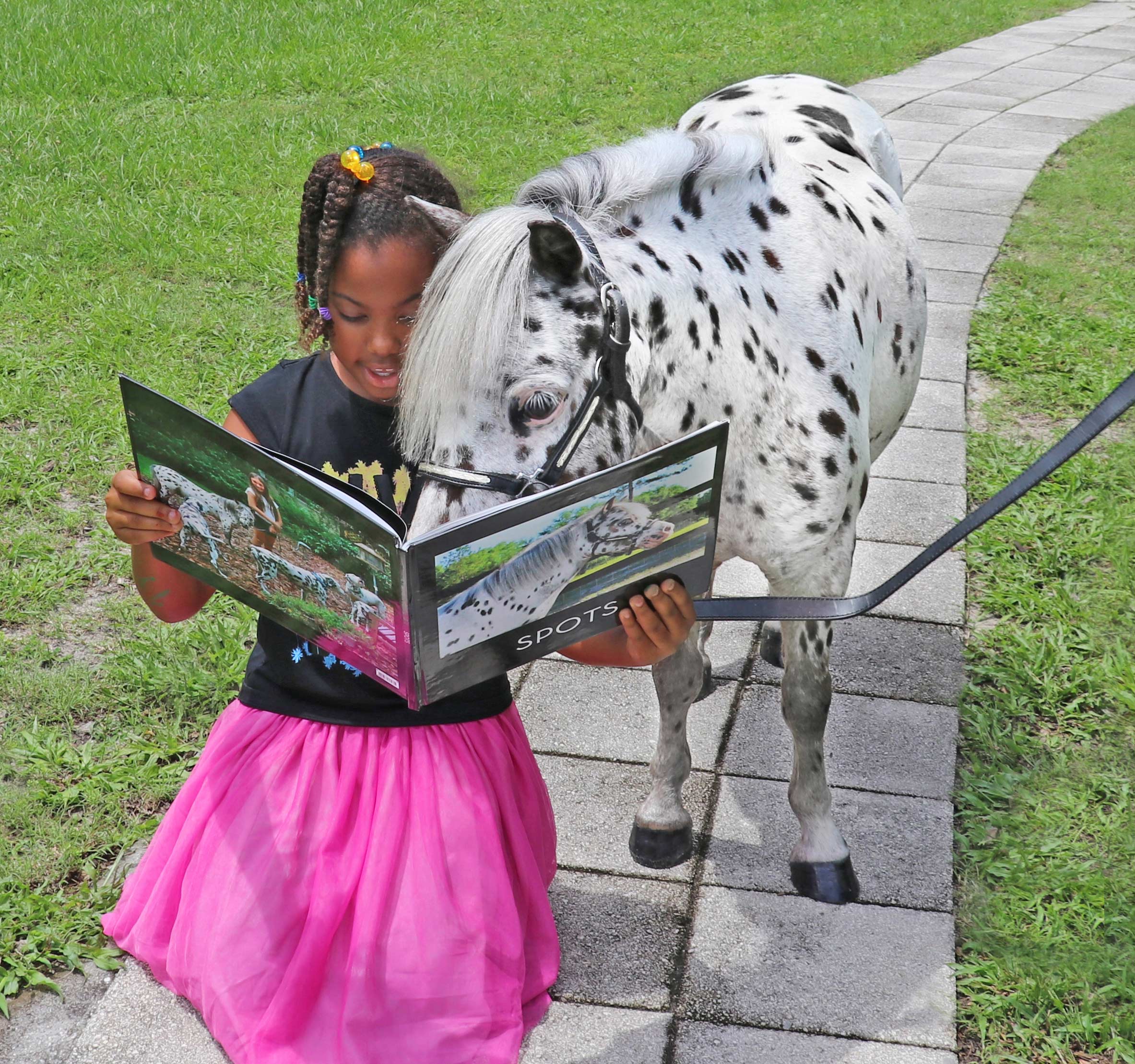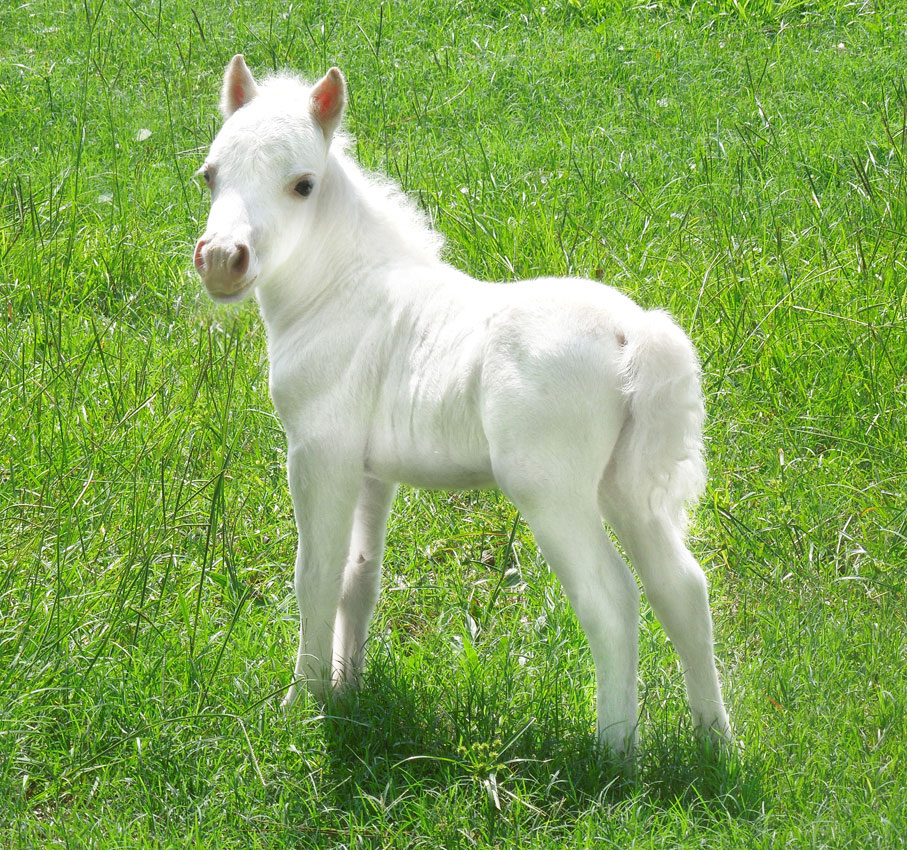 Gregarious and inquisitive, with a healthy and robust sense of innate confidence, Scout fears nothing and dances at the prospect of innocent mayhem. He has the most fans on social media than any of the herd – even more than Magic does – and if he could give autographs, he probably would. Basically, he's a diva.
"He has a big ego for a little horse. But he loves getting all the love," Debbie grins.
One of her favorite things to do is take them to the Ocala Farmers Market, where people can see and meet the horses, touch and interact with them. She was surprised to find out how many people in Marion County didn't necessarily realize the impact the horse industry and culture has on the region – so she likes the opportunity of being able to promote that and generate interest and investment.
"For kids and other people we work with, a big horse can be a little daunting. But our little guys aren't as intimidating," she says, which makes them ideal for introducing people to horses and just how much they mean to Ocala.
"It gives them a chance to meet and work with them, and understand what an amazing place we live in here." Debbie herself is often rather gobsmacked at the breadth and scope of it. "The number of different breeds and ways people work with horses is mind-boggling. It's hugely important to this area."
"For those who want to understand more about horses, this is a way for them to get to know about them and how vital the industry is to our community. Ocala is really becoming a destination."
— Debbie Garcia-Bengochea, director of Gentle Carousel
Magic and Scout also appeared recently at Horse Farms Forever's Conversations About Conservation Summit, hosted at
Ocala Breeder's Sales Company
, where they were predictably adored and featured in many selfies. It's another part of the ambassadorial nature of their mission.
"For those who want to understand more about horses, this is a way for them to get to know about them and how vital the industry is to our community." Debbie observes, noting that the Equus Film and Arts Festival will be relocating from New York to Ocala in 2022. "Ocala is really becoming a destination."
The year ahead is shaping up to be stunningly busy with more hospital visits, outreach programs and the literacy project, plus various appearances planned. Debbie and the staff try to stay committed to every event they say yes to, with rare exceptions like dire emergencies or natural disasters. It's important to them that they make it to each visit they've confirmed, because they don't want to disappoint the people who look forward to them coming.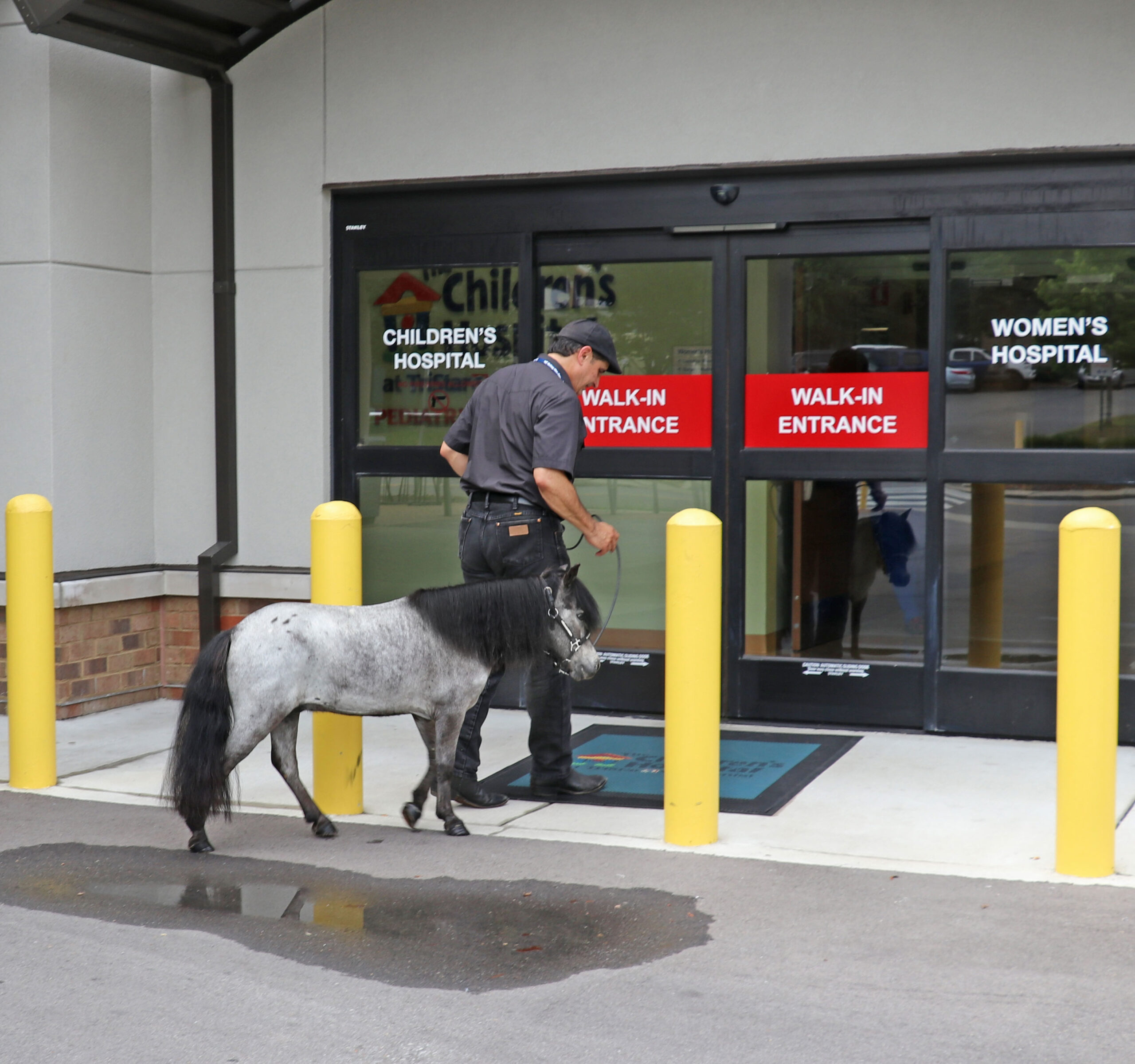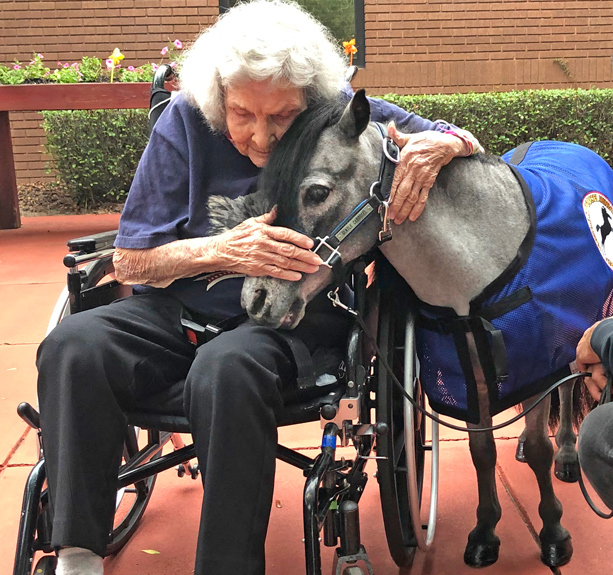 "You can't always fix everything," she says about the sick children and trauma patients they see. "But you can make their day better."
The hard work of upkeep, the onerous travel and long distances punctuated by home time can be challenging and sometimes exhausting, and at the same time she's managing a whole non-profit enterprise. But the dividends pay off, and she finds that she gets a morale boost from the visits as well.
"It's really easy to think sometimes that things are just hopeless," she admits. "But then you see people do amazing things for each other and help in ways that are truly wonderful. We see a lot of tough stuff, no doubt. But in the whole picture, there's a lot of hope." She's seen both.
"In the worst of times," she says. "You really end up seeing the best in people."
For more information about Magic, Scout, and their paddock mates' therapy, educational and literature programs – or to make a donation to support the horses, visit
Gentle Carousel's website
.