You know your home is gorgeous, but the everyday grind of living can obscure some of its most attractive features. This is why, in addition to being meticulously cleaned, a home must be staged before attempting to sell it on the market. Staging your home to make it attractive to potential buyers brings out the best in every room, nook, and cranny. Here are some tips from Showcase Properties of of Central Florida for making your home look perfect to everyone who walks through the door!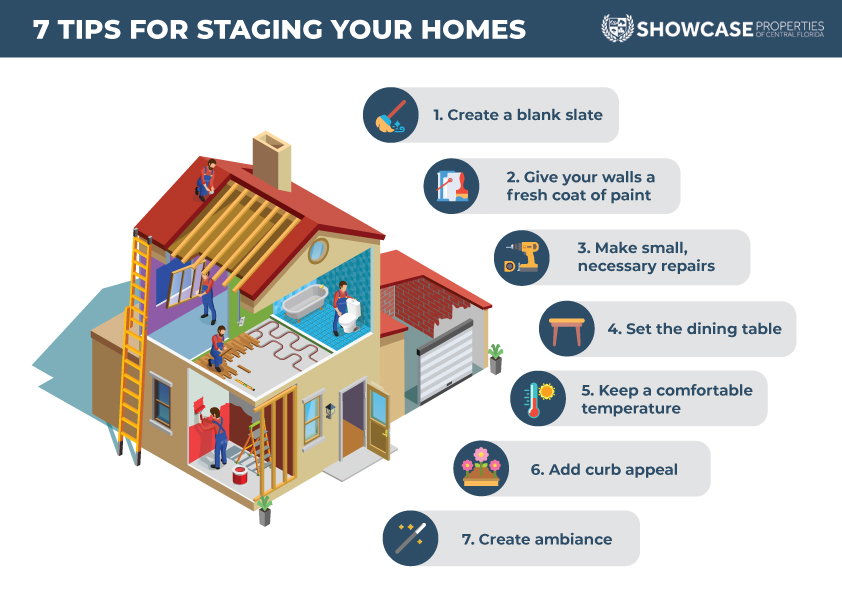 1. Remember: create a "blank slate". You don't want to gut your home, but you do want to help a buyer imagine themselves living there. Make your home as much of a blank slate as possible without sacrificing its overall aesthetic. A crucial element to staging is decluttering — getting every single surface in the home as clear as possible. Clean off counters, tables and desks. If you can, clear out all walk-in closets. Put any unneeded decorations in storage. Less is more!
2. Consider repainting: Nothing against that lovely Aegean blue bedroom, but unique paint jobs might actually turn off buyers and prevent them from being able to see themselves living in your home. Repaint in neutral tones like taupe, beige or light matte grey. All trim should be white. Boring? Yes. But immensely helpful to attracting buyers and getting your home sold!
3. Make repairs: Got damaged walls or cracked tile? Be sure to patch them thoroughly before opening your home to buyers. Replace broken windows and screens, oil any pesky, squeaky doors, and tighten loose faucets. Always remember to replace blown light bulbs.
4. Set the table: Setting the dining table is the perfect way to subtly help buyers imagine themselves living in your home. Break out the good china or just invest in a cute, inexpensive set from Target, but make sure it matches your decor. Set the table as if you were throwing the dinner party of the year — think warm and inviting!
5. Monitor the temperature: If buyers are sweltering or shivering in your house, they'll connect thoughts and considerations of your home with physical discomfort. Make sure to always keep the thermostat at a reasonable temperature; between 70 and 73 is good in the summer and 75-78 in the winter. If you're nitpicky about the temperature or are used to how your home feels, bring in someone else as a guinea pig to give you feedback.
6. Don't forget the outdoors: Focusing on the interior of your home can seem more important than the exterior, but don't neglect the outdoors! Update outdoor furniture and patios to make exterior areas an extension of the inside of the home. Be sure that all outdoor furniture and decorations match well with everything in the interior. Ensure continuity between inner and outer space.
7. Create ambiance: Subtly appeal to the buyers' senses. Be sure all lighting is bright and natural. Play soft, gentle mood music in the background. You can invest in an essential oil diffuser or wax tart burner, but be careful when scenting your home. Some buyers may be sensitive to certain scents and compounds. If you feel that adding fragrances to your home's ambiance is right for you, consider neutral scents like lemon or bergamot.