Showcase Monthly Newsletter
Building Our Team
We are pleased to announce Amanda Permar and Mary Durr as our newest team members at Showcase Properties of Central Florida.
Amanda was born and raised in Marion County, and is a fifth generation resident. Her knowledge of the local area and familiarity with residents and clients alike will surely prove to be a great asset in the real estate market for buyers, as well as sellers.
Mary has been married for 20 years and owns a 20 Acre
Thoroughbred Horse Farm
, where they breed, train and race horses. Mary has been in Real Estate for over 16 years. Her dedication to strong customer service and negotiation skills throughout the transaction has generated a loyal and strong referral business from her past clients.
Local Ocala News
MLS data for June sales:
606 closed sales–an increase of 12.8% from a year ago
656 pending sales, increase of 7.0% year over year
Average sale price $145,862, a decrease of 3.7%
A decrease of 8.0% of active listings from 3,083 to 3,351 the previous June 2014
Months' supply of inventory was 6.0 down 13.8% year over year from previous June 2014
The June report is available from the Ocala Marion County Association of Realtors (OMCAR) report. Please
email our office
for the report.
The economy is strengthening, but some pockets of the country are expected to see explosive employment growth in the coming months. Will their housing markets follow? Ocala is projected to be the top 5 for
job growth
, with projected annual gains of almost 4 percent, according to Moody's Analytics.
1. Naples, Fla.
Projected annual job growth: 4.6%
2. Myrtle Beach, S.C.
Projected annual job growth: 4.5%
3. Cape Coral, Fla.
Projected annual job growth: 4.4%
4. Orlando, Fla.
Projected annual job growth: 4.2%
5. Ocala, Fla.
Projected annual job growth: 3.9%
6. Provo, Utah
Projected annual job growth: 3.8%
7. San Jose, Calif.
The National Association of Realtors reported in July that existing home sales increased 3.2 percent in June. This increase represents an annual rate of 5.49 million units,  the highest level of sales since February 2007. This is most likely the result of pent up demand as potential homebuyers who have been sitting on the sidelines enter the market. Sellers as well are becoming more active as they are seeing prices recover, leading to quality inventory.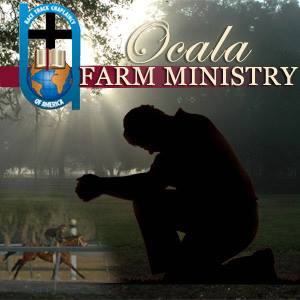 The Ocala Farm Ministry, the people who take care of the people, who take care of the horses.
As a division of the Race Track Compliancy of America, the Ocala Farm Ministry helps individuals by providing  spiritual, emotional, physical, social and educational well-being through work with horses. The goal of the Ocala Farm Ministry is to provide "employees with the support system that they need, AND to engage this Central Florida horse community in compassionate support of the chaplaincy." The organization offers Christian services, youth programs, family events and educational programs. Educational programs include English classes, GED classes, after school tutoring and more.
If you would like to help the Ocala Farm Ministry they ask you to consider tax deductible donations, or volunteering at annual events and coaching youth programs.
It Might Be Time for a Home With a Pool
Alex Andres Farm

$3,550,000

Country Club of Ocala

$1,399,000

Country Hide Away

$748, 900

Meadowlands Farm

$649,900  

Ocala Downs

$776,000

Pine Ridge Estates

$157,000
Until Next Month
Referrals are the livelihood of our business. If you have a friend, family member, or co-worker who would benefit from the Showcase Team's real estate services, please
contact us
. We promise to treat everyone with respect and the highest level of integrity and customer service. Your referrals are the greatest compliment that I, and the Showcase Team, can receive.  Thank you for your business and recommendations!