Drill Team Offers One-of-a-Kind Riding Opportunity
by
Cynthia McFarland
Ask a dozen horse owners why they ride, and you'll likely come away with as many different answers. The enduring partnership between horse and rider remains a common passion.
Throughout the many equestrian disciplines and wide array of breeds participating, the vast majority of equine sports are solo ventures. Each horse and rider duo compete against other horses and their riders. The best score or fastest time determines the winner.
From racing to show jumping, dressage to reining, barrel racing to cutting and many more, all of these popular activities see each horse and rider competing on their own. The fact is, team sports are rare in the equine world, with polo being the most prominent example.
Enter drill team competition.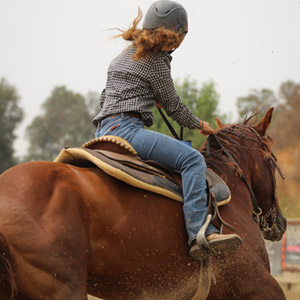 Across the country, drill teams offer an opportunity for horse owners of various skill levels to compete locally, regionally, and nationally.
You may have seen a drill team perform at a rodeo or other large equine event, but most spectators don't realize the wide array of competition options that drill team offers.
Valerie Stalvey is co-president, with Nichole Sandeen, of the Sunshine State Mounted Drill Team Association (SSMDTA) based out of Ocala. In addition to running the association, both women are personally invested in the sport and compete on different teams. Stalvey rides with The Renegades, while Sandeen rides with The Outsiders.
SSMDTA puts on four competitions annually. Three of these are qualifiers for the State Championships held each November.
When someone asks Stalvey what drill team is, she describes it as "marching bands on horseback" because riders and their horses are moving in a group performing patterns and maneuvers to music.
Simply put, it's a controlled ride with continuous forward motion by a group of riders on horseback.
There are many reasons to join a drill team, but Stalvey beautifully sums up the sport's appeal. "Riders are doing something with their horses and learning, but also have the camaraderie of being in a team," she says, adding that the horses themselves are also teammates.
"It's a great sport for youth and adults of all ages. You ride to the level you can ride at. It's a fun outlet for people and their animals."
–  Valerie Stalvey, Co-President of the Sunshine State Mounted Drill Team Association
Unlike some other disciplines, there are no breed requirements or restrictions to participate on a drill team. You'll find everything from ponies to Paso Finos, Gypsy Vanners to registered Quarter Horses—and just about every breed in between.
Stalvey herself, who has been competing in drill team since 2008, rides on a team that features mostly mustangs.
Another appealing aspect of drill team competition is that there are divisions suited to riders of all abilities. For example, in the Novice division, riders only compete at walk/trot, while at the other end of the spectrum, in the Rodeo division, the entire class is executed at a canter (aka lope). There's a Youth division for riders 18 and under, and an Open division with no age restrictions.
"It's a great sport for youth and adults of all ages," says Stalvey. "You ride to the level you can ride at. It's a fun outlet for people and their animals."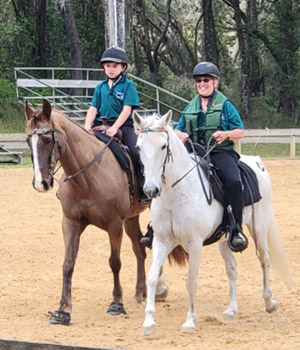 From left, Shade Beutel, 10, and Ziggy Beutel exit the arena after a Novice competition at Sumter Equestrian Center in February 2022
Plus, what's not to love about a sport where you and your horse can perform in costume?!
Indeed, spectators get to cheer on a wide variety of costumed competitors, from biker gangs to pirates, Top Gun pilots to firefighters and much more. One team even rode as the Pink Ladies from the musical Grease at a recent SSMDTA competition.
The whole idea behind drill team is to promote the sport for entertainment and competition.
Competition categories include Novice (walk/trot only), Quad (four horses per team), Youth (18 and under), Open (any age), 4-H, Gaited (naturally gaited breeds) Themed (riders and horses in costume), and Rodeo.
Team members strive for uniform appearance in tack and outfits. On some teams, horses are the same color, but other teams include a great diversity of colors and breeds. Teams range from just four horses to 20 or more.
Competing teams are judged on ability, including spacing and alignment, timing and coordination, originality, difficulty, and attractiveness of patterns, speed, horsemanship, uniformity, manners of the animals, music, and crowd appeal.
"Timing, coordination and spacing are key. We try to emphasize more of the precision instead of 'flash and dash,' which emphasizes speed and 'wow factor' over precision," says Stalvey.
At the time of this interview, Stalvey was preparing for the SSMDTA State Championships on November 5-6, 2022, at the Alachua County Agricultural and Equestrian Center (formerly Canterbury) in Newberry, Florida. 
Also getting ready for the November event is a group of 10 local equestrians from Marion and Citrus Counties who mount up and compete with a mission of sharing Jesus Christ.
The Gospel Riders drill team includes riders ranging in age from 10 to 70 years old.
"We stand out from most drill teams in Florida as we choreograph all our performances to Christian music, including contemporary, classic, and even rap," says team coach Ronda Hemminger Evan.
Founded in 2019, The Gospel Riders currently hold two of the four annual awards given by the Sunshine State Mounted Drill Team Association.
"The Gospel Riders won the Judges Choice Award in February 2021 and again in 2022. This year the SSMDTA added a Sportsmanship award in September, and The Gospel Riders were honored to win the inaugural trophy," says Evan.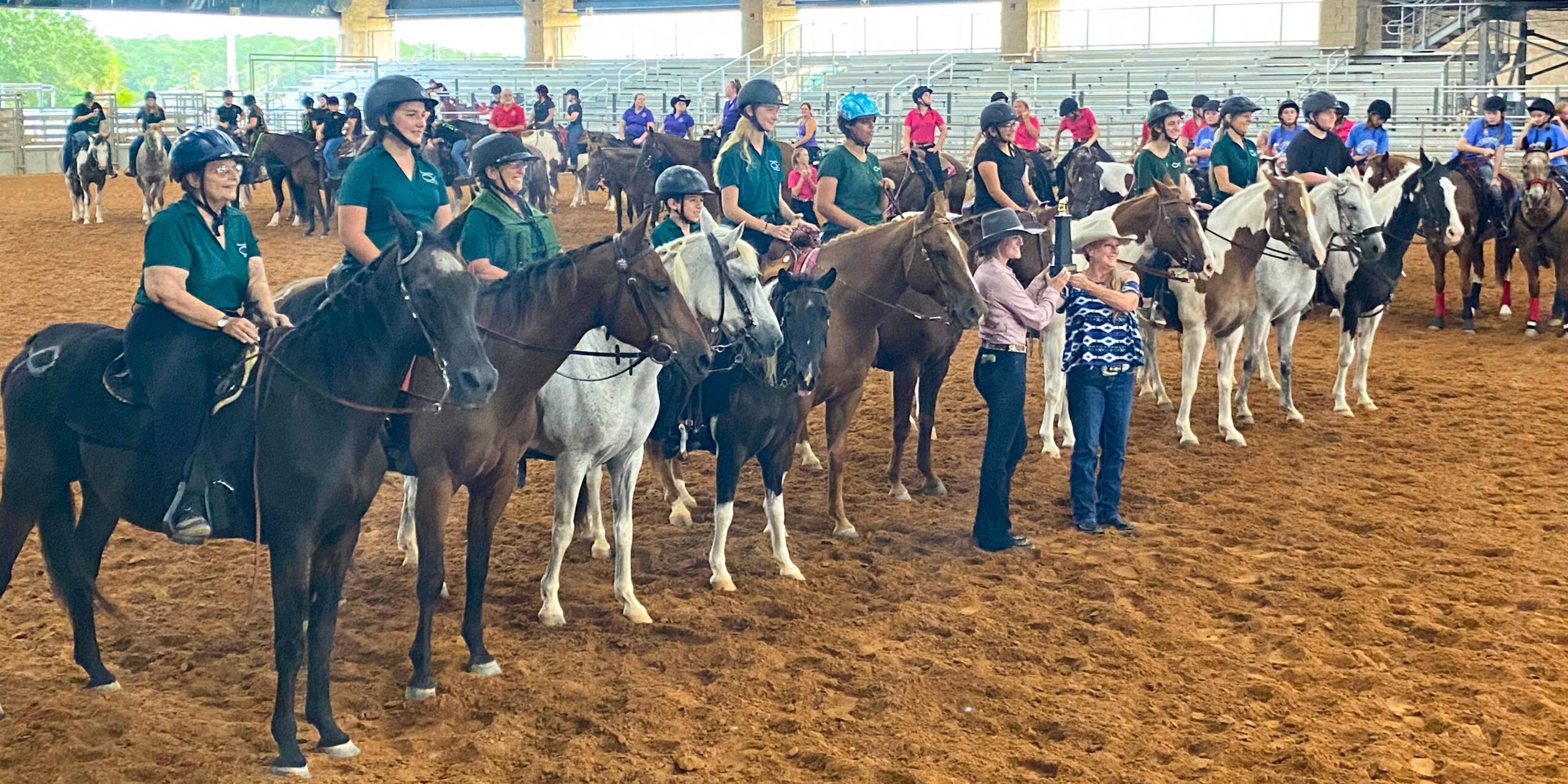 The Gospel Riders being presented with the SSMDTA's first-ever Sportsmanship Award in Okeechobee on September 12, 2022
Growing up in Marion County as the daughter of the late Dr. Bill Hemminger, a large animal veterinarian, Evan has been a horse owner, rider, and enthusiast since childhood.
"I got interested in drill teams after my daughter Natalia got involved with one in 4-H at the age of 9," relates Evan.
She and Natalia founded The Gospel Riders when Natalia was 16. Natalia had previously ridden on two other drill teams.
"The idea of forming our own team appealed to us because we liked to ride with others and we could see this as a ministry," says Evan.
"The appeal is you're always working as a team. It's all about teamwork between horse and rider and between the other riders and their horses. There's a lot of teamwork going on."
–  Ronda Hemminger Evan, Gospel Riders Team Coach
"The appeal is you're always working as a team. It's all about teamwork between horse and rider and between the other riders and their horses. There's a lot of teamwork going on," she says.
"The other appeal is you get to dress up in costume–both horse and rider—and it's all choreographed around the theme. There are also non-themed classes, and we do them all," Evan adds.
"Imagine riding a pattern in the arena doing fast maneuvers with other riders just eight inches off your stirrup. It's exhilarating!" she says. "It can be kind of daredevil, but with the slower speeds, it's just beautiful artistry, almost dancing in the arena."
The Gospel Riders team practices weekly at the Greener Side Ranch in Pine Ridge, a large equestrian community in Citrus County. Thanks to the ranch donating their facility for use each week, the team can use the covered arena and practice even if it's raining or hot.
Evan says the team is open to new members and fall is the ideal time to join before competition season starts again in February. In order to try out and join, a drill clinic is mandatory, during which both horse and rider are assessed.
"The main criteria are that you have to be a good equestrian and have a calm horse who likes to work in tight maneuvers around other horses. We have had people try out, but as much as they want to do it, their horses didn't," says Evan.
She explains that the Novice division really opens the door to riders who are just starting out in drill team competition.
"By nature of the rules, it's only walk and trot, no loping, so it's good for those who aren't as experienced and aren't prepared to go fast," she says. "But no matter which class it is, we have fun!"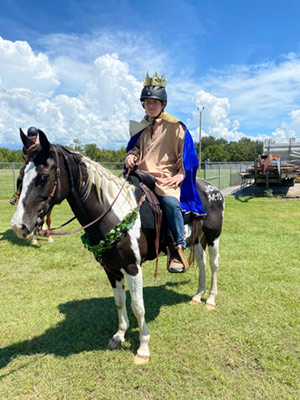 King Peter from the Narnia themed class
Horses on The Gospel Riders team include Quarter Horses and Paints, along with a Tennessee Walker and a Paso Fino. Because the mission of the team is to spread the Good News, each horse performs with the Christian fish logo on its right hip and the rider's favorite Bible verse on its left hip.
Her daughter Natalia recently left to attend college at Auburn University, but Evan continues to coach the team.
"We have a great group of youth and adults who are committed and we're going to keep doing this. We performed at halftime during Ocala Polo at the Florida Horse Park this summer," says Evan, who was thrilled that Showcase Properties recently stepped up as a sponsor of The Gospel Riders.
"All riders pay their own entry fees and all travel expenses. We use sponsorship dollars for drill clinics and for a baseline of tack, so we all have the same black saddle pads, matching helmets, and matching tack. We're very grateful to our sponsors who make that possible," says Evan.
"Valerie Dailey answered the call to be a sponsor and Showcase Properties came on board. I'm delighted to have a sponsor from Ocala," she adds. "We also have riders from Marion County, so this truly makes it a Marion-Citrus County team."
"I like giving back. This also showcases the fact that there are other disciplines and equine activities that people can do with their horses. If we can help spread the word about drill teams and promote this different discipline, I'm happy to do that!"

–  Valerie Dailey, Broker/Owner Showcase Properties
Valerie Dailey, owner/broker of Showcase Properties of Central Florida, Inc., appreciates supporting the drill team because it's a sport that is well within the reach of everyday horse owners.
Dailey met the Evan family years ago when Natalia was in 4-H and happened to be on the meat judging team led by Valerie's husband, Hugh Dailey, president at MIDFLORIDA Credit Union in Ocala.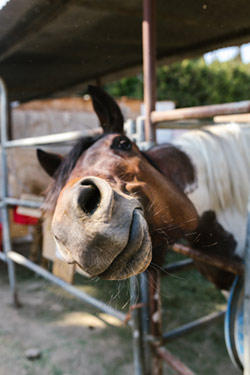 "I've watched Natalia grow up. When she was on the meat judging team, they won State and then went out to the Nationals. Ronda helped us with marketing and promotion at Showcase," says Dailey.
Living in a county where it's not unusual for riders to compete and show on six-figure, purebred horses, Dailey says she especially appreciates that drill team may include members riding well-bred, expensive horses, but the sport doesn't require a high-dollar horse to compete.
"You don't have to have a fancy horse to do this, so the barrier to entry is lower, which is nice for people who have backyard horses and want to get involved in something fun," she notes.
As for Showcase Properties becoming a sponsor of The Gospel Riders, Dailey relishes the opportunity to support this locally-based team.
"I like giving back. This also showcases the fact that there are other disciplines and equine activities that people can do with their horses," says Dailey. "If we can help spread the word about drill teams and promote this different discipline, I'm happy to do that!"
Over the weekend of June 2, the Gospel Riders drill team was at
Florida Horse Park
Saturday and Sunday, proudly representing Marion and Citrus counties and competing in four different categories.  Showcase was pleased to be their sponsor as they brought in two first place wins, in addition to third and fourth placing in a thrilling display of equestrian sportsmanship.
"Showcase's support helped us so much, especially with matching tack and preparing the educational clinic," says Ronda Hemminger-Evan, whose daughter Natalia is a rider and cofounder of the drill team. "It was an awesome weekend, and we had so much fun. It was great to be a part of it and to be able to support the equestrian community this way."
The Gospel Riders will be in Newberry August 26 and 27, competing in another state qualification competition, and then go on to the state championships in November 2023.
Interested in learning more?
https://www.facebook.com/SSMDTA
https://www.facebook.com/profile.php?id=100083472069559
The Gospel Riders team coach: Ronda Hemminger Evan – 352-422-0206
2023 SSMDTA Show Schedule:
Qualifier #1 Saturday & Sunday, February 18-19 at Triple J Ranch – Sarasota, FL
Qualifier #2 Saturday & Sunday, June 3-4 at Florida Horse Park – Ocala, FL
                      Qualifier #3 Saturday & Sunday, August 27-28  at Alachua County Agriculture and Equestrian Center – Newberry, FL (formerly Canterbury Showplace)
State Championships Saturday & Sunday, November 11-12  Okeechobee Agri Civic Center – Okeechobee, FL