Ushering in the holidays with the flair, style, and sparkle that's become a hallmark, the World Equestrian Center opened the month-long Winter Wonderland on November 25. If you missed it – no worries; it'll be sparkling all the way through Christmas Eve.  Our super-stoked Showcase agent Noris Roche was there for the full experience opening weekend, and as far as we can tell, she had a ridiculously good time.
"Oh my gosh, it was so much fun," she gushes. "I love going to WEC anyway, so I was excited to see what they had done. We had such a great time, and the place is so beautiful, it's almost like you've been dropped into this magical world. I smiled so much my cheeks hurt."
The family-friendly event is back for its second year of enchanting Ocala, starting with the official lighting of the Grand Plaza, glowing with more than a million bulbs and festooned with enormous ornaments, garlands, and even a Christmas tree maze. Kids can meet Santa Claus, write a letter to the Elves at the North Pole, and get tickets to enjoy breakfast with St. Nick at on-site restaurant Stirrups on select dates.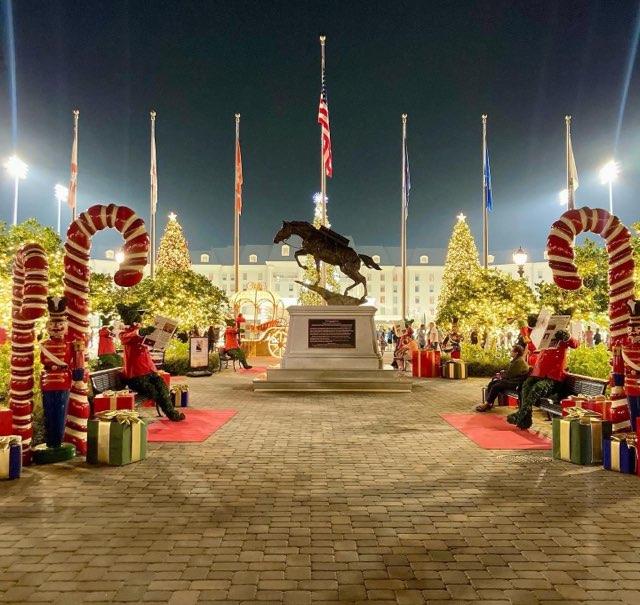 As if that wasn't enough, WEC has an entire
holiday extravaganza
planned throughout the month that features entertainment for the adults as well as kids, including live concerts every Friday and special ticketed performances on scheduled Saturdays, plus carolers, stilt walkers, toy soldiers, and elves running around – as well as the occasional superhero or princess. Not to mention food. Lots and lots and lots of food.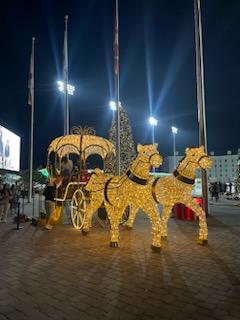 "The Yellow Pony was packed," Noris whistles. "I don't think I've ever seen it that busy. The food kiosks were really popular too, especially the S'mores stand. The whole plaza smelled incredible."
She brought a carload of family along with her to the opening festivities, which turned out to be a big treat for everyone.
"My son was in from Hawaii; he'd never been to WEC. He, my daughter and the kids all came along," Noris says. "It was really amazing. There were more lights this year, more stuff, more decorations and activities and these huge, beautiful Christmas trees – oh my goodness, it was almost sensory overload, but in the best way. My five year old niece loves princesses, so of course she was just mesmerized by the one that was walking around greeting the kids."
Throughout December, WEC is also presenting a diverse slate of events that offers something for everyone, and that includes the runners and steppers in our lives. The Tinsel Trot 5K Run and Walk gets under way December 3 for an ambitious 3.1mile loop around the entire property for those who feel like getting in their cardio and dodging stilt walkers along the route before coming back to enjoy some hot chocolate and live music.
For more fashion-conscious folk who prefer more relaxed festivities, the
Florida Paint Horse Club
hosts an eight-judge APHA show and Ugly Sweater Holiday Classic that same evening. No adornment is too much and no color, weave, or size is unacceptable. There are additional such contests on the event calendar, so don't sweat it (ha, get it?) if you don't win this one. Bring it back and wear it again.  The worse you look, the better chances you have.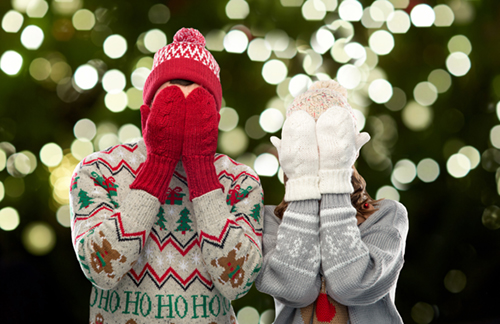 Showcase is a proud sponsor of December 17 and 18th's
Spirit of the Horse
performance, a unique and absolutely stunning holiday story about family, hope, and love, and it has snow queens, angels, fairies, thrilling heroes, dastardly villains, plus dazzling horses and riders.
Beautifully conceived and created, this performance benefits the amazing
Horses Without Humans
, an organization that rescues, feeds, and cares for horses that have been left unwanted and homeless, giving them a safe haven where their health, needs, and safety are protected. The cast and crew of this amazing show are all top riders, trainers, set designers, and performers who volunteer their time and talent to help raise funds and sponsors for the horses, and it's a feast of music, light, action and color that will leave you speechless and create a wonderful shared memory for everyone who sees it.
WEC Winter Wonderland is Thursdays through Sundays throughout December and is free and open to the public; tickets for scheduled events can be purchased online, so check out the
Event Calendar
for dates and times.
Parking is $30 per vehicle or $50 for VIP spaces. We'll definitely be there; hope to see you!