There's that saying we've all heard: "Not all heroes wear capes", and the point behind the axiom is that extraordinary people aren't always the flashiest feathers in the hat.
Some heroes are everyday humans; that guy who buys you a cup of coffee in the drive-thru, or the kid who shovels the sidewalk just to help out. They're the medical professionals who were able to get to work because their sidewalk was shoveled, subsisting on that cup of coffee in the drive-thru to put in a ten-hour day treating and curing illnesses. They're the donors who click the link and give what they can to someone who needs help without ever having even met them. A lot of the time they're hidden, wearing regular clothes like regular folks, going about their day like everyone else.
In short, any of us and all of us can be heroes.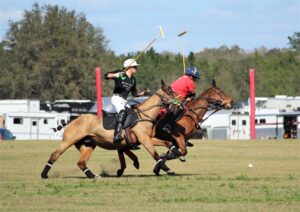 On February 21st, the Ocala Polo Club hosted a special benefit match at Florida Horse Park for the Wounded Warrior Project, a non-profit organization that provides support for our active military and veterans. Spectators, supporters, sponsors and veterans covered the sidelines to watch the game and raise awareness and funds for an important, worthwhile cause.
"This is our second event with Wounded Warriors," explains David Eldredge, co-manager of OPC and co-captain of Team Resolute. "There were a LOT of spectators. It was a wonderful afternoon – just glorious as far as the weather went, and people were excited to be there. They definitely were there to watch a great match, but they also came to show their support for the veterans."
More than a charity and fundraising organization, WWP is a lifeline for veterans struggling with trauma and injury. Founded in 2003, it offers support through programs and services like mental health counseling, family support, employment, and government relations. They also spearhead fundraising efforts and give veterans a space of shared understanding and common ground – because everyone at the organization gets it. They know how it feels, because they've been there and they know the way out.
"The lifesaving programs they offer to veterans are just that; they change people's lives. They changed my life."
— Dan Miller, spokesperson for Wounded Warriors Project
"The lifesaving programs they offer to veterans are just that; they change people's lives." says
Dan Miller
, spokesperson for WWP. "They changed my life."
A Chicago native, Miller is a Marine and former law enforcement officer who served three times in Iraq. Not only did physical injury have a huge impact on him; the emotional and mental stress of the things he witnessed in Country took a massive toll on his psyche.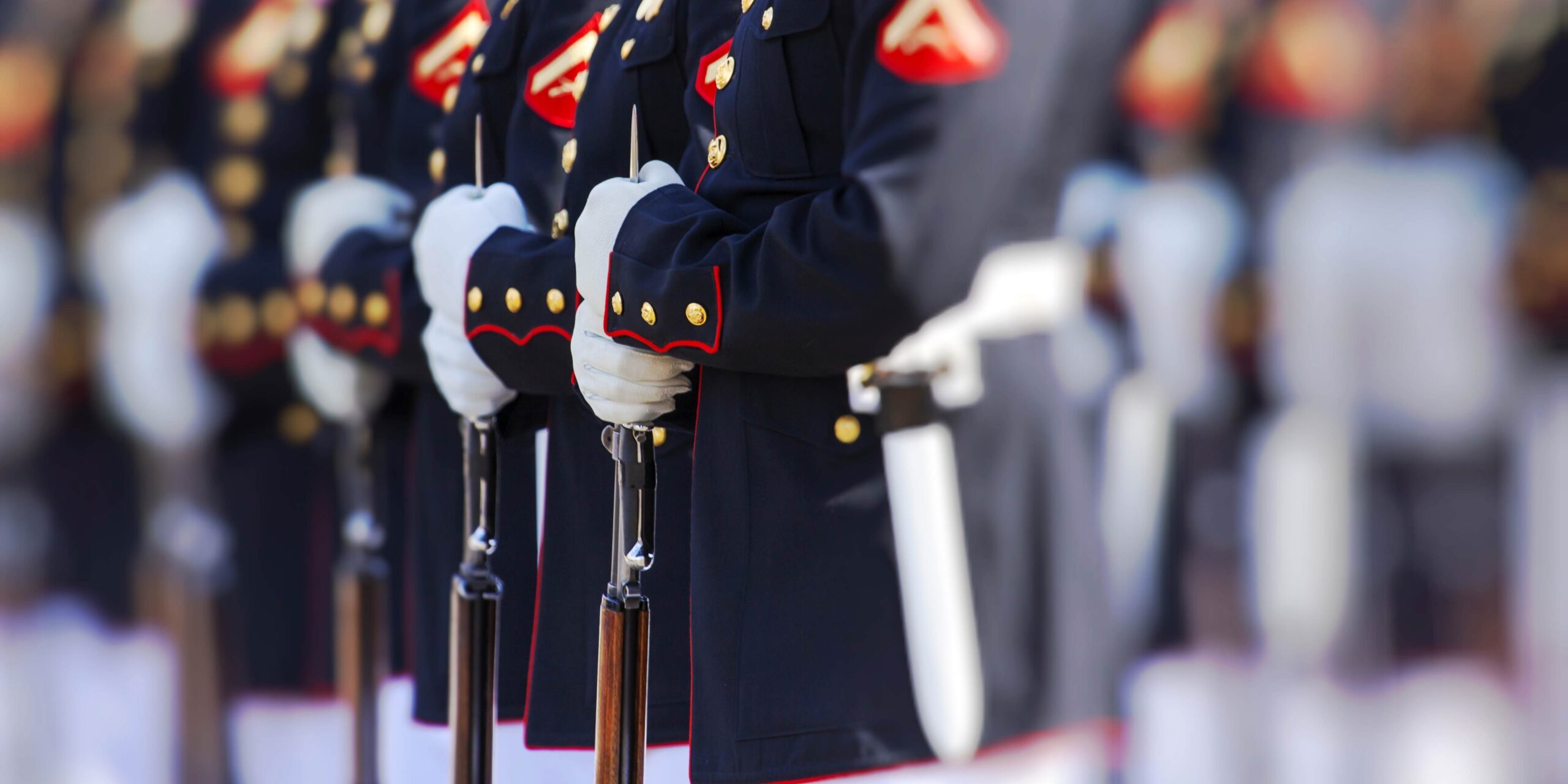 "When you see the destruction, the lives lost, the sacrifices and the suffering, it changes you. But when it was happening, I didn't have time to process it," he explains. "I buried it. I had to. There's always the next mission or the next danger to avoid. But," he adds, "those experiences don't stay buried forever. You carry them with you, and they can start really weighing you down."
"There was a brochure for Wounded Warriors, with a picture on the cover of a soldier who had lost his legs – working out in a gym. I thought, well, if he can do that, how can I give up?"
— Dan Miller, spokesperson for Wounded Warriors Project
Diagnosed with
Traumatic Brain Injury
and
post-traumatic stress disorder
upon his retirement from the Corps, Miller struggled and grappled with each day until he thought he'd finally reached the point where he didn't think he could do it anymore. Like so many other veterans gripped by the pain and mental exhaustion, he was sitting in his car considering ending his own life when he looked down at the seat next to him.
"There was a brochure for Wounded Warriors, with a picture on the cover of a soldier who had lost his legs – working out in a gym," he remembers vividly. "I thought, well, if he can do that, how can I give up?"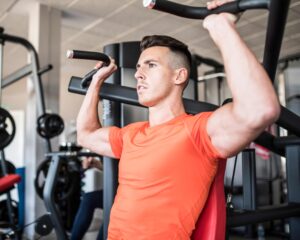 That's when he called WWP, and six years on, he travels and speaks on behalf of men and women like him.
He educates the public about the organization and its mission as well as lends his personal experience, stumbles, and triumphs to help veterans find their own path to rebuilding themselves. It's sometimes draining, always enlightening, and unarguably rewarding.
"Wounded Warriors was there for me when I was hurt and needed them the most," he says. "So I just try my best to return the favor."
Miller had never been to a polo match in his life, but when member Gene Del Bianco reached out and told him the Ocala Polo Club wanted to do a benefit match, he was more than willing to head out to Florida Horse Park.
As soon as he got there, he was introduced to the team, including Eldredge and wife/co-manager Lauren Procter-Brown. Then the spectators started rolling in and setting up their lawn chairs, coolers, and tailgates as the teams took the pitch.
Miller was a little in awe of the players; the combat-trained Marine found the skill and athleticism incredibly fascinating, if a little confusing at first. Between Procter and Del Bianco explaining the finer points of the game to him, though, he learned quickly.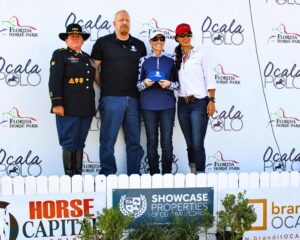 "It's extremely fascinating and enjoyable. Seems a little dangerous," chuckles the combat-trained Marine. "They're riding this thousand-pound animal and hitting a little white ball. Between the grace and skill of rider and horse – just the sheer talent, and how fast the game moves, it's amazing to watch. It's certainly nothing like football."
Joined by other representatives and fellow veterans, Miller spoke at half-time to the enthusiastic crowd, thanking them for their generosity and time. Everyone, he observes, had a frame of reference and empathy. They have sons, daughters, family members and friends serving in the military. Countless people came up to Miller with a story of how he was like their own brother or sister, or husband. Miller considers it an honor and a privilege to be as much a support for them as he found when he was struggling.
"It's an emotional thing for me, because if you had asked me six years ago, I never would have thought I'd be a spokesperson for Wounded Warriors. The people who came out that day, who donated so generously, are literally what allows us to keep going."
— Dan Miller, spokesperson for Wounded Warriors Project
That generosity and spirit was, happily, beyond even what Eldredge, Procter, and the players expected. "We had a great game, the whole day was fantastic, and the crowd was amazing. We couldn't have asked for better," Eldredge says. They plan to continue and do a third annual benefit match next year with WWP.
"It's important," he explains. "Lauren's brother served; I have friends who served. Everyone knows someone who served. We really feel a commitment to helping these amazing men and women, who literally walk into the unknown."
He pauses. "We owe it to help them find the way to walk back out."
At Showcase  we love where we live and we love supporting local businesses, organizations and events within our community.
If you have any questions about the Ocala area or if you have a real estate question — contact us, we would love to hear from you!