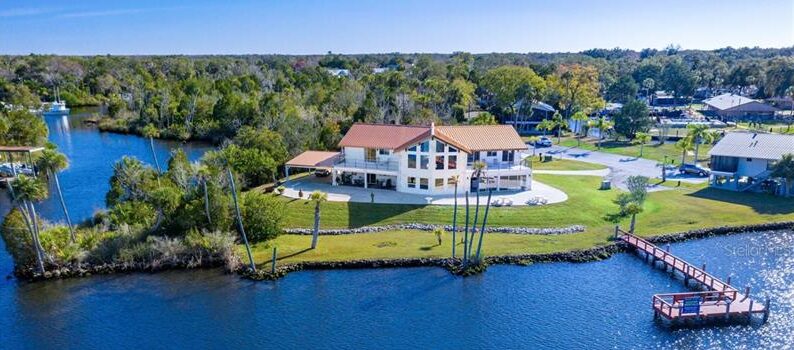 Florida's reputation for warm weather and
sandy beaches
lures visitors from all over the world. While many crowd the coast looking for a week at the beach, the true gem of Florida is often overlooked. Florida's water is a hidden treasure that's only discovered when you look away from the ocean and examine the interior of the state. The best way to enjoy Florida's clean and clear water systems is with a home that neighbors a local river, lake, or spring-fed pond. At Showcase Properties, we understand the demand for houses on the water and can help you find the best waterfront properties in Marion County and Central Florida.
Florida's Drinking Water
Florida's freshwater springs and aquifer system provide clean and clear water to the state's residents and visitors. Florida's water is so desirable, in fact, that many beverage companies jockey for rights to bottle this liquid asset. Nestle and Seven Springs are just two of the popular bottling companies that redistribute Florida's spring water to thirsty patrons all over the country. Freshwater is an asset to the state, and Florida and Georgia even have an ongoing legal battle over the rights to the water that flows into the Apalachicola-Chattahoochee-Flint river system.
Benefits of Living on the Water
Florida can be hot in the summer. Wouldn't it be nice to dip your toes in the water without leaving home? Many of Florida's natural bodies of water are fed from underground springs. This means the water is clear and cool, even in the summer. Tubing and cave diving are popular pastimes that you can experience at local springs. Step away from the ocean and explore Rainbow Springs State Park, Weeki Wachee Springs State Park, Three Sisters Springs, Ginnie Springs, or Ichetucknee Springs State Park on your next visit. You'll find that Central Florida has rivers, lakes, and spring-fed ponds that turn any home into a dream waterfront property. If you prefer to live closer to the city, head north towards Gainesville where you'll find a wide selection of Alachua County waterfront homes for sale.

Riverfront homes
In Florida, living on a river means you can hop on your boat and cruise to the Gulf of Mexico on any given day. You can enjoy the river breeze and sounds of nature as you fish, kayak, bird watch, and spot the peaceful floating manatees. Rainbow River, St. Martin's River, Withlacoochee River, Crystal River, and Wekiva River are just some of the many riverfront options you can choose from in Central Florida. Home inventory is always changing, and we're sure our Showcase agents can help you find the perfect riverfront home. Some current riverfront homes on the market include:
Lakefront Homes
Boating, waterskiing, fishing, paddleboarding — there are so many ways to stay active when you live lakeside. Lakefront properties often have the added bonus of a sandy beach or dock that makes for easy access to the water. The calm lake waters promote relaxation and reduce stress. Enjoy the quiet with fewer neighbors and more nature. There are many lakes in Central Florida on which to find your perfect home. Here are a few lakefront homes currently on the market:

Properties with a Pond
If you're looking for a home that provides ample quiet and privacy, a home with a pond may be right for you. Often located further in the country and surrounded by a few acres of land, homes with ponds allow you to enjoy the water without the people. Fishing, bird watching, and relaxing in a canoe are all possible when you have a home with a pond. Some current home listings that feature ponds include:

55+ Communities on the Water
Retirement communities provide a slew of amenities and conveniences for those over age 55. If you're in retirement and looking for a waterfront home, consider the active adult waterfront communities located in Marion County. Del Webb Stone Creek and Trilogy at Ocala Preserve both offer waterfront homes and come packed with all the features you expect to see at a 55+ community. Unforgettable dining, entertainment, and shopping opportunities make Florida's active adult communities a perfect combination of luxury and tranquility. View current listings in Ocala's premier 55+ communities on our Showcase Properties website.
Del Webb Stone Creek
Located off HWY 200 and near 1-75, Del Webb Stone Creek allows for easy travel and convenient shopping options while retaining the privacy of Ocala's charming horse-country. Many homes back up to bodies of water in Stone Creek allowing residents to enjoy the calming sounds of nature year-round. The 3,800 homes in Stone Creek are priced from under $100,000 to the mid 400,000's. With a focus on outdoor activities, there is something for everyone including a 167-acre golf course with 11 water hazards.
Ocala Preserve
Orlando and Tampa's metropolitan attractions are just a short drive from Trilogy at Ocala Preserve. Nestled in the rolling hills of horse country, the Shea Homes community features a 7-acre lake and offers waterfront living within an active retirement community. The 600+ acre community also features three themed parks and an impressive collection of walking, biking, and hiking trails. Ocala Preserve offers 1,600 homes priced from the low $200,000s to the high $400,000s. Please note: Ocala Preserve is partially 55+, meaning your REALTOR® should double-check any property to be sure the home is within the 55+ area. 
Make the Move to Waterfront
With options for every taste and budget, Showcase agents help you find the perfect waterfront property for your family. Talk to an Ocala real estate agent about local properties on the water. Our friendly team of experts will use their knowledge of local waterways to help you narrow down your home search. Explore the current waterfront homes and properties for sale on our website today. Life is short; buy the house on the water!