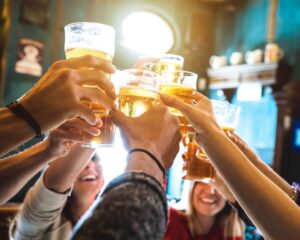 "Beer," Benjamin Franklin is credited with saying, "Is proof that God loves us and wants us to be happy."
Never mind that the quote may be apocryphal, or that the founding father, writer, publisher, polymath, inventor, and all-around legend was a teetotaler (and a deist) for most of his life. His brand was industry and discipline. However, as he aged into a venerable statesman and Ambassador to France, he solidified himself in the hearts and minds of the French people with his love of good food and wine (We could go on all day about Franklin, but you can read more about him in his Autobiography; it's free on Kindle).
The good Doctor Franklin certainly saw his share of pubs and taverns in his lifetime, but he would probably have been rendered uncharacteristically speechless at the sheer volume of the American commitment to beer three hundred years on. There is nothing more bespoke of our country than that and football – preferably together at the same time. Throw St. Patrick's Day into the mix, and it's pretty much the perfect weekend.
This holds true particularly In Gainesville, a fiercely proud Gator town, where breweries, microbreweries, pubs, taverns, bars, beer gardens, beer caves, and home brews abound. The city has anything and everything a lover of hops and barley could ask for. If you're one of them, here are a few of the various establishments where you can indulge your inner Irish.

First Magnitude Brewing Co.
First Magnitude is the Southeast's first carbon-neutral craft brewing company through its partnership with
We Are Neutral
; you're doing the environment a favor by visiting here. With a selection of year-round brews and special release options featured regularly, they keep things interesting and encourage patrons to try something new. That's not hard, with 26 taps giving patrons plenty of options to sample.
The air-conditioned, big-screened Tasting Room and canopied outdoor beer garden both offer comfortable spaces to hang out – or if you want to watch the brewers at work while you sit under gently spinning ceiling fans, the Warehouse is the place to be.
For food, the cool thing about First Magnitude is that you can either bring your own, or you can partake from the featured on-site food truck of the day, the schedule for which is posted on the website. FM has won national and international awards for their natural spring-brewed beers, and they also have wine and cider options for the beer-ambivalent. With plenty of live and community events and entertainment, this place is great for an impromptu get-together with friends, a day of sport watching, or a group party.
Cypress and Grove Brewing Co.
Built next to a 100-year old community well at the heart of Gainesville, Cypress and Grove now uses its pristine aquifer water to brew signature lagers, IPA's, ales, and Bruts.
The open, airy Brick Room offers relief from the heat as you sample your drink of choice, or you can enjoy the open air garden for a tranquil, open-air space to gather. Different food trucks are scheduled each day for a nosh – everything from Tex Mex to soul food, Thai and vegan options.
If that wasn't enough, there's also live music every Friday evening from 7-9 pm, and the Grove Street Farmers Market every Monday from 4-7 pm, where you can shop the wares of over 30 vendors and then hang out for a pint.
Blackadder Brewing Company
If you're a fan of British comedy, you'll get the reference. This Belgian-inspired, European-infused microbrewery is a step into the Old World, with a stunning 40 taps and a whole lot of pub personality. Owners Chris and Sissy Hart have been brewing beer for nearly 20 years and have won innumerable awards in competitions nationwide.
The beer menu alone lets you know this is the kind of place Sir Anthony Cecil Hogmanay Melechett's writers would have felt right at home. With ticklers like "Why Not?", "Rumpy Pumpy Pepper'd Porter", "Giggling Imbecile", and "Riders of the Lost Oat", you know there's a true spirit of the absurd – mixed with fermented hops and barley – giving homage to the wit and whimsy of British humor. With a cavalcade of various food trucks, a Tudor-style barroom, and gregarious staff, this is a great place to enjoy a convivial gathering and laugh the stress away.
What started as a small Sarasota operation back in 2014 has since exploded into a juggernaut of three additional locations in Bradenton, Pensacola, and Gainesville.
The name is an homage to the origin of Barnum and Bailey Circus, and like their namesake, Big Top has a lot going on under the roof.
The Gainesville location opened up in 2018, just four years after the flagship location did, and with 23 in-house brews on tap, plus local cider and a scratch kitchen where all the food is homemade, they're one of the busiest places in town. Energetic and lively, Big Top has sponsored the rugby team of the Gainesville Hogs and is invested in finding ways of entertaining the community and offering events that encourage people to team up for friendly competition. Beer pong, beer bingo, pub quizzes (the Harry Potter one is really popular), and live music every weekend draws an enthusiastic crowd. If you're looking for a place to get you on the lighter side of the week, this might be the one for you.
This local carbon-neutral, sustainably-conscious brewery sources as much as they can from like-minded companies with environmentally conscious priorities.
Founded in 2008, Swamp Head features an expansive tasting room with 25 taps and 35 additional beers available in cans.
Food trucks rotate throughout the week to accommodate the grazing interests of patrons, and you can also order takeout/pickup in the drive-thru.
With their commitment to reclamation, reuse, and conscious service to the planet, Swamp Head also teams up with several local charities and organizations, including the March of Dimes, the Humane Society, Ronald McDonald House, Taste of Gainesville, and Pace, promoting and supporting accountability and action. A drink here is a drink for the Earth.

If you'd like to discover more places to have a sup or a pint, we've got you covered; below are some additional, fantastic options we've explored before in the Gainesville and Ocala areas, and we also highly recommend
Local Restaurant Row
, a rotating selection of Gainesville restaurants that serve on-campus at the University of Florida.