There's a saying that the Universe doesn't throw anything at us that we can't handle or overcome, even if at the time it doesn't feel that way. But often the most heroic and selfless acts come from experiences of devastating adversity.
McKenzie's Moment
was borne out of the heartbreaking loss of Ryan and Kait Gray's infant daughter, who lived just three days before passing peacefully in May 2018. Her brief but fierce life and the aftermath of her death became the cornerstone to a vibrant, living monument of generosity and support for women and children in need.
The Grays, determined to turn their daughter's passing into something overcoming loss, channeled the force of their love for McKenzie into creating a powerful advocacy and a bastion of relief and hope for others in similar situations.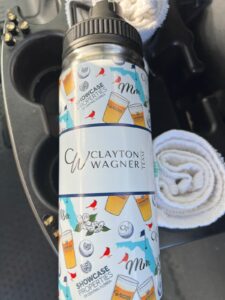 The 4th Annual McKenzie's Moment Invitational golf tournament was back at Golden Ocala Golf and Equestrian Club on April 24th and 25th, and Ryan Grey, who is also Director of Golf at the private community, was excited and happy to see its return after a Covid-induced hiatus. He organizes a lot of tournaments during each year, but obviously this one is close to his heart.
"We have people who are members of this and other clubs from out West or up North, and they come and help, or they bid on auction items online," he says. "They want to reach out and help, and Golden Ocala ownership is incredibly supportive."
It's a lot of work, especially on top of his duties at Golden Ocala, which is also actively involved in charity and fundraising events, sponsoring six area schools and partnering with Marion County Public Education Foundation to give kids extra money for supplies and funding educational programs. But it's also a labor of love for him and his family in remembrance of McKenzie – and a reminder that the world is full of equally generous, kind, and giving people.
"We've raised money for Kimberley's Center and Never Say Never, a birthday club with Project Hope, and a toy drive where we get wish lists from underprivileged kids."
— Ryan Grey, McKenzie's Moment
In its first two years, the McKenzie's Moment organization held the first of their celebrity golf tournaments at Golden Ocala, raising over $235,000 for the
Ronald McDonald House
. By 2020, the Grays created their own 501c3 and expanded to offering support and succor to several charities in the Ocala/North Florida Community, with heath, education and welfare initiatives – and raised an additional $250,000 in 2020.
This year's event goal was $300,000, which ended up being exceeded by a final tally of $350,000.
"It was amazing; way over the goal they had hoped to reach," marvels
Clayton Wagner,
a Showcase agent and tournament player. "That money is going to help a lot of organizations in Central Florida."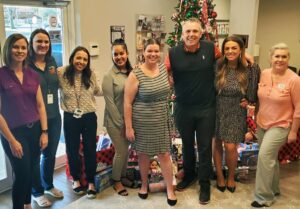 He's an avid supporter of McKenzie's Moment, spearheading toy drives at Showcase and organizing other fundraising events throughout the year. He's been to every Invitational for the charity since the very first one, and says it's always a positive day full of fun.
"It's a long day, but a really good one," he says. "This one was definitely the best event they've had yet; they seem to somehow top themselves every year."
Guests were welcomed with a Pairings Party on Sunday evening, where the players met their celebrity partner, and on Monday they headed out to the newly built additional 9 holes to play. Each hole featured a sponsor representative who gave players caps, t-shirts, cold drinks,food and other goodies. One hole even sported a comedian who told jokes as each foursome passed through.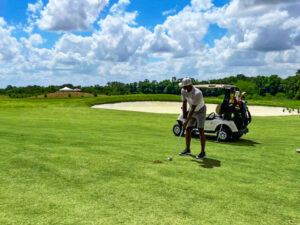 "That was cool. He kind of sidled up to the golfers and told off-color jokes," Clayton chuckles. His team's celebrity player was
MLB's "Crime Dog" Fred McGriff
.
"We got to hang out and talk with him for a while at dinner," he grins. "It was a great way to get to know him before we went out on the course the next day. We had a great group of people."
"It was amazing; way over the goal they had hoped to reach. That money is going to help a lot of organizations in Central Florida."
— Clayton Wagner, Broker Associate with Showcase Properties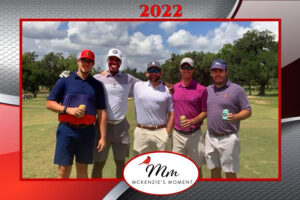 Valerie Dailey, owner/ broker of Showcase Properties, was pleased for Showcase to be a sponsor. "It's one of the most inspiring and uplifting events I think we could be involved with," she says. "As a parent, I'm just plain in awe of Ryan and Kait at transforming a moment of loss into something so life-giving and positive. They help change a lot of lives for the better, and they've created a legacy for McKenzie that's so joyful and will have a long-lasting impact."
Clayton, who is also a member at Golden Ocala, agrees. "I joined about a year or so after Ryan came in. He's been great about getting members together for events and outings. He's brilliant at creating a community and creating member relationships, and that carries over to McKenzie's Moment."
"I think it's remarkable what Ryan and Kait have created with this event and the organization," agrees
Lee Kerr
, Showcase Director of Real Estate. "It's a meaningful action that's infectious; people really do want to help, and it makes a big difference for so many who need to know they aren't alone."
At Showcase  we love where we live and we love supporting local businesses, organizations and events within our community.
If you have any questions about the Ocala area or if you have a real estate question — contact us, we would love to hear from you!