Florida is home to
8 of 10 U.S. areas with the highest recent rent increases,
an unfortunate statistic for a state where
35% of the population are renters.
As rents rise and housing becomes scarcer, scammers are seeing an opportunity in the increasing demand for affordable housing.
Renters eager to find affordable, high-quality accommodations can easily become victims, losing thousands of dollars and even facing criminal charges. One central Florida family was recently scammed out of $7,000, evicted by a sheriff's deputy, when the home they thought they rented turned out to be one of these scams. According to the FBI's Internet Crime Complaint Center, real estate scams resulted in nearly $400 million in losses in last year alone.
In this post, we aim to help our readers and clients better understand the dangers of rental scams—how to spot them, how to report them, and how to avoid them and find legitimate rentals, even in a difficult market. Keep reading to learn more!
Understanding the Rental Market in Florida
In the past 15 years, Florida has seen an explosion in renters. In fact, between 2007 and 2016, Florida's population of renters expanded by nearly 633,000 households. With such high demand, comes high occupancy rates, which can make for fierce competition for rentals and rising rent prices. In 2022, 97% of apartments were occupied with a 67.4% lease renewal rate in North Central Florida, evidence of this trend.
So how much can you expect to pay for a local rental? While prices vary greatly based on neighborhood, amenities, and the condition of a property, knowing average monthly rents for your area can help you make more informed decisions, knowing when a property is listed for too much—or too little.
Fair Market Rent Prices in Ocala
According to Rentdata.org, here are the average price points for rentals in Ocala in 2023:
Studio / Efficiency:     $ 915
1-Bedroom:     $ 983
2-Bedroom:     $ 1210
3-Bedroom:     $ 1549
4-Bedroom:     $ 1682
Fair Market Rent Prices in Gainesville
Rentdata.org lists the average prices for rentals in the Gainesville Metro area in 2023 as:
Studio / Efficiency:      $ 912
1-Bedroom:     $ 1007
2-Bedroom:     $ 1211
3-Bedroom:     $ 1609
4-Bedroom:     $ 1627
Browsing local listings can give you a general sense of what you can expect to pay in the areas where you are looking and make it easy to spot listings with prices that are too good to be true. However, working with an experienced Central Florida real estate agent can be your best bet at finding a fairly priced, quality rental.
What is a Rental Scam?
A rental scam is a form of real estate fraud in which criminals aim to steal money from unsuspecting individuals looking for rental properties, tricking them into paying rent, security deposits, and other fees when no property is actually available to rent.
Scammers have developed a variety of ways to take advantage of would-be renters, using a number of listing services (usually online). Let's take a look at the three most common house and apartment rental scams.
Phantom Listings
Also called "ghost listings", these listings use photos of properties that don't exist—or don't exist at the address listed. Scammers may ask you for application fees or fees to secure the property. Victims may be more than willing to send money, as rent costs are often low for the purported property type. Scammers may play up fears of competition for such a good deal in order to pressure victims into handing over the money without property scrutiny.
Know that phantom listings are common Zillow, Craigslist, and Facebook Marketplace rental scams. The best way to ensure that you don't fall victim to a phantom listing is to visit the property and verify that it does in fact exist at the listed address, and 'for rent' signs are clearly on display.
Hijacked Ads
Sometimes with scams, the ad itself will feel illegitimate. There may be no pictures, the listing details will seem too good to be true, there may be typos, or a general lack of professionalism. Hijacked ads, on the other hand, feel legitimate.
That's because hijacked ads are real listings that have been stolen, with images and text copied and pasted from other listing sites. They may even contain stolen company logos to add to the sense of authenticity. The only difference is that the contact information has changed—instead of reaching the original lister, you'll be put in contact with the scammer.
While hijacked ads may be convincing, there are some things that can give them away as fraudulent. Suspicious prices (lower than similar listings) and unusual payment requests can tip you off to take extra precautions.
Lease-Free Listings
People in desperate need of housing or that have financial situations that can make it difficult to secure a rental agreement might be tempted by listings that don't require signed paperwork, credit checks, or proof of income.
However, official rental agreements aren't just for the benefit of the landlord—they legally protect the renter, as well. Any arrangement that doesn't require the signing of a lease is highly suspicious. 
Recent Rental Scams in Central Florida
As we mentioned earlier, unfortunately local rental scams abound—not surprising considering the high demand for housing in our region.
One family in Orlando was scammed out of over $500 for fees requested through a quick pay app, a preferred payment method for scammers that offers little recourse for victims.
In Gainesville, a local woman recently avoided being scammed by an out-of-state criminal by visiting the actual property before making a payment, finding 'for sale' signs instead of 'for rent' signs. Other warning signs included differing localities for phone numbers and bank routing numbers, and an exceptionally low price.
Unfortunately a family in Ocala in Marion County was not able to realize they were being scammed until much too late—after they had already moved in. The rental, posted on Facebook Marketplace, seemed legitimate. The scammer even had access codes to gain entry to the house. But after asking for an additional two months' rent after they moved in, with the incentive of a free month of rent, the family began to question the situation. The next day, the real property manager came by to show the property to other prospective tenants.
A common feature of each of these scams was an unusually low price for the rental.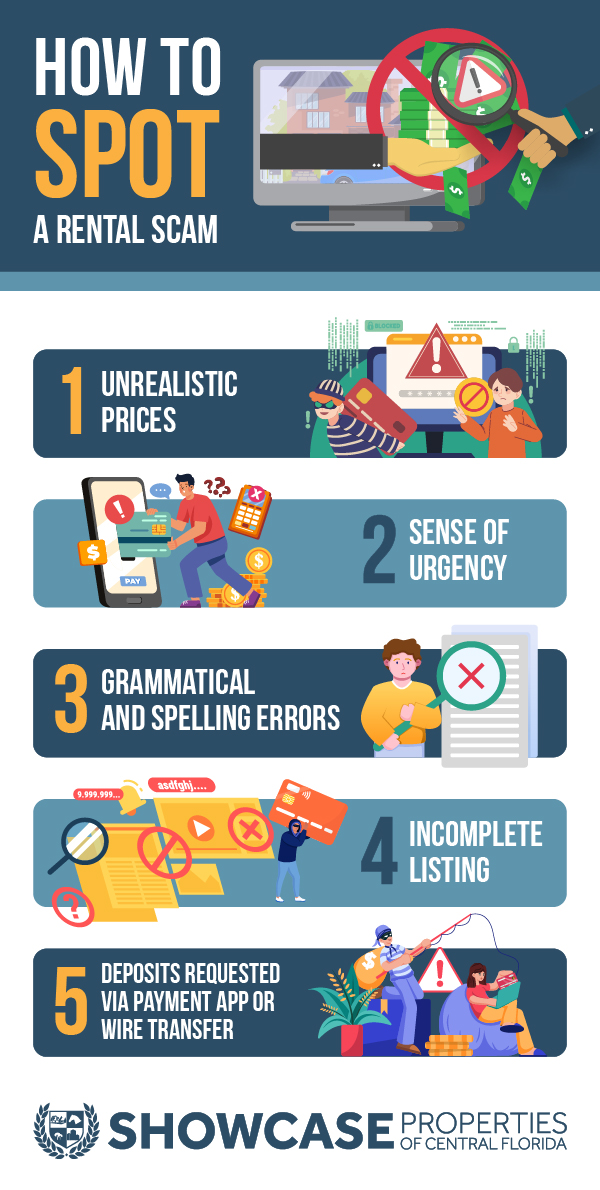 How to Spot a Rental Scam
While scammers are increasingly savvy, and anyone can possibly fall for a rental scam, there are a number of tell-tale signs of rental scams. If any of these things holds true, take an extra day to further scrutinize the listing, visiting the property, contacting the rental company directly at their main phone number, or searching for the official owner of the property through public records to verify their identity.
Red flags to look out for include:
An unrealistic price. Most landlords know the market rates and will try to get the right price for their rental. If the price seems low, it may be a trap.
A sense of urgency. A listing agent or landlord may inform you that there are other interested parties or that you have a limited amount of time to put down a deposit after your application has been approved. However, extreme pressure, especially if traditional application processes are lacking or other corners are cut, is a clear sign something isn't right.
Grammatical and spelling issues. Many criminals who perpetrate local scams are not even from our state, or our country. Non-native English speakers may create listings that have significant grammatical issues.
Incomplete listings. Is the listing missing crucial information, including pictures, phone numbers, names of who to contact, or an address? Incomplete listings can make it harder for individuals to verify the authenticity of a listing, which can work in the favor of the scammer.
Deposit requests via payment app or wire transfer. Most agencies and individuals will gladly accept payment via check—or even prefer it. Checks are easy to track and require an identifiable bank account and account holder. Some agencies may even have official, secure payment portals. If a potential landlord requests or demands payment via another method that offers fewer protections for you, or is difficult to trace, reconsider.
How to Report Rental Scams
Do you think you've been scammed? Have you spotted a fraudulent listing? One of the best ways to protect yourself and others is to report all scams and potential scams to the right authorities. Here are a few places you can report rental fraud:
If you've already made a payment, contact your bank or credit card company immediately.
Report your experience or the scam listing to the appropriate authorities. This includes local law enforcement, the Federal Trade Commission (FTC).
Did you see the listing online? Contact the website where it was published. Oftentimes, there is even a link right on the listing to report the scam.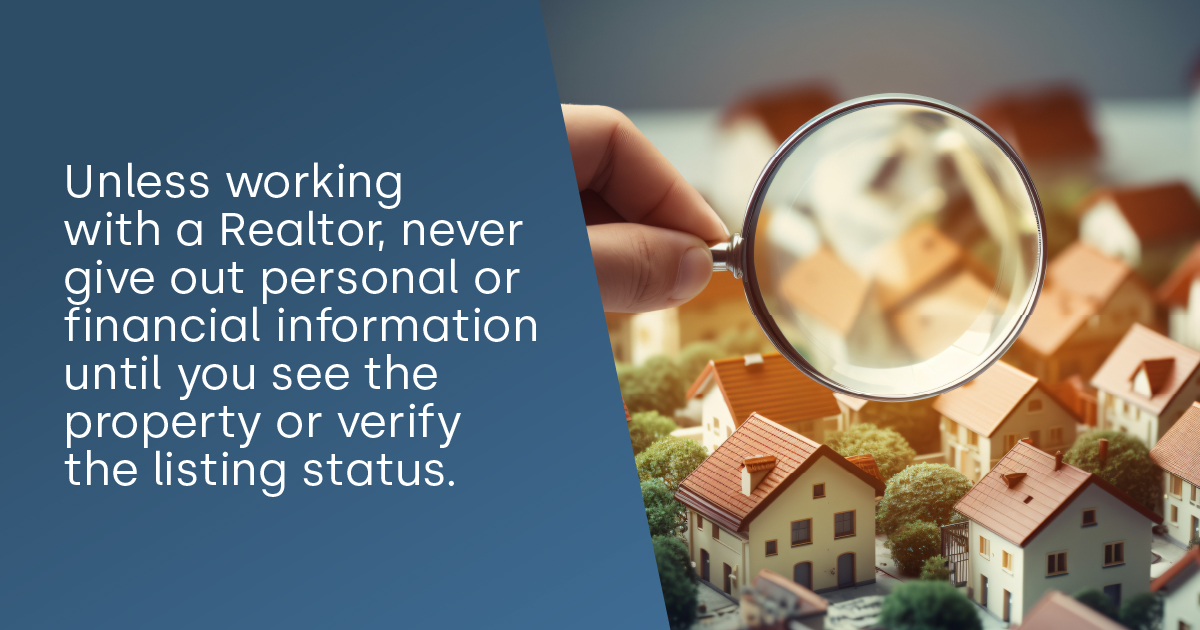 Work with an Experienced Agent
Rental fraud is a real concern, and costs Americans $16 billion each. That's why it's so important to protect yourself and your family from individuals who will take advantage of our current competitive housing market. If you're in the market for a vacation rental or rental home, apartment, or condo in Central Florida, a realtor can help.
When you work with an experienced agent to find your rental, you can rest assured that you are securing a lease with a dependable and trustworthy landlord or management company. They will know the local markets, work one-on-one with area property owners and rental agencies, and can ensure that your new home is a fairly priced, quality rental that meets your needs.
Showcase Properties Can Help
At Showcase, we verify all properties, and their owners or property managers before offering a listing to our rental clients, know how to spot a rental scam, and take extra precautions to protect you from the perils of illegitimate rentals.
Ready to find the right rental for you and your family in Marion, Alachua, Levy, or Citrus Counties? Tired of renting and ready to buy?  Browse our current residential listings or reach out to an experienced Gainesville or Ocala real estate agent today to see what we can do for you!