When you're
in the market for a new home,
you may come across short sale properties. The seller is looking to move as quickly as possible and is willing to negotiate on a much lower price. Sounds too good to be true, doesn't it?
While buyers can take advantage of the benefits of short sale agreements, there are plenty of risks that come with this type of transaction too. We're walking you through everything you need to consider before you part with your cash and commit to buying a short sale home.
What is A Short Sale in Real Estate?
If you've never heard of the phrase before, you might be wondering "what does short sale mean?"
In the real estate world, a short sale is when a homeowner sells their property for an amount lower than what they still owe on the home's mortgage. Their lender must approve this first, but it's one of the best ways for both lenders and homeowners to avoid foreclosure.
It's a voluntary process (unlike foreclosure) and helps the homeowner to avoid a significant dent to their credit history. Even if a large amount of the mortgage is paid off with the sale, the homeowner will still have to pay back the difference in sale price and the outstanding mortgage balance.
Short sales are rare in booming markets, where there's a surplus of buyers and not enough properties for sale to meet their requirements. In cases like that, sellers can maximize the value of their property, as there's often several buyers making offers at once.
But as the market begins to cool off, you may begin to see more short sale properties in Ocala, Gainesville, and the surrounding areas coming up for sale.

What Are The Benefits Of Buying A Short Sale?
As a buyer, one of the biggest benefits of a short sale is the potential to get a house for much cheaper than it's worth. If the seller is in financial difficulty and trying to avoid foreclosure, they have little room for negotiation and will likely be happy to accept any reasonable offer as quickly as possible.
Banks can also offer favorable financing on short sales. Foreclosures are pricey for lenders, so they also want to avoid this as much as possible. But they also want to get their money back on the home's mortgage. As a buyer, the lender may offer you a low interest rate or other enticing deals to make sure the transaction moves ahead.
Buyers can also save money on many of the fees that come with real estate. Closing costs, inspections, title searches and appraisals may all be paid by another party, even the lender themselves. You can save thousands of dollars in associated costs if this is the case.
With a short sale, you're also likely to get a property that's in a better condition than one that's been foreclosed on. The seller is making a voluntary choice to sell in this way, so it's likely that they're still living in and maintaining the home at the point of sale.
Homes bought at a foreclosure auction may have been vacant for a number of months, even years, so there's often more maintenance and repairs that come along too.
What Are The Risks Of Buying A Short Sale?
Before you make a final decision about buying a short sale property, understanding the substantial risks involved is incredibly important.
It's A Lengthy Process
Don't be fooled by the phrase "short sale". In most cases, this type of purchase can take upward of six months from an offer being accepted to closing day. As this isn't a traditional sale and the lender is heavily involved, there's more paperwork and back and forth involved than a standard sale.
If you're hoping to move in quickly, a short sale likely won't be your best option. Sometimes holding out for a lower selling price doesn't always leave you with more money if you're selling an existing property of your own and need to rent somewhere in the meantime while waiting for the short sale to go through.
The Lender Must Have Final Sign Off
Most sellers move forward with a short sale because they're in financial difficulty and can't afford to pay their mortgage anymore. This means that lenders must approve the sale of the property and, as a result, will likely have a specific application and approval process.
Even if a seller and property have been approved for a short sale, it's up to the lender to decide if they want to accept your offer. They could counter or outright reject your number at any point in the process, even if the seller had previously accepted it.
Short sales fall through all the time, which can be a difficult situation for you as a buyer if you've already waited months to get this property.
You're Missing Out On Other Homes
When your heart's set on one home, your time and attention all narrow on that single property. But with short sales taking months to close, there are other homes out there that you could be missing out on while you wait.
You're Buying As-Is
Unlike a traditional sale where you could negotiate for repairs at the seller's expense, a short sale home is coming to you in whatever condition it's currently in. Any maintenance, repairs, or renovations will be down to you, so that's something you'll need to consider as you make offers and budget for your move.
It's even more important that you view any inspection reports carefully so that you know what you're getting into. Also review the sellers' disclosure to make sure there's nothing hidden or unexpected. If there's significant work that needs doing, you may not end up saving money through the short sale process.
There's Usually A Bigger Down Payment
With short sale properties, lenders like to see large down payments or, even better, all cash offers. They don't want to be forced into another short sale or a foreclosure on this property in the future, so they need to know that they're going to be making their money back. If you can't meet this requirement, you'll likely lose out to another buyer.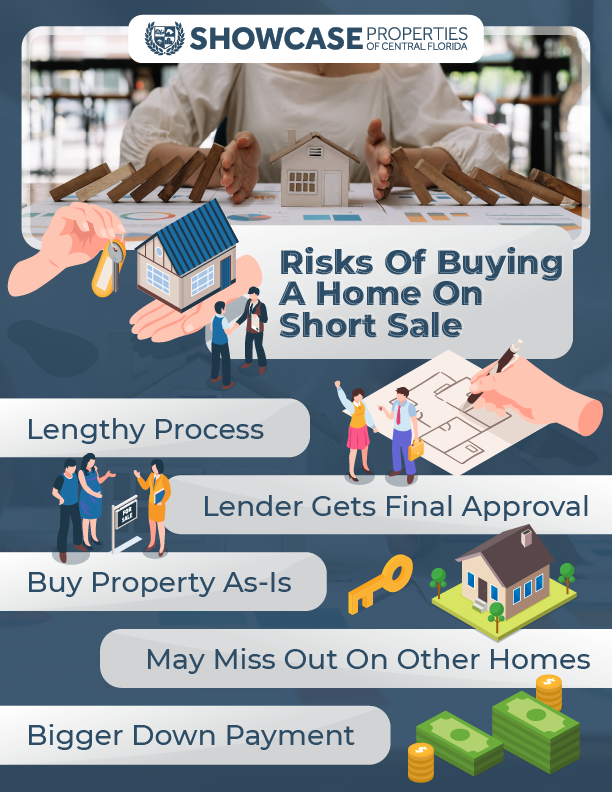 Short Sale vs. Foreclosure
Whether a home is for sale as a short sale or a foreclosure, the reason is usually the same – the homeowner can no longer afford to keep the property.
Foreclosure is the most drastic option for a seller and is initiated by the lender after the seller has failed to make several months of mortgage payments. The lender will then repossess the property and try to sell it themselves.
In a short sale, the seller is still the owner of the home and initiates the sale themselves, in an attempt to avoid foreclosure by their lender.
While the process is slightly different when you're buying a foreclosure, the risks are very similar.

What Sellers Need To Know About Short Sale
If you're in a position where you need to sell your home under a short sale agreement, there are a few important points that you need to remember. When you're facing financial difficulty and need to make this tough decision, a short sale can help to preserve your credit and avoid foreclosure by your bank. It's undoubtedly a painful moment, but taking proactive steps to address the problem is always the best solution.
The price that you accept for a short sale must be in line with the market value of your home. Typically, a lender will pay for an appraisal during the process of approving your property for a short sale. Any offers made and accepted must also be accepted by your lender.
When you're approaching your bank about a short sale, you'll need to put together some documents to encourage an approval. This includes:
A hardship letter – this proves that you have no other option but a short sale and gives a reason for your financial difficulties.
Proof of income and assets – your lender must be able to see that you have no other funds accessible for paying the mortgage.
A list of liens – any additional liens on the home could stop a short sale from going through.
Comparative Market Analysis – a CMA looks at the value of similar properties in the area.