For property bargain hunters, there are few homes more enticing than a foreclosure. But a great price often comes with a catch–endless red tape, possible hidden costs, and competition from other buyers.
Don't let that put you off, though. Buying a foreclosure is certainly possible and being aware of the potential pitfalls ahead of time helps you to make a smarter decision. So whether you're looking for a property to flip or a fixer-upper to call your forever home, let's take a look at some of the most important points that you need to know before buying a foreclosed home.
What is a foreclosed home?
A foreclosure happens when a lender takes legal possession of a property when the loan on that home stops being paid for an extended period of time. The lender resells the home in order to recoup their losses for the amount left on the property's mortgage.
People may stop paying their home loan for a number of reasons. A death in the family, usually of the primary breadwinner, or divorce can leave families with no alternative means to pay for their home. Addiction or medical issues can also lead individuals into financial difficulty, making it harder for them to make their monthly mortgage payments.
Negative equity is another reason for foreclosures. This is where the value of the home falls below the amount owed on the mortgage. It's often through no fault of the homeowner, such as property prices in the area decreasing or the overall market declining. In this scenario, owners should try to refinance or sell the home before a foreclosure takes place.

What are the types of foreclosures?
When you're thinking about how to buy a foreclosed home, it's good to understand the different types of foreclosures that you might encounter.
Pre-foreclosures happen when the lender lets the homeowner know that they are defaulting on their payments but aren't moving into a full foreclosure yet. The owner still has the chance to sell or refinance the property. Some properties in this stage may be listed in local courthouses, or online.
Short sales occur when a lender is willing to accept a sale of the home at a lower value than the mortgage amount still owed. This typically happens when a homeowner can prove financial hardship, like a job loss. Buying a property under a short sale is similar to a traditional home purchase, but there may be some language in the contracts that state "pending bank approval" and take longer to actually close than a standard sale.
Sheriff's sale auctions are some of the best places to find a good deal. Once a lender has given a homeowner the opportunity to catch up on payments, if these have still not been met, the home may go to auction. The property will be sold to the highest bidder on the day, so that the lender can reclaim their money as quickly as possible.
Bank owned properties are those that don't sell at auction and so continue to be owned by the lender. These are also known as real estate owned (REO) homes and are managed directly by a lender's REO department.
Finally, government owned properties come up for sale when a homeowner defaults on a government-backed loan, such as an FHA or VA loan. The government repossesses these homes and they're then sold by brokers working on behalf of the government agency that holds the ownership.

5 things to keep in mind when buying a foreclosed home
1. Properties are sold as-is
A bargain may be on the table with a foreclosed home, but these properties are very much "what you see is what you get." The state of the property could be unknown and you may be buying a home that needs some serious TLC. Factoring maintenance and repair costs into any loans that you take out should cover you for any unexpected expenses.
2. There may be hidden costs
Even if you're not buying a home directly from the existing owner, it's still very important that you budget for inspections. Be sure to include a contingency for these in any offers you make so that you're able to walk away from the sale if necessary.
The last thing you want is to inherit any debts that come along with the home. Include a lien and title search in your closing process so that you're aware of any possible issues here and what you may need to pay to clear those.
3. The buying process is slower
While processes like "short sale" and "auction" may sound like you'll have the keys to your new property in hand within a matter of days, that's not actually the case. Since foreclosures are often more complicated than a traditional sale, the closing times can be much slower.
Banks often have a number of foreclosures that they're dealing with at any one time and additional documents are often needed to make sure that the original loan is paid off in its entirety before you take ownership. Any damage to the property can also make it harder for you to secure your home loan, which can add even more time to the process.
4. High competition
With significantly lower prices comes much more competition. After all, everyone is looking for a bargain, especially people who are trying to flip a home for a profit. On something as pricey as a property, you're going to be fighting off other buyers left and right. Bidding wars can often lead to higher final costs, so be sure to keep your budget firmly in mind if you're heading out to a foreclosure auction.
5. Financing may be more difficult
Private lenders will likely have more concerns about a foreclosed home than one that isn't. This can make getting your own lending arranged more difficult. But there are options out there if you're looking for alternatives.
203(k) loans are government-funded mortgages for high-risk REO homes. These typically have higher costs and interest rates than a conventional mortgage, but often are the best solution for getting around reluctant lenders.
A Fannie Mae, or FNMA, loan is also an option for first-time buyers. After taking a mandatory education course, qualified applicants can receive 3% assistance in closing costs on a foreclosed home.
HomeSteps is a loan program offered in Florida (along with several other states) that's run through Freddie Mac and is specifically for foreclosed homes. The goal is to protect the value of other homes in the neighborhood by renovating and reselling foreclosures. You won't need to buy mortgage insurance or have an appraisal on the origination of a HomeSteps loan, which can save thousands of dollars in closing costs.

What to do if you're buying a foreclosed home
Before moving ahead with the purchase of a foreclosure, always have the property inspected. You may not be able to do this if you're buying at auction, though, so having one completed as soon as possible after the sale is helpful.
Checking the property's history, in addition to the title search, and conducting a lien review is also very important. This ensures that no one else has a claim on the home and that there are no outstanding debts that you'll be taking on. If anything does come up in the search, you'll need to resolve these ahead of closing.
You'll want to check the plumbing and electricity in the home as one of your first priority items. Depending on the reason for foreclosure, the property may have had utilities disconnected for some time and need some maintenance.
Beyond the utilities, you may also find damage or other maintenance needs around the home that need addressing as soon as possible. Major renovations can cost thousands of dollars, so be sure to budget for these if you think that construction work will be necessary.
Homes, especially foreclosures, can be endless money pits if you don't know what you're getting into. Particularly if you're buying at auction, always stick to your budget and try to keep your maximum bid somewhere below this to save money for renovations.
Be aware that the process could take much longer than a traditional sale. If possible, come forward with an "all cash" offer to make yourself look more enticing to the lender, especially if there's heavy competition for the home. Know that you may not be able to move in straight away, so have a contingency plan if you're selling your own home or ending a rental agreement.
Finally, always listen to your gut. Your intuition can stop you from making hasty or uninformed decisions, and potentially wasting hundreds of thousands of dollars. Once a property is yours, be sure to change the locks before you start celebrating and tearing out walls!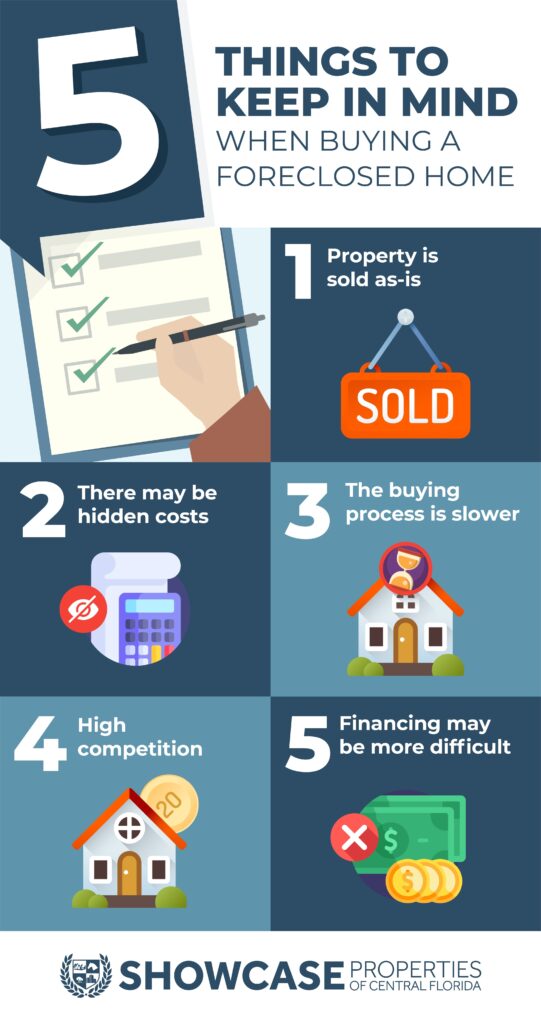 How to buy a foreclosed home
There are many places that you can look for a foreclosed home for sale. Local auctions and courthouse buildings are a good place to start, but you can also find homes on bank websites or in real estate listings. If you already know a realtor, let them know that you're interested in looking at foreclosures and they can pull a list for you.
Find Your Next Home With Showcase Properties
Buying a foreclosure is definitely not like your average home purchase! But whether you're brand new to the foreclosure process or have plenty of experience, the team at Showcase Properties is here to make the journey simpler. We'll help you find a the right property for you.  Whether it's a foreclosure, fixer-upper, investment property, commercial building, Ocala horse farm or your dream home in Gainesville, our real estate agents are here to help.