With many recent bank collapses, including Silicon Valley and Signature Banks, as well as this past years'
low returns in the stock market,
many individuals are looking for investment alternatives that are not only more stable and secure, but also provide consistent growth and income-generating opportunities.
As experts in Central Florida's housing and rental market, we know that real estate can meet many of these investment goals. In this guide, we'll explain how, covering many basic topics including how to invest in real estate and the benefits of investing in real estate, as well as the most promising opportunities in Marion and Alachua counties. Keep reading to learn more!
Importance of a Diversified Portfolio
Investment portfolios that consist of only one type of investment are considered exceptionally risky. For instance, a portfolio of only stocks runs the risk of catastrophic losses during market downturns or recessions. And even if you keep all your money in an FDIC-insured bank account, federal deposit insurance has its limits (and you may not get the same level of growth as other investments!).
Diversification helps mitigate risk—even if you experience losses in one area of your portfolio, you'll have other investments to fall back on, rather than potentially losing your whole nest egg. Portfolio diversification is important at any period in your life, but it's especially crucial as you reach retirement age and may depend on the income from or value of your assets.
Why Invest in Real Estate
Purchasing real estate can be a robust method for diversifying your investments. Here's why:
Real Estate Is a More Stable Way to Build Capital
While real estate can be affected by market fluctuations, it tends to be less volatile and more stable than market investments. As Money Tips explains, "The stock market is notoriously volatile–prices can go up and down quickly, often without warning."
Real estate prices, on the other hand, tend to grow slowly, holding their value and effectively keeping up with inflation. With only a few exceptional years, the average price of homes has steadily increased for many decades. While the average home cost was just under $40,000 in 1975 (about $228,000 in today's dollars), the current average home price is over $500,000.
If you're a business owner, you may also want to consider buying your commercial space instead of renting. Not only will you potentially save money on rent, you'll also build capital for your business, adding significant value to the enterprise as well as potential collateral for future lending.
There's a Potential for Higher Returns
Not every real estate investment is a great deal. However, if you choose wisely—purchasing in stable markets or getting in at the ground level of a rising local economy—you may experience a significant return on your investment.
While in an average year, you can expect the stock market to grow about 10%, during record years real estate values can surge even higher—like in 2022 when prices were up 20%. Some specific property investments may bring in higher returns, and purchasing properties in need of renovation and completing smart upgrades on them can also drive up values significantly beyond your out-of-pocket costs.
You Can Leverage Funds
You don't need to have all the cash in hand to purchase a property in order to invest in real estate. When you get a mortgage and use a loan from your bank to purchase a home, you're leveraging their funds. It's also possible to leverage funds for investment property purchases—though you will usually need to have at least 20% in cash to put down to qualify. The benefit is that you can take advantage of the growth of the full value of the property, while not needing to come up with a large sum of money to pay for the full value up front.
Real Estate Offers Long-Term Security
While real estate can be a near-term investment (house flipping, for instance), it is often seen as a long-term one. Take your own home, for example. You will likely spend years in one residence, seeing its value grow consistently over time. Eventually, if you decide to sell it, (if you kept it up) you should expect a nice profit. And real estate is one of the best ways to build generational wealth, passing the value of your property onto your children.
Rentals can Provide a Second Income
So far we've talked about the value of the property itself. However, real estate that also generates revenue through rent offers additional financial incentives, and can even provide a significant second (or first!) income. Maintaining rental properties may be more hands-on than other investments, but it can provide a much more consistent monthly income than market investments with cash dividends.
Real Estate has Tax Advantages
In addition to generating income, rental properties can provide substantial tax advantages, allowing you to deduct your expenses for repairs and improvements to offset your income tax liability.
Also, keep in mind that your primary residence can be considered a tax-advantaged investment as well. When you go to sell your home, as long as you've lived in it for the past 2 out of 5 years, you may not have to pay tax on your profits. For instance, if a married couple sells their home for less than $500,000 more than they initially paid for it, they owe no tax at all.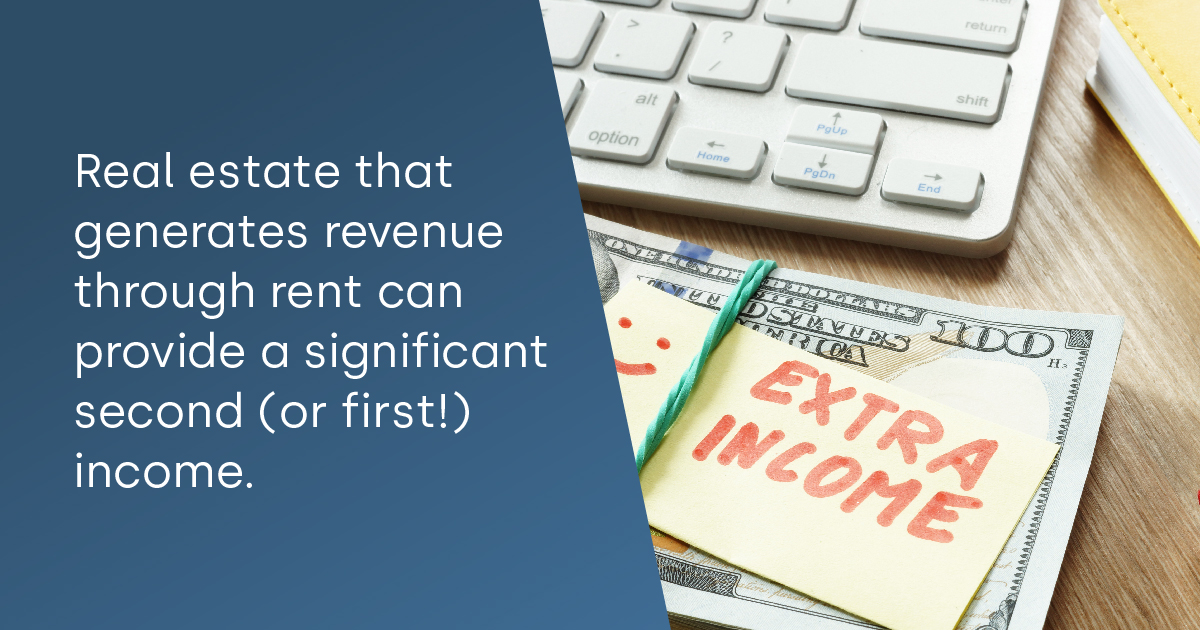 Types of Real Estate to Invest In
There are many types of real estate you can choose to invest in. The more variety you have in your real estate portfolio, the more resilient it will be to small downturns, and the higher the probability that you can take advantage of a profitable upswing occurring in one particular market. Let's take a look at the common types of investment real estate.
Residential Rentals
Residential real estate is a great way to get started with real estate investing. There will always be a market for housing—and with today's housing shortages you'll have no trouble finding tenants. Residential real estate options include:
Single Family Homes
Consider purchasing a second rental house as a simple form of passive income. With a single family home you will only have to manage one property and one tenant, and families in rental homes tend to stay longer than those living in apartments. Additionally, you may want to consider selecting a smaller home that you might see yourself in one day. You can deduct expenses and collect income on this future home for now, then sell your current residence (potentially tax-free) when you're ready to downsize.
Multi-family Housing or Duplexes
You can often pay less per housing unit when you purchase multi-family housing, from apartment buildings to duplexes. It can also be easier to manage than many single-family homes found in different locations, potentially saving money on landscaping costs, maintenance, and taxes. Lastly, you may want to consider buying a multi-family property or duplex and live in one unit yourself. This is a great idea if you're just getting into real estate investing or don't have a lot of capital to put down. If you go this route, you may be eligible for an FHA Loan.
Mixed-Use Spaces
Whether it's a storefront with an apartment on the upper floors or a larger building that includes a mix of residential and retail or office spaces, this may be a good way to create a more diverse real estate profile—in one transaction.
House Flipping
You don't have to be handy to become a house flipper. Investors also can purchase homes in need of renovations, working with a trusted contractor to swiftly complete upgrades, selling the final result for a profit.
While buying property through short-sales or foreclosures can potentially fetch you a bargain, it's not without significant risk, and probably not a great idea for first-time property investors. However, outdated homes with good bones that can be revitalized can be easily purchased with the help of a trusted real estate agent. Your agent can help you spot a bargain, working with you to get the home inspected to ensure that you aren't inadvertently purchasing a money pit.
Second Homes
Second vacation homes can be income-generating (rent it when you're not using it) or just for you to use. In both scenarios, you can benefit from a growing, secure asset—and one that can bring your whole family enjoyment, too.
If there is a location that you visit frequently, buying a home instead of paying each time for a vacation rental can also save you money. If it's used as a rental, you can also potentially deduct upkeep costs and repairs. If you live in Central Florida, you may want to purchase a vacation home along the coast. And if you live out of state, your second home in Florida can make a great investment. To see how much you could save, check out our post, "Comparing The Cost of Buying vs. Renting a Winter Home in Florida." 
Commercial Properties
For a variety of reasons, most businesses choose to lease their space rather than buy property upfront. But if you have the ability to purchase or finance a commercial property, you can take advantage of this huge market. Types of commercial properties include:
Warehouses and Storage Space
Strip Malls
Hotels and Hospitality
Medical Facilities
Commercial Space Renovations
Just as you can flip a home, you can renovate an outdated commercial space for lease or sale. Alternatively, transforming a commercial space whose original use has become less desirable or obsolete into an entirely new facility can not only pay off hugely, it may also receive state or local revitalization funding.
From warehouses that become open floor plan offices to old schools or churches that are converted to trendy apartments, re-envisioning existing spaces can be a profitable endeavor. And it comes with a built-in backup plan. Having trouble finding a buyer? Simply rent or lease the space(s) instead, gaining passive income and tax write-offs.
Commercial Space for Your Business
Even though most businesses choose to lease their facilities, if your business has steady or growing income, and you're looking for a way to build capital while saving money on rent, buying your own commercial space can do just that. You can also buy a commercial space yourself, renting it out to your business as an additional source of income or tax deduction. Either way, if you decide to retire or sell your business, that property will be an additional asset, adding value to the business or a source of passive income for you.
Another benefit of purchasing your own commercial space is that you will have more freedom to find or adapt a place to fit your needs. Redesign the layout, change the facade, and make upgrades on your own schedule—not your landlord's.
Land
Lastly, land can also make a smart investment. Some investors purchase land to hold onto it, waiting for the right opportunity for sale. When you purchase land in an up and coming area, it can earn you a hefty profit. Others purchase farmland as an alternative kind of rental income. And if you get a good price on an ideal location, you may want to consider developing it yourself, building a commercial or residential property.
Or, maybe you want to create your own estate, for generations to enjoy. Buying a large piece of land can allow you to build your dream sanctuary, and may be more affordable than an existing home. If this option sounds ideal to you, check out our post, "Buying vs. Building a Home in Florida."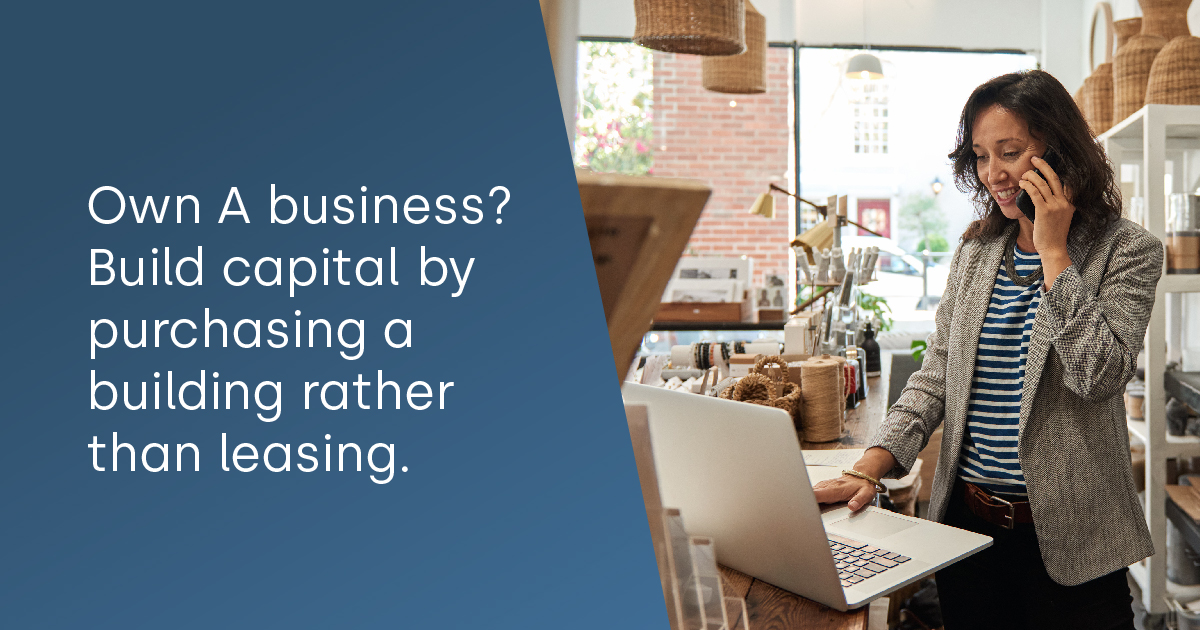 Reasons to Invest in Real Estate in Central Florida
We've given you many reasons to invest in real estate—and many ways to invest—but we wanted to take the time to discuss the specific benefits of purchasing an investment property in our prosperous and growing region. Here are just a few to consider.
Our Economy Is Booming
According to the Florida Department of Economic Opportunity, the greater Orlando area added over 60,000 new private sector jobs last year, an increase of 4.8%, leading all other Florida metro areas in job gains in the leisure and hospitality industry. And the unemployment rate of Alachua County is currently at 2.6%—one of the lowest in the country.
A strong economy and booming job market create ripe conditions for investing in both commercial and residential properties. From condos and single family homes to industrial parks and office spaces, the influx of residents and growth of businesses means an ever-present demand for housing and commercial leasing opportunities. Fortunately, there are plenty of commercial spaces for sale in Gainesville and Ocala.
There are No Shortage of Rental Opportunities
As we mentioned above, a robust economy can contribute to population and business growth, and increased need for rentals. On top of these favorable conditions, our communities also have significant built-in demand, from college students to retirees.
As a major college town, Gainesville is full of opportunities to supply student housing rentals. You may not also be aware of the fact that many parents buy homes for their students to live in, offsetting costs by accepting rent payments from other students, and continuing to rent the property after their own student has graduated. If you have a student moving to Gainesville, this may be an investment opportunity you haven't considered. Even if you're not a college parent, this can present an opportunity for flipping homes and renovating them to better meet student needs.
Florida also is a major draw for retirees, escaping to Florida for the winter. Whether it's for the abundance of high-quality healthcare options in Gainesville, the warm weather year-round, or the proximity to Disney World for the grandkids, our region is a major destination for snowbirds, and there are ample opportunities for vacation rentals.
We have Lots of Land
Looking to invest in land? From farmland to raw land, there is plenty for sale in Marion and Alachua Counties. As the Horse Capital of the World and home of The World Equestrian Center, Ocala is the perfect place to snag a few acres (And there is great demand for rentals near the World Equestrian Center, too!). Though Gainesville is better known for its world-class university and bustling urban landscape, the areas surrounding the city also have many options for land, from farming to commercial.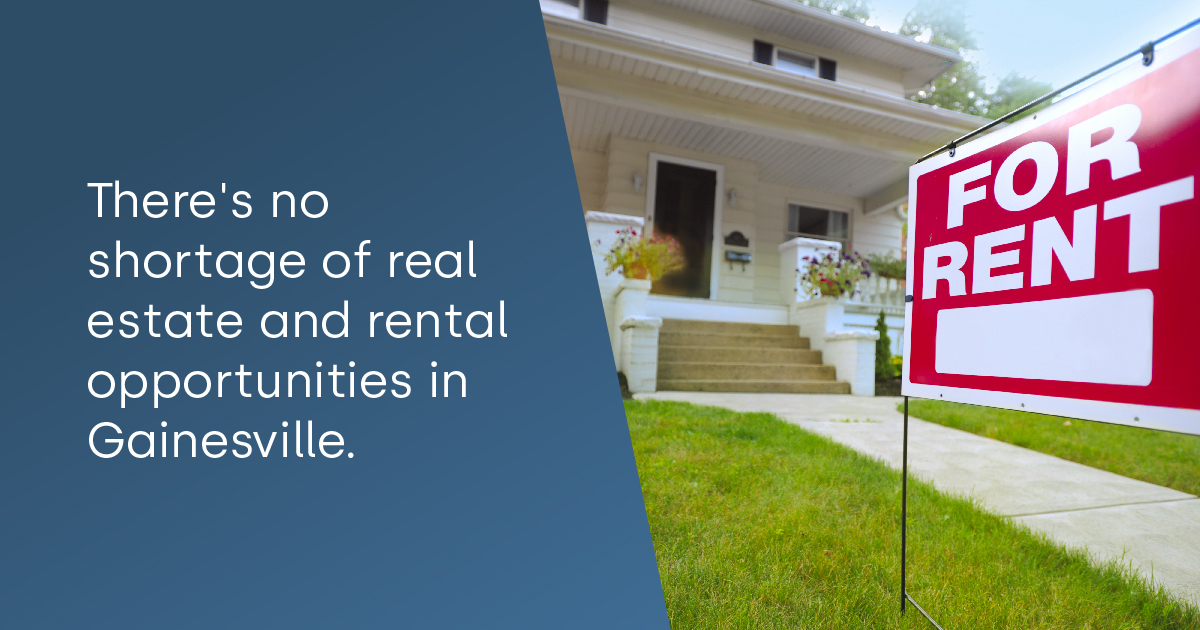 Invest in Real Estate Today
Whether you're looking for commercial or residential real estate, Showcase Properties has an extensive listing portfolio with no shortage of investment opportunities to choose from. Our experienced agents can work one-on-one with you to help you narrow down your possibilities, work within your budget, and select the right option for your needs and your goals. When you work with a Showcase Properties agent, you will get years of market expertise coupled with a strong customer commitment—a winning combination.
Showcase Properties can not only help you find the right investment property—we can also help you lease it, with both shorter-term and longer-term rental possibilities and advanced marketing efforts and local market connections to help you get the best price for your rental property. Reach out to a Marion County Real Estate Agent or Alachua County Real Estate Agent today to get started!