The kids have moved out and started lives of their own. A retirement full of travel and leisure is on the horizon. And your house is feeling…a little bigger than it used to. When the nest is emptied, your property can go from meeting all your needs to creating more problems than it solves. If your house has just gotten too big to deal with anymore, downsizing to a smaller, more manageable home is the most common and most effective long-term solution—and with the following tips, it'll be no trouble at all!
If you're wary of the idea of downsizing, that's perfectly valid
—it's always good to be cautious during new chapters of your life. But the benefits of downsizing are numerous, and often outweigh the difficulties and upkeep of staying in a larger home:
• Lower utility bills– The cost of heating or cooling a smaller home are much smaller than heating or cooling a much larger home. Factor in the fact that you're cooling bedrooms that you may not necessarily need, and you can see how the wasted space can really cut into your monthly budget. Less square footage decreases the amount of energy expended, and is typically better for the environment AND your wallet. A win-win!
• Less Upkeep– Fewer and smaller spaces really cut down on the time you spend on cleaning and maintaining your home. By cutting down the amount of daily chores, you free up additional time to spend doing things you actually enjoy. Traveling, gardening, finishing that novel you've been working on for years– retirement is for adventure and relaxation, not endless home upkeep! A great option for cutting down on maintenance is an active adult community, which has onsite maintenance and service. Read about more benefits of living in an active adult community.
• Increased budget– By spending less on your monthly mortgage, that money can be rolled into a whole new portion of your budget. If you've always dreamed of adventuring to far-off shores, this extra can really stack up to help you achieve those dreams (without having to sacrifice in other areas of your monthly budget!)
• Changed buying habits– With a smaller home, you're less likely to buy in excess if you know you have no where to put it. That means you may pick-up less clothing, food, or those impulsive-buys when you're browsing online.
• A step down in size doesn't mean a step down in luxury– in fact, it can easily be a step up! Profits from the sale of your old home can go towards the purchase of one that's smaller, but packs in more amenities for the space. In fact, you may even be able to pay cash for a smaller home from the proceeds of your existing home if you're lucky. And that could mean, no mortgage at all!
Downsizing can also mean a lower mortgage—or no mortgage at all if the sale of your old home is particularly profitable. That means more funds for fun things, like travel, self-care, hobbies, and more! Of course, there will always be disadvantages to any big change, so take into consideration that a smaller home may not be able to house all of the items in your current home. It can also mean a big lifestyle change if you're moving to a new neighborhood, so make sure you do your research into the areas you're looking at to make sure it's a good match.
Deciding it's time to move is a good first step, but that doesn't mean it's going to happen over night.
Planning is the best option for ensuring you have a seamless move from Home A to Home B, and there can be a lot of factors to consider before the process even begins. It's always advised to take a careful look at your budget– unforeseen injury or illness, sudden repairs, or financial troubles can happen in the blink of an eye. If you haven't already accounted for it, these added expenses can severely effect the timing of your move to a new home.
Determining if you need to have your current home sold in order to afford the next one, or if you can maintain two mortgages until the first home sells will greatly effect your timeline as well. While we would say it's better to move sooner rather than later, that may not always be feasible. The upkeep on a larger home can quickly get out of control, but two mortgages can be even more of a strain on an already set monthly budget. Being realistic on your timelines and the factors that contribute to a move are extremely important.
Our last note here: It can be tough to leave the home you raised your children and made so many memories in. Make sure to give yourself and your family adequate time to accept the change and say your goodbyes. Take pictures, enjoy one last family gathering, and make sure this change is something that you really want (and maybe even need) before it's too late to change your mind.
Leaving an empty nest isn't just a regular move.
It's closing one chapter of your life and stepping into a new one—a process than can be both exhilarating and emotional. Over the years you've probably amassed a formidable collection of possessions, and some may have immense sentimental value while others…not so much. But
organizing and decluttering
is part of the packing process. Some tips on decluttering: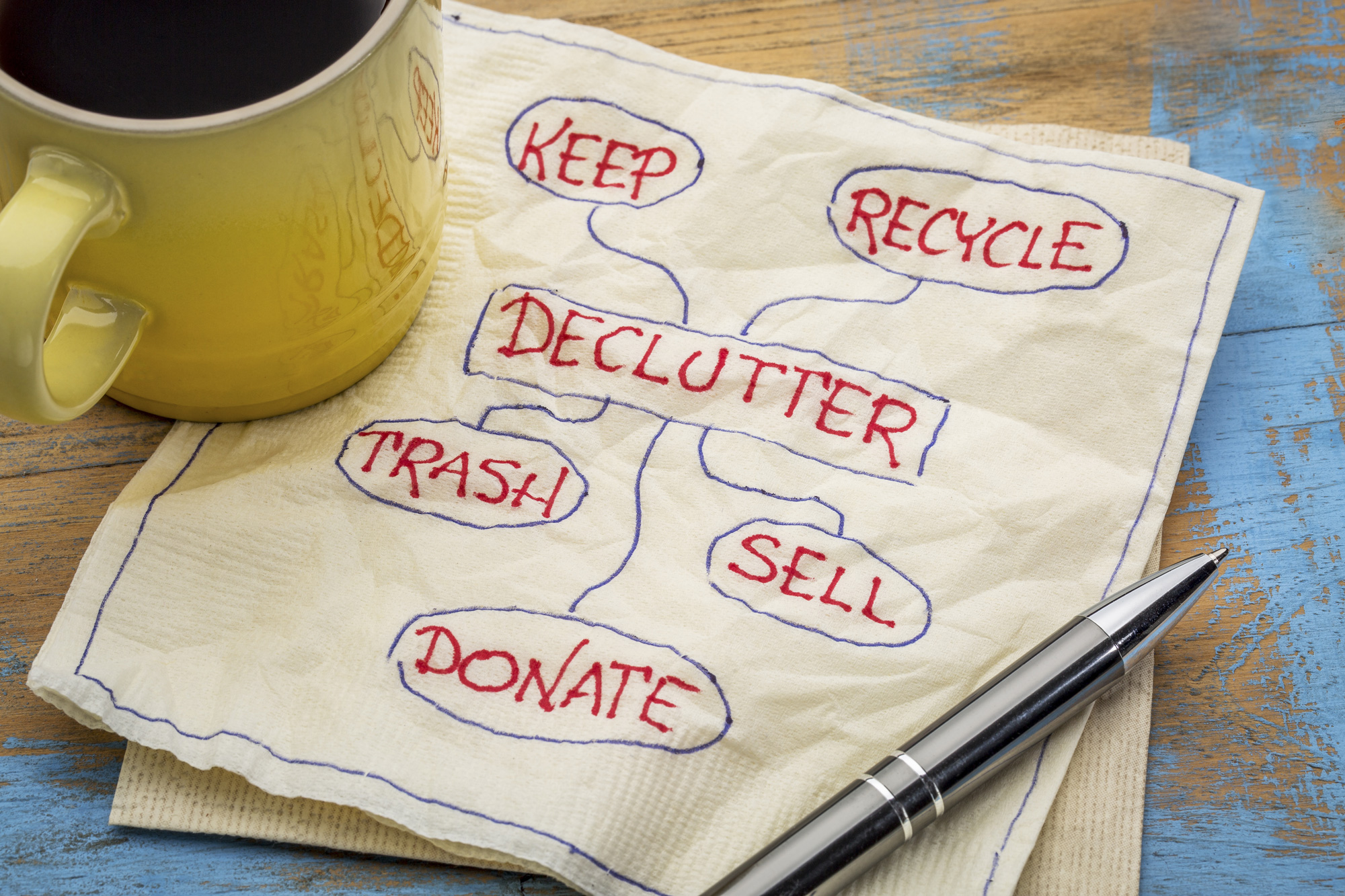 • You may need professional help in decluttering and downsizing your belongings. A professional organizer can help you purge in a systematic, timely fashion, and help you hold on to the things that truly matter while getting rid of those that don't.
• Your home is not a museum. Have you ever been gifted something that you don't REALLY like, but you've hung on to because you don't want to offend the gifter? Maybe you've inherited something from a passed relative that you don't really love, but you've kept anyways. Things don't have to stick around just because they were given to you, or belonged to someone important to you. Donate, sell it, give it away yourself– if it serves no purpose, collects dust, or doesn't get used, it's time to let go of your memory clutter.
•  Make decluttering a routine. Seting aside five or ten minutes a day to go through specific areas of your home to cut clutter right in the bud. Pay special attention to doing tasks half-way rather than the full follow-through: Bring dirty dishes to the kitchen and put them in the dishwasher. Dirty laundry? Don't leave it on the floor, put it in the hamper, or if the hamper is full, run a load. Finished reading a book? Put it back in the bookshelf. Mail can get a special place for itself, like a basket, that can then be gone through to make sure bills are set aside and junk-mail goes where it belongs: the garbage.
Throughout the stages of the moving process, you may want to institute a "one-in-one-out" system in your home to ensure you don't bring in any surplus during the purge. The way it works? For every one item you purchase or bring into the home, get rid of something you already have. If you truly want a decluttering challenge, skew the ratio so that you get rid of more than one possession for every new purchase you make.
Once you have moved, you may find that you have less space than you initially expected
. Not to worry! By maximizing your storage space, your home won't feel quite as crowded as when it was full of boxes, boxes, boxes. Some things to keep in mind: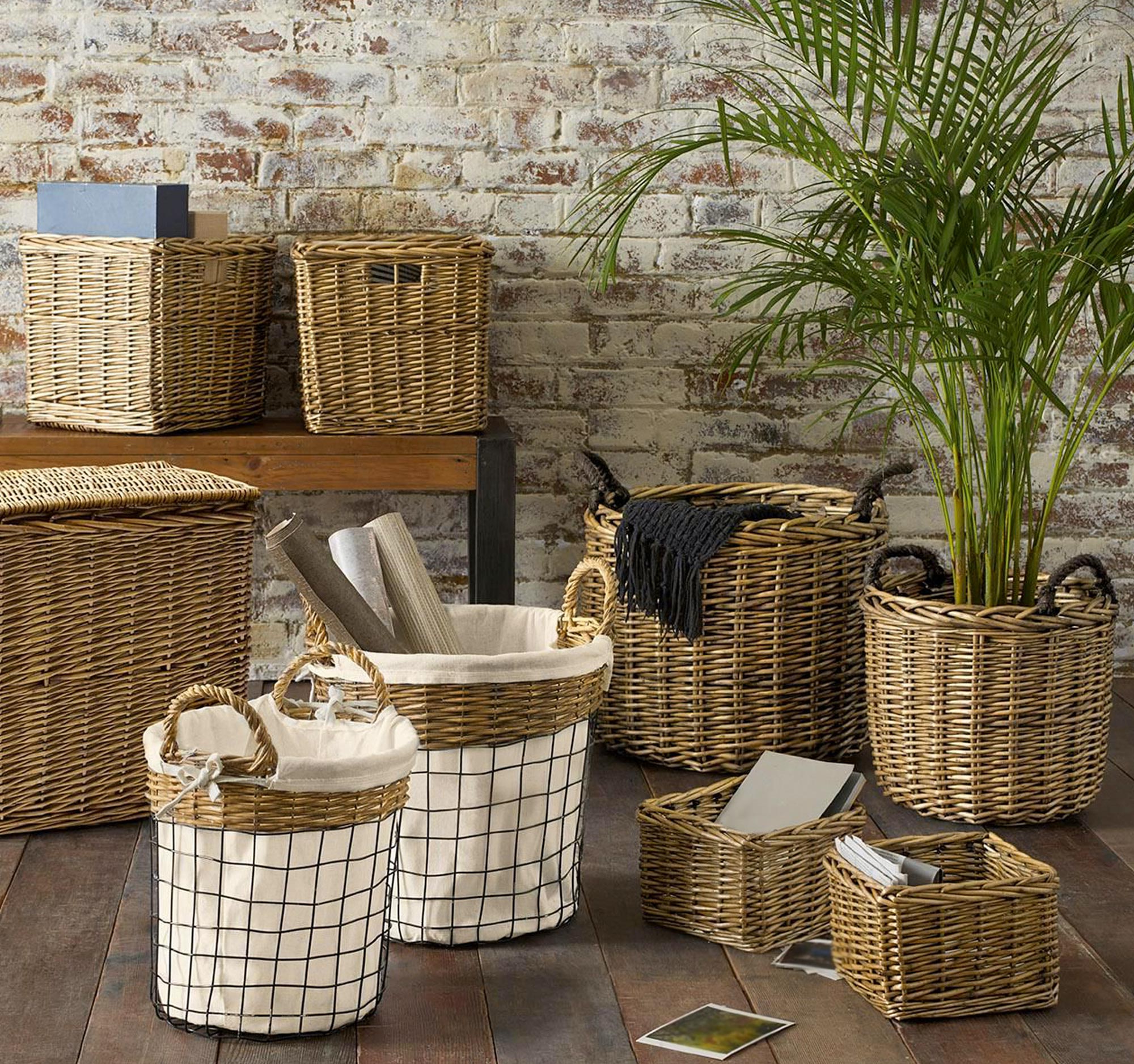 • Focus on items that have the potential to do double duty: storage ottomans, bed frames with cubbies. In utilizing these extra areas of space, you lower the amount of clutter that may pop back up after your move.
• Do you store small items on a shelf? Pull these items together with a bin or basket, which you can then use as a drawer, and enjoy the left over space! Plus, it'll look much more visually appealing than a bunch of loose items.
• Lazy Susans can be a lot more helpful than you'd expect. Using them in a deep shelf can allow you to easily access those items at the back of the cabinet, without having to grab your step-stool. Plus, the two-tiered options are great for organizing spices, cans, or even your toiletries in a bathroom.
• Hanging pot racks can help free up kitchen cabinets, while also giving your kitchen a unique aesthetic. With a variety of different options, including wall and ceiling mounted versions, pot racks come in a ton of different sizes and colors to suit most kitchen schemes.
Of course, there's much more that you could do to maximize the use of your space, but these are a good starting point. We recommend doing some additional research to see what works best for you and your needs.
Pro Tip: Stay organized once you've moved in with our Moving-In Checklist. 
---
For more tips on downsizing, and for all your relocation needs, contact a Showcase agent! We have extensive experience helping those seeking to retire to North Central Florida find their perfect new home. Give us a call, and buy with confidence!