When looking to sell a property, whether it's the home you've owned and lived in your entire life, or a property you've purchased for a fix and flip, you may wonder which home improvements generate the highest return on investment. Staging your home can definitely help you sell home fast. Remodeling your home is more costly but can bring in an even higher asking price.
Remodeling for a higher return on your investment usually means choosing styles and materials that appeal to a wide range of people, rather than just choosing something that matches your particular likes or interests. This means that even though you may love carpet in the bathroom, you should opt for a nice, clean tile flooring because that's what the local market looks for.
The most important thing to consider when building your property's value is that what you like isn't what matters. This home isn't about you – it's about your buyers, their likes, and what needs to be in the home in order for it to sell quickly.

What buyers see when they first step up to your home is extremely important! A little landscaping can go a long way – add some curb-appeal by trimming overgrown weeds and bushes. A freshly mowed lawn, a few well-placed shrubs, and a swept walkway make a great first impression!
Clean up the exterior of your home! Yes, a fresh landscaping job will do wonders for the exterior of your property, but let's face it: it won't add too much if your once-white home is now a dingy, faded yellow. First things first! Use a power washer to clean up your siding as much as possible! Most times, the exterior of a home is just very dirty and doesn't actually need new paint or siding at all.
Garage doors are the number one project a homeowner can do in terms of return on investment. With real estate being as competitive as it is, a new garage door will ensure your home is noticed immediately. The garage door is the largest and most used entry point of the home. An upgrade can keep your home looking fresh and modern, and can be just the thing that hooks your buyer. In fact, the National Association Of The Remodeling Industry's 2015 Impact Report found that upgrading the property's garage door can generate a return on your investment of up to 87%.

Give your kitchen a makeover
For potential homebuyers, the kitchen is the room that can make or break your sale! This is because the kitchen is still considered the heart of the home. With any open house, potential buyers usually rush right to this room in the home to see if it will fit their family's specific needs. An upgraded, attractive kitchen can make your home irresistible – and can earn an average of 70 percent return on investment, depending on which features you choose, how much you spend on remodeling, and whether your goal is to create a dream kitchen for yourself or a kitchen that will appeal to most potential buyers.
The biggest mistake homeowners make is spending more on their rehab than the market's after repair value can support. For example, spending $70,000 on a kitchen when the home is appraised at $300,000 might not be the best idea – and doesn't automatically make the home worth $370,000. Expect to spend between 5% and 10% of the home's value on your kitchen rehab to turn the highest profit.
Two important upgrades in a kitchen include switching out those old wooden countertops for something a bit more modern – like granite or other natural stone –  and replacing your run of the mill white appliances with top of the line stainless steel appliances. Give the buyers what they want!
Open floor plans have been highly desirable for decades. If your kitchen is shut off from your living space, and in its own little corner of your home, consider having a wall knocked down or maybe even replaced with a waist-high partition wall that could double as a breakfast bar!

Did you know that according to the National Association of Realtors, 54% of homebuyers are willing to pay more for a home with hardwood flooring? Hardwood floors are ideal for any home, and are timeless upgrades. If you are going to install hardwood, opt for real wood rather than fabricated products. If you or your buyer are looking to change the look of the floors in the future, real hardwood flooring can be sanded down and refinished where engineered products cannot. Also, engineered wood may sometimes contain hazardous materials, and the home is the last place anyone wants to deal with potentially harmful substances.
If installing a fresh hardwood floor doesn't quite fit into your budget, another option to consider is laminate flooring which can give the appearance of wood, but doesn't carry the hefty price tag! Also, laminate flooring is much easier to maintain, and is usually scratch resistant. Although laminate flooring won't raise your ROI by much, fresh flooring in some form is a necessity for most homebuyers.

You want to make sure that you give your home at least one wow factor, like stainless steel appliances, granite countertops , or hardwood floors, but you don't want to spend too much time (or money) on one property! Just as your home's cost should be in line with your neighborhood, your improvements should be in line with the value of your home. Keep in mind, regional differences really come into play with real estate investments. If housing is in great demand, buyers are more likely to pay for your improvements. But be careful – even in a strong market, you run the risk of over-renovating.  A real estate agent can provide suggestions on what can be done to increase the value of your home.  Contact a Showcase agent for a consultation.

If housing is in great demand, buyers are more likely to pay for your improvements. But be careful – even in a strong market, you run the risk of over-renovating.  A real estate agent can provide suggestions on what can be done to increase the value of your home.  Contact a Showcase agent for a consultation.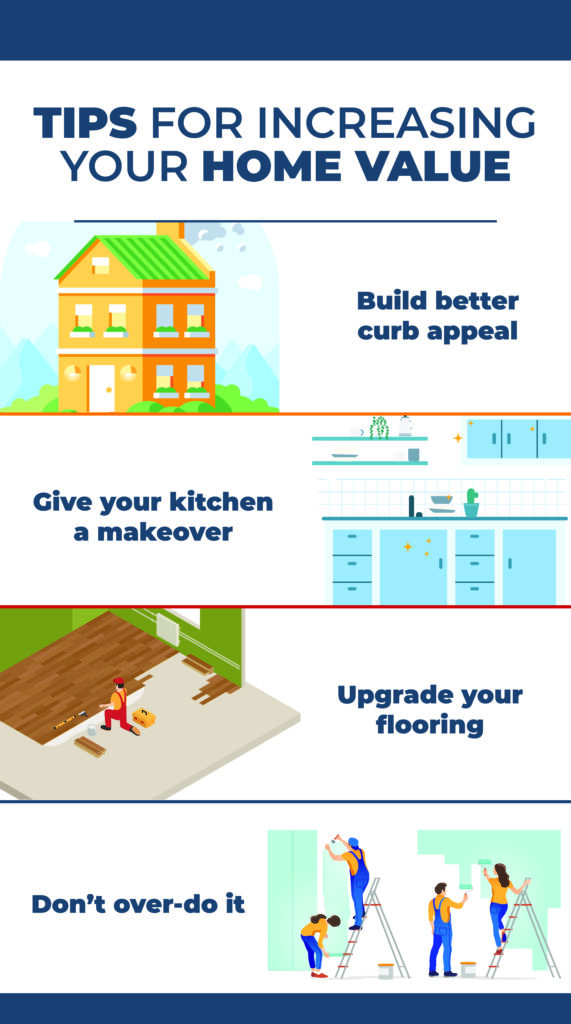 ---
Author Bio: Ashley Pawlyzyn is the Marketing Coordinator for Asset Based Lending, a private hard money lending firm that finances fix and flip investments for hundreds of real estate investors each year. An avid real estate enthusiast, if Ashley isn't at her desk, you can find her networking with other real estate professionals at various Real Estate Investor Associations across the northeast.