No matter what the current real estate market is like, there are certain things that you can do as a seller to attract buyers, bring in the best price possible, and prevent any issues that would interfere with a quick and easy closing—from select home improvements and custom staging to choosing to work with an experienced agent. Using our years of experience in Marion County real estate and Alachua County real estate, we'll offer our best tips for how to successfully sell your Florida home.
Get Your Own Home Inspection
Yes, it's usually the buyer who arranges a home inspection to ensure that a prospective property does not have any costly underlying issues. However, it may make sense for you to get your own home inspection—especially if your home is older and you're not sure what an inspection might turn up. Issues arising at home inspection can put major kinks in your sales plans: A bad home inspection may be used as leverage to negotiate a lower price, or it could scare off your buyer altogether, meaning that time is wasted, and your home will have to be relisted (potentially fetching less money). By scheduling your own home inspection and addressing problems before your buyer even sees the home, you are helping to ensure smooth sailing and the best possible price for the sale of your home.  
Make Select Home Improvements
Maybe you need to make major repairs based on your inspection, or maybe you just want to make small changes to increase curb appeal—but any improvements to your home that improve functionality or aesthetic appeal will be beneficial from a sales perspective. If you're looking to make some quick, cost-effective updates to appeal to buyers, visit a few local homes for sale for ideas about how your competition is attracting buyers. Pay attention to paint colors, decorative touches, and landscaping. If you're aiming for larger changes, like energy efficient improvements or major renovations, keep in mind you'll have to plan these things well in advance of the listing, to be sure they're done on time and to your standards. But not all improvements have to be big. As we discuss in our blog, Raising Your Home's Value, sometimes something as simple as upgrading your garage door can have huge payoffs. It can be difficult to choose what improvements and repairs are essential, which will have the largest payoff, and which ones won't be worth the investment. Working with a real estate agent can help you get the most out of your dollar and time frame.
Prepare Your Home for Staging—Clean, Declutter, and Depersonalize
If you've been in your home for a long time, it probably has accumulated many signs of being lived in and loved, from knickknacks and personal decorative touches to scuff marks and stains. Your buyer, however, wants to see your home as a fresh start—for them.
Decluttering and Depersonalizing
Start by decluttering. Use the listing of your home as an incentive to pare down your possessions, including excess or oversized furniture, mementos, older linens, and decorations. This has many purposes: it will make your home be more inviting to buyers, make it seem larger and more spacious, and minimize your work when it comes time to pack. Selling your extra items could even help fund costs for staging. While you are decluttering, don't just work on the visible places! Be sure to clean out closets, drawers, and storage areas, too. Once you've decluttered, take a second pass at your house to remove any personal items. These can be photographs, children's drawings, or souvenirs, but they could also just be individual touches, including unique art, decorations, or collections. Put these items in storage—if you're worried about bare walls and blank spaces, you can add some neutral décor during staging. There are many strategies for organizing and decluttering, but starting by mapping out hotspots of clutter and attacking those areas first can help you get the ball rolling and make the biggest impact.
Cleaning and Prepping
Once you have your spaces cleared, you need to get them sparkling clean. From removing marks on the walls to coffee spills on your carpets, take the time to get everything spotless. You may want to consider hiring a professional cleaning crew or service to help get the job done. Don't forget to clean:
Inside drawers, cabinets, and closets
Windows—inside and out
Outdoor spaces and sheds
Unfinished basements and garages
Interior walls (touch up and spackle, too!)
Exterior walls (consider renting a power washer)
Upholstered furniture
Staging
Staging your home is one of the best ways to give possible buyers a glimpse at its potential. It can provide a neutral backdrop that they can insert themselves into, imagining their life in your home. It can highlight the best features of your home, like a sunny corner or built-in cabinetry. It can make small rooms feel larger and large spaces feel homey. And it can show them the best way to use spaces—particularly ones that don't have a clear function, like a small bedroom. Staging can often be done with many of your own items, though some pieces may need to be culled or put in storage. Hiring a professional staging company or consulting with your real estate agent can ensure that you are creating the right image for buyers and not missing any important details. If your house is currently empty and you're on a budget or time crunch, you may also consider virtual staging, where your listing pictures will have digitally-added furniture and decorative items, for the benefit of online viewers.
Get Professional Photos
Once you have your home in ship-shape, it would be a shame to diminish that impact with poor-quality photos. Since online or printed listings will be your potential buyers' first peeks at your home, this is your chance to lure them in and wow them. Don't rely on cell-phone snap shots or hastily taken shots—let a professional take high-quality pictures, balancing lighting and ensuring rooms are captured at the best angle. In addition to getting professional photos, be sure that all spaces are ready to be photographed—clean, orderly, and appropriately staged. Your buyers will want to see every room, and if one is conspicuously missing, it could create confusion or suspicion. Your real estate agent can coordinate a professional photographer—possibly even with drone footage!—so take them up on this offer, even if it requires extra work to prepare your home for it. Beyond professional-quality photos, you may want to consider offering a 3D tour to be viewed online. Since 7% of recent home sales are made based on online and virtual listings alone, you want to make sure that buyers, especially those from out of state, are confident enough with your listing to make an offer. Here in Central Florida, many buyers will be individuals relocating from other states, so this is an important market not to ignore—and having a virtual tour will give your home a leg-up over competition that doesn't offer one.
Be Flexible with Showings
For buyers who are touring the home in person, you don't want to set up any hurdles to getting them in your home. There are three aspects to this: Keep your home prepared for showings at any time. If you are living in your house, keep your home tidy and the staging features intact. While this may be tough to do, following the other tips can help you sell your home faster, meaning there is a smaller window where you'll need to have regular showings.
Don't turn down showings because they're at an inconvenient time. Your real estate agent can coordinate with the buyer's agent to some degree, but keep in mind that not being open to showings at certain times can eliminate clients with less-flexible schedules. It's in your best interest to accommodate your buyers.
Don't be home during showings or open houses. Your presence can turn off or intimidate potential buyers. Remember, they want to envision this house as their new home, not your current one. Everyone is curious about what others think of their home, but let your real estate agent convey this information.
Provide Helpful Information to the Prospective Buyers
However, while you should never communicate directly with potential buyers, there are definitely things you can do to let them know about what it's like to live in your home—especially if this information can help persuade them to buy it. Some things you may want to have your agent communicate include:
Utility bills
HOA fees and the amenities they provide
Special features of the home include state-of-the-art appliances, HVAC system details, or other unique selling points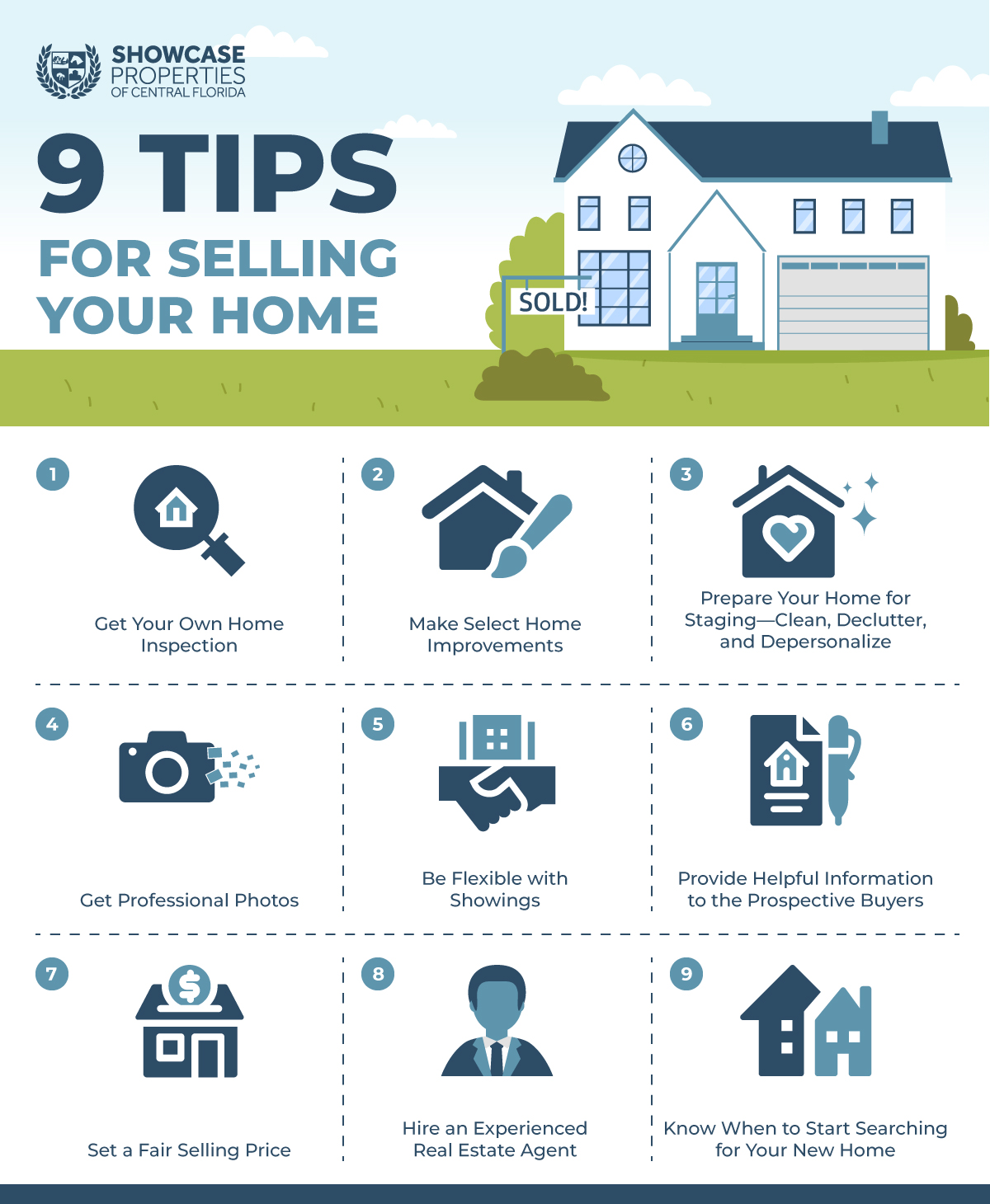 Set a Fair Selling Price
Your experienced Ocala Realtor or Gainesville Realtor will help you determine an appropriate price for your home, based on current trends and local conditions. Sometimes you may feel like the price they feel is appropriate is below what you were hoping to get. Keep in mind that your real estate agent is not only working on commission, but they don't get paid until you do, so it's in their best interest to set the right price. They know that overpricing a home can mean a house sits too long on the market, loses momentum, and may lead to a price cut. On the other hand, a fair price may attract more buyers and create competition for the home, leading to a successful sale.
There's an art to setting the right asking price, which can take years of experience to perfect. Your agent will conduct a comparative market analysis (CMA) which compares similar, recently sold homes to help determine what price your home may fetch. They may also take advantage of online search benchmarks (price tiers), to ensure you aren't just missing out on a popular price range when individuals conduct searches on real estate listing websites, like Zillow. And experienced realtors know when they can depart from their research and price higher—or need to price lower—given unique circumstances like sudden market fluctuations.
Remember that your home can't sell for much higher than its appraised value, or it could create problems for the buyer's mortgage application (and your on-time closing). While your agent will have a general idea of appraisal value, the actual appraisal is conducted after the home is under contract.
Hire an Experienced Real Estate Agent
If you want to sell your home quickly and with the fewest amount of hassles, you're going to want to work with an experienced real estate agent. Your agent can help you navigate all the steps in home selling that we've mentioned above, providing your knowledgeable feedback and expert advice.
Agents Get You More Money
While selling your house yourself—'For Sale By Owner' (FSBO)—may seem like a great cost-saving choice, homes sold without agents tend to bring in significantly less money. According to the National Association of Realtors, FSBO sales fetched more than $100,000 less than realtor-sold homes in 2021. Why is this? Many buyers are hesitant to purchase a home without the assistance and assurances of agents, meaning that when you sell your house yourself, you are drastically limiting your pool of potential buyers, driving down competition. This can be especially detrimental during hot real estate seasons, including summer. On the other hand, experienced agents will take measures to increase that pool through effective marketing, from signage and open houses to online advertising on their own site, as well as popular real estate websites. Real estate agents know how to create professional, well-written MLS listings with high-quality photographs that draw buyers in, highlighting features of your home that will appeal to the local market. And once you have one or more viable offers, agents will work hard to negotiate and get the best price for your home.
Agents Make the Process Much Easier
In addition to doing the legwork of marketing, showing, and negotiating with buyers, agents handle dozens of tasks associated with selling a home. Agents help:
Determine a competitive and realistic price
Arrange affordable repairs as needed
Prepare and stage your home for showings
Navigate the transfer of utilities
Connect you with professional services, including attorneys to review contracts
Work through last-minute questions and concerns with the buyer
And of course, they can help you find your new home, too! For more about how agents can help you sell your home, check out our post, 3 Reasons Why "For Sale By Owner" Isn't a Great Idea.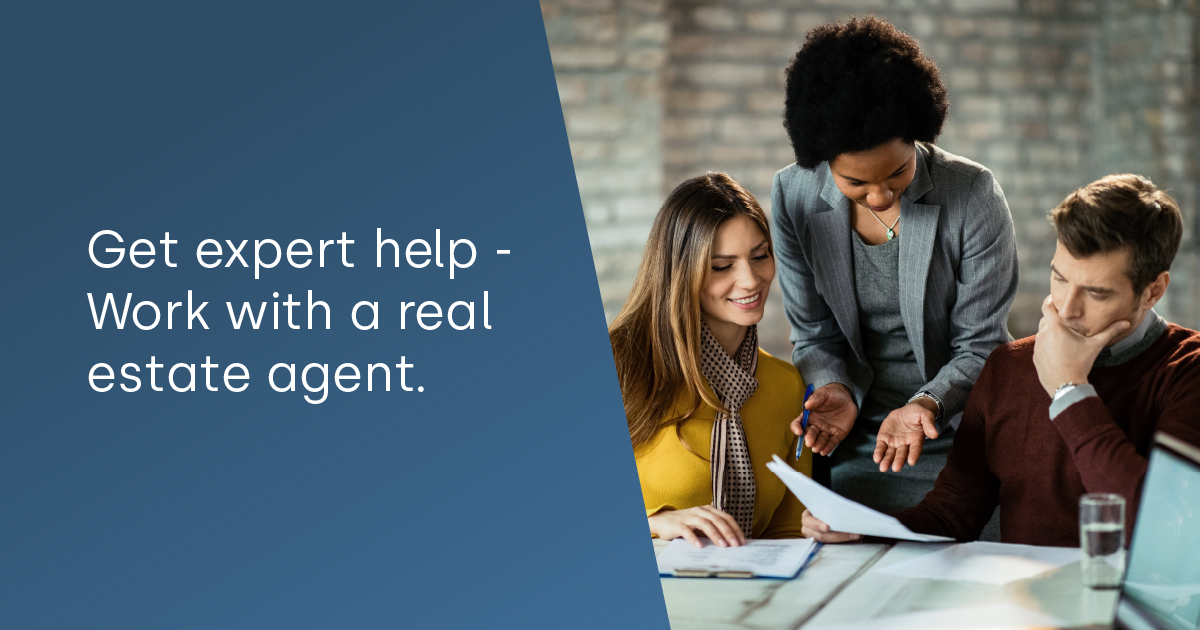 Know When to Start Searching for Your New Home
As we mentioned above, an agent can help you find your new home, creating a reasonable time frame for buying while selling which includes time to secure financing, prepare your current home, find a new home, and work through two settlements. As we discuss in our blog, How to Buy a Home While Selling Your Home, you should always prioritize selling your current home. Putting in extra work in selling your home means you may be able to fetch a higher price, and "the more you're able to sell it for, the more you'll have to spend on your next place." However, you don't want to sell your current home and have no place to go while waiting to find the right new one. Your agent will help you time your search, negotiate closing dates with other buyers and sellers, and do their best to help you navigate two separate, complex real estate transactions.
Showcase Properties Can Help You Sell Your Home (and Buy the Next One!)
If you're looking to sell your Marion or Alachua County home, we can help. We'll work with you to devise an effective strategy to sell your home, from staging and listing to negotiating a solid sale. And when you're ready, we can help you find your new home, too! Contact us to get started working with an Ocala Real Estate Agent or Gainesville Real Estate Agent today!