At Showcase Properties, we've built our reputation on our outstanding service to the equestrian real estate market, with our first office located in Ocala, the 'Horse Capital of the World.' But with years of experience buying and selling a wide array of properties, we're more than just horse farms. And our recent expansion into Gainesville grants our clients broad access to the entire North Central Florida region, too!
Our portfolio of listings in Marion County, Alachua County, and beyond feature an extensive offering of commercial and residential real estate, in addition to agricultural properties. No matter what your real estate needs are, we will work with you to find the perfect place for your family, farm, or business. Here are just some of the types of properties we offer.

Ocala Real Estate
If you're looking for a property in Marion County, we can fulfill all your local real estate needs. With access and experience buying and selling a variety of property types from single family homes to commercially-zone lots, Showcase Properties is your go-to full service local real estate agency. We have hundreds of homes for sale in Ocala! Here are just a few of our popular property types.
Single-family homes–at various price points!
Whether you're just setting out and are looking for a small starter home to dip your toes into homeownership for the first time, have a growing family and need room to expand, or are empty nesters ready to downsize into a cozier, more easy-to-maintain residence, we have a variety of single family houses to fit everyone's needs.
Homes with a pool
Want to cool off on those long, hot summer days, or give your kids or grandkids a fun way to get some fresh air and exercise? There is no shortage of homes with pools in and around Ocala, with prices for every budget. We feature properties with pools with lanais, hot tubs, lap pools, baby pools, and waterfalls. Browse our selection here: Houses with Pools for Sale in Ocala
Waterfront homes
Even Central Florida has many waterfront living opportunities, with numerous lakes, rivers, canals, and ponds. Whether you are looking for a home with water access for boating, a connection to the breathtaking wildlife in the region, or just a scenic view, we have a waterfront property for you. Browse our selection here: Waterfront Property for Sale in Ocala
Homes with a guest house
Maybe you need private living accommodations for in-laws, older children, or caretakers. Or maybe you find you attract so many out-of-town guests, it's time to find a space just for them. Guest houses and apartments are popular features of Florida homes, and our listings feature secondary living accommodations with a variety of amenities to meet your needs: from full kitchens and bathrooms to separate bedrooms. Choose from homes with attached guest houses to estates with secluded separate living quarters. Browse our selection here: Ocala homes for sale with a guest house.
Homes with land
Perhaps more than anything, Showcase Properties is known for its listings with land—gorgeous Central Florida estates with room to roam and support your endeavors—whether you dream of small farm living or just relaxing in the peaceful countryside. With listings from 5 acres to over 500, there are possibilities for everyone. Browse our selection: Houses with Land for Sale in Ocala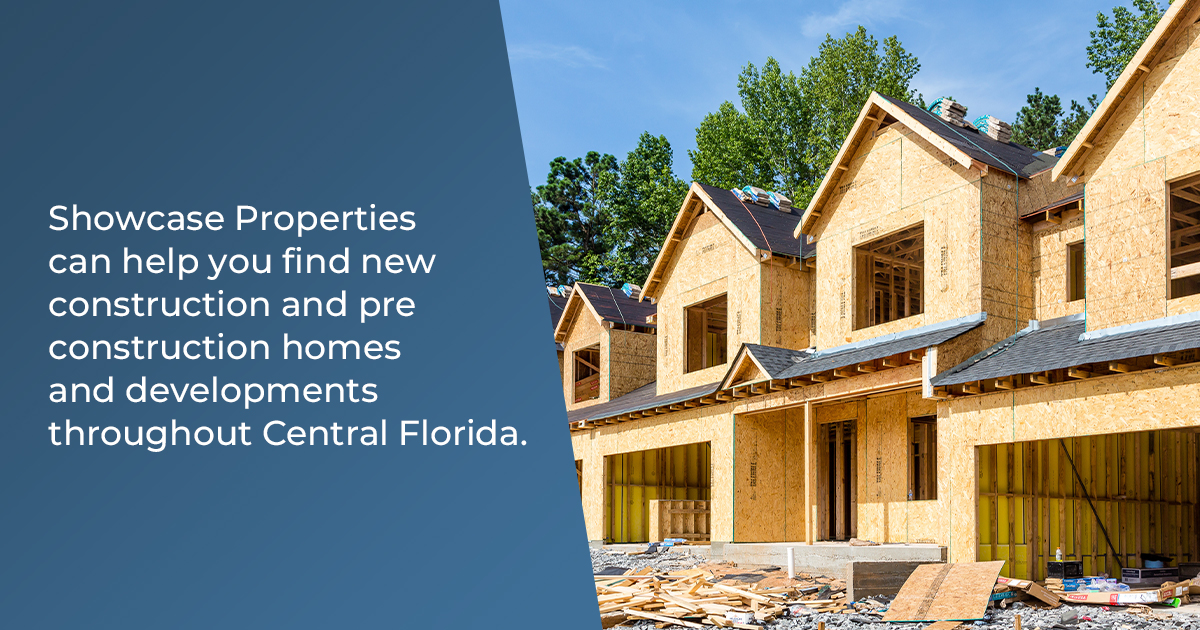 Gainesville Real Estate
With our new office in Gainesville, we are now even better equipped to serve clients looking at purchasing property in Gainesville and the surrounding Alachua County. One of the fastest growing regions in Florida, Gainesville is more than just a college town. With first class healthcare options, a booming job market, and thriving cultural scene, the greater Gainesville area makes an ideal destination to start a business, settle down, or retire. With so many great communities in Alachua County, you'll find it hard to pick just one!
Single-Family Homes in and Around Gainesville
Once you move to Gainesville, whether as a student or a professional, you may find it hard to leave. And if you're just considering a relocation, there are many reasons to move to Gainesville. Though the residential real estate market in Alachua County is hot, it doesn't have to be hard to navigate. With so many homes for sale in Gainesville and a steady supply of buyers, count on us to help you find your perfect home. Check out all our Gainesville homes for sale or browse some of our most popular categories:
Waterfront homes
Whether you're looking for lakefront living, river views, or just a tranquil pond to attract wildlife, there are lots of opportunities for waterfront property—even in North Central Florida! Browse our selection: Gainesville / Alachua County Waterfront Homes.
New construction
Looking for a home with custom features or the maintenance-free living of a new build? From modern townhome communities to luxury developments, there are dozens of new construction projects in the greater Gainesville area. Find the right one for you! Browse our selection:  Gainesville / Alachua County New Construction
Homes with acreage
While Gainesville is known for its chic urban living opportunities, just outside of the city you can find plenty of single-family homes with land to spare, including farmettes, sprawling country estates, and secluded residences on wooded lots. Browse our selection: Gainesville / Alachua County Homes with Acreage
New student or new to the Gainesville area? Considering a move? Be sure to check out our Moving Guide to Gainesville to learn more about what our lovely city has to offer.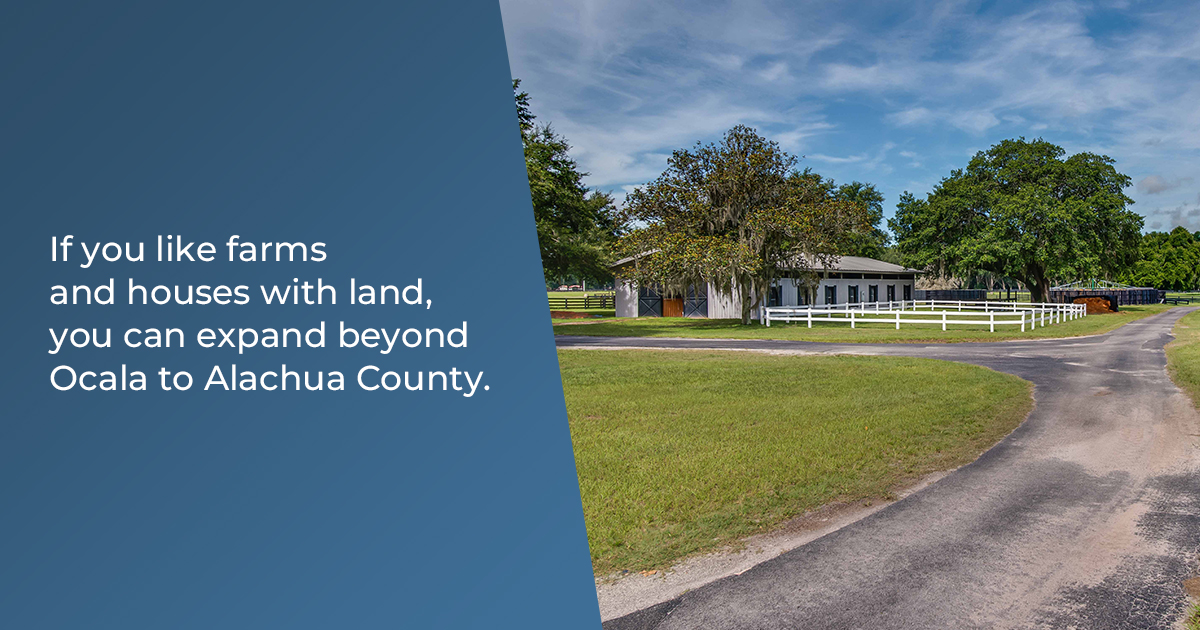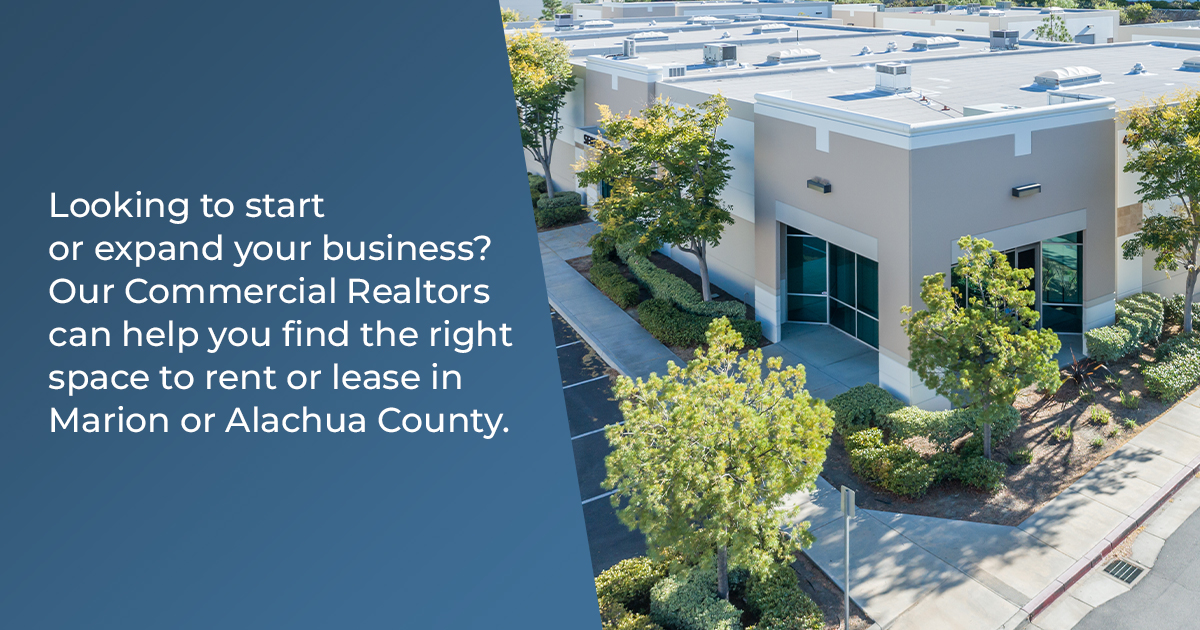 Commercial Real Estate
Gainesville and its surrounding communities are home to nearly 300,000 residents and is less than two hours from Orlando's commercial markets, making it a prime location for businesses of all varieties. Whether you're looking to buy or lease, with great options for medical office, warehouse, restaurant, and retail spaces, you'll find something right for your business.
Office buildings
From downtown Gainesville to outlying communities, Alachua County has commercial office space at a variety of price points. Browse our selection: Office Space for Sale
Retail space
From store fronts to restaurant space, find the right home for your retail business. Browse our selection: Retail Space For Sale. 
Industrial and manufacturing buildings
Alachua isn't just a great space for retail space—due to our proximity to such large population centers and many major interstate systems, the greater Gainesville region is ideal for industrial and manufacturing businesses of all sizes. Browse our selection: Industrial Buildings for Sale
Looking for something specific? Check out all our listings here: Commercial Property For Sale in Gainesville / Alachua County.
Showcase Properties is Here to Help You Buy or Sell in Marion and Alachua County
 Yes, we know our way around luxury and equestrian real estate. But we have a lot more to offer at Showcase Properties. Our seasoned, local agents have decades of experience navigating our regional markets, and can guide you through any real estate transaction—whether it's buying, selling, or leasing—regardless of property type or size. With a variety of options, from agricultural land to gated communities to retail storefronts, our comprehensive selection of properties is sure to meet your needs.
Ready to explore all that Marion and Alachua County Real Estate has to offer? Contact our offices to speak to one of our experienced and dedicated Ocala or Gainesville Realtors today.