Whether driven by the
booming job market
or the luscious year-round tropical setting, nearly
half a million
people choose to relocate to our state each year. However, increasing insurance costs for homes may put a damper on many individual's dreams of
moving to the sunshine state
or reconsider their investment in a second home here. Sometimes referred to as the "Florida insurance crisis," rates have escalated to
four times the national average
, with some areas of our state seeing even higher numbers. With years of experience in the Florida real estate market, we are familiar with the high costs of homeowners insurance here—but we also know ways to reduce your out-of-pocket expenses and reach your goals of homeownership, despite these costs. In this guide to Florida homeowners' insurance, we'll discuss reasons behind our higher-than-average rates, as well as things you can do to decrease your costs, as well as alternatives to consider to help you make living or vacationing in our great state within your reach.
What's going on with the insurance market in Florida??
If you're currently a resident in Florida, it may be hard to miss all the discussion about the rising costs of homeowners insurance. While all housing costs have risen in the past few years, homeowners' insurance has grown exponentially. In fact, since 2020, premiums have risen 100% in our state. In addition to rising premiums, many insurers are leaving Florida altogether. As state legislator Anna Eskamani recently explained to Fast Company, "As people get their renewals, they're cringing to open up the letter from the insurance company, because either there's a ridiculous premium increase, or they're being dropped." In the past few years, major companies including Progressive, Bankers Insurance, Lighthouse Property Insurance, FedNat Insurance, Avatar Property and Casualty, Lexington Insurance, and St. Johns Insurance, Southern Fidelity, Weston, UPC, and Farmers have all pulled out of the Florida market. Fortunately the NOAA predicts a "near normal" hurricane season this year, which could lead to greater stabilization in insurance prices. Although many insurers have dropped out, many companies, large and small, are still serving our region. These include (at the time of writing this article) State Farm, Citizens Property, Travelers, First Florida, Nationwide, and USAA.
Why is homeowners' insurance in Florida so expensive?
There are two main reasons why our insurance prices are so high: severe weather and litigation costs (including fraudulent claims). These two causes are having an astronomical effect on insurance costs. As BankRate points out, "Because of the fraudulent lawsuits and the high overall claim risk in Florida, insurance companies have faced two consecutive years with net underwriting losses over $1 billion." Let's take a closer look at both, and why they have such a huge financial impact.
Severe Weather
As we mentioned above, hurricanes are a driving force between rate increases in Florida's homeowners' insurance market. Many areas are still recovering from Hurricane Ian, the Category 4 hurricane that hit Southern Florida last year, with some individuals still waiting on insurance payouts at the time of publication. In fact, Hurricane Ian cost an estimated $112 billion in damages, the most expensive hurricane in Florida's history (and the third most expensive in US history). Because of this, coastal and island communities—regions more affected by storms—tend to have higher insurance rates than inland communities. However, while storm surges from hurricanes and tropical storms may be limited to areas along the coasts, high winds and flooding from above-average rainfalls can put any home in our state in danger, leading to higher premiums. And intense heat, lightning strikes, and other weather events, as well as the unique geological features of our state, result in other costly natural disasters, including tornados, sinkholes, and more than 100 wildfires each year. All of this adds up to more insurance claims per capita, and therefore higher costs to insure.
High Cost of Litigation
Even longtime residents may not be aware that a major contributing factor to steep insurance costs is actually due to fraudulent lawsuits surrounding homeowners' insurance claims. The biggest culprit is roofing fraud. What exactly is the roofing fraud that is plaguing Florida? In these scams, contractors visit unsuspecting homeowners, promising a free roof if they sign paperwork to file an insurance claim for the roof on the homeowners' behalf. When insurance companies refuse to pay the claim (or the full amount of the claim), the contractor sues the insurance company. Because in Florida the insurance company is often responsible for litigation costs, instead of going to court which can be more costly, insurers give in and pay for the new roof—even if it wasn't actually a valid claim. All these free roofs have resulted in higher rates for homeowners. These scams are so ubiquitous, as the governor's office points out, while Florida accounts for 9% of homeowners insurance claims in the US, 79% of all homeowners insurance lawsuits in the country happen in our state. Although steps have been taken to rein them in, including new legislation to help combat fraud, key components of this legislation have been blocked in court, potentially limiting its effectiveness. In the coming years, we'll see if the fraud will diminish and rates will decrease.
Other Insurance-Related Costs Homeowners Face
Beyond high premiums, many homeowners insurance policies also have a high hurricane deductible, often 2-10% of the damages (or the maximum a company will pay out). For some homeowners, they may not be able to meet the high cost of the deductible, which can be thousands or tens of thousands of dollars, depending on the value of the home and the extent of damage. Lastly, water damage from storms often requires an additional, costly flood insurance policy—if a homeowner doesn't have this, they may pay significant out-of-pocket costs.

Do You Need Homeowners Insurance in Florida?
Homeowners insurance is not mandatory—unless you have a mortgage on your home. In fact, lenders often require a certain level of protection on mortgaged properties to be sure that the value of the home (and their investment) is preserved. However, because of the risks to properties in Florida, maintaining a policy on your home can help you avoid potential financial devastation, even if you don't need one by law. Even inland, it's not unheard of for homes to experience significant damage from stormy weather and other natural disasters. Without proper coverage, you will need to pay for all costs of repairs on your home, no matter how extensive, or face potential homelessness. Because of the prevalence of extreme weather in Florida, that is not a risk most homeowners can financially afford.
Alternatives to Homeowners Insurance
Homeowners insurance rates are exceptionally high in many parts of Florida—a tradeoff for living in a climate that is, in most circumstances, highly-sought after. If you are struggling to find an affordable plan, you may consider choosing alternatives to private insurance, though they can be equally (or more!) costly in some cases.
Citizens Property Insurance Corporation: Florida's Alternative to Private Insurance
Since so many residents of Florida have struggled to find insurance, Florida created a state-backed insurance option, Citizens Property Insurance Corporation. If you are unable to find insurance for your home, it may be an option for you. Coverage can be expensive, and is only available for those who can't find insurance elsewhere for less than 20% more than what they would pay through Citizens Property Insurance Corp. Additionally, if you are insured by Citizens Property Insurance Corp. and a private company offers to insure your home within 20% of your current rate, you will be required to switch, as WESH in Orlando reports. Still, if there are no other options, it can be the only choice to keep your home protected. Interested homeowners can visit their Get a Policy site for specific eligibility requirements.
Self-Insurance
Some homeowners are choosing to forego traditional homeowners' insurance to "self-insure" their homes, putting aside money they would spend on an insurance plan to cover potential costs. While this is only possible if you own your home outright (homes with mortgages must maintain adequate coverage), if you are able to set aside a substantial amount of money—it's best if you can save the value of your home—you may choose to take the risk and avoid paying insurance policies. However, if you are not able to set aside sufficient funds to cover major repairs, up to and including the replacement of your entire home, self-insurance isn't advisable. Even if you are able to accumulate a large nest egg in a few years' time, in the interim your home will be at risk, and one bad storm could mean catastrophic loss.
How can Florida homebuyers get home insurance coverage?
Homebuyers coming from out-of-state may find that their current insurance carrier serves their new community. It's never a bad idea to check there first, as you may get discounts from being a long-standing customer or holding multiple policies.
If you are looking for a new policy, there are many reputable places online that allow you to explore local options, including US News and World Report Insurance Quote Comparison. Be wary of giving away your email address or personal information, especially to sites you aren't familiar with.
Perhaps the best course of action is to speak to your real estate agent for recommendations. Because they are frequently helping homeowners buy and sell on a routine basis, they know what companies are writing policies in your new neighborhood, and what current fair market rates for policies look like.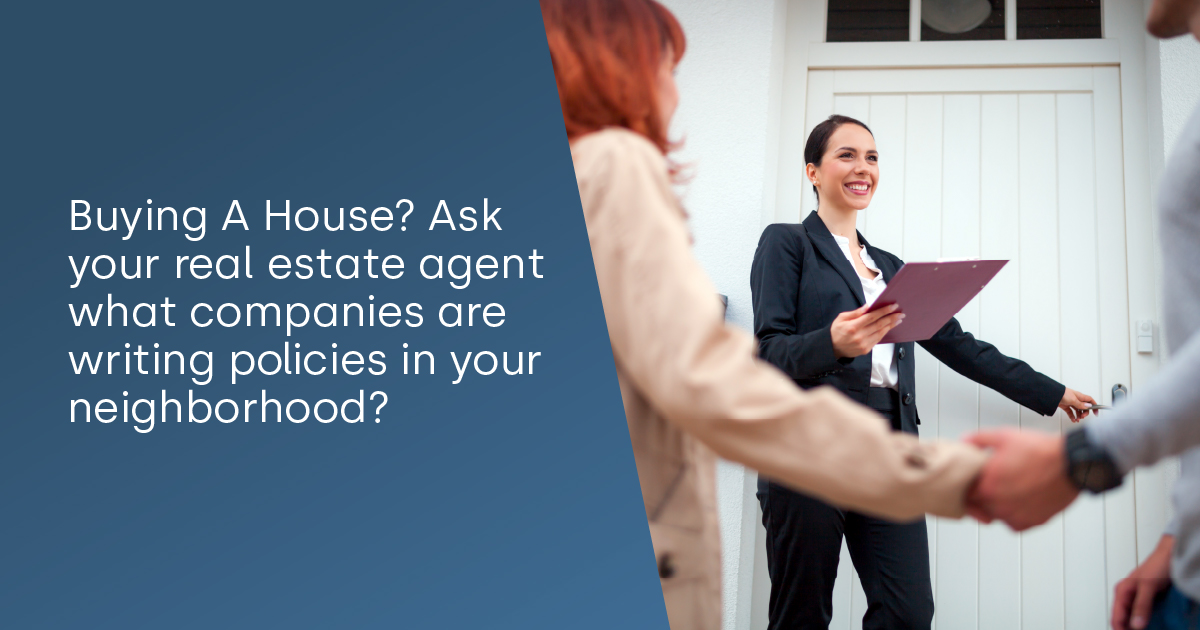 Tips for Reducing Insurance and Weather Damage Costs
Worries about insuring your home and covering weather-related damages shouldn't get in the way of you owning the right home for you or your family. Even though insurance rates are high here in the sunshine state, there are ways to reduce your out-of-pocket expenses. Here are a few things you can do:
Open a home equity line of credit or save in a savings account for out-of-pocket costs. Even if self-insurance isn't the right risk-management strategy for you, it's still important to set aside money to pay for your deductible or other non-covered repair costs for your home (or have access to a line of credit to use, if needed). Having these funds available will also help you make repairs in a timely manner, without having to wait for an insurance pay out. Keep in mind, you won't be able to open a line of credit after your home has sustained significant damage, so doing this in advance can ensure you have access to the funds needed to cover your deductible.
Install hurricane shutters. Hurricane shutters can help you save money on your insurance premium and possibly limit your deductible, should your home sustain hurricane-related wind damage. Better yet, they do a great job of preventing damage to your home, while keeping you safe.
Prepare your home for flooding. If you live in an area susceptible to flooding, keep sandbags on hand to place around doors to prevent water from entering your home and causing damage. While not a replacement for actual flood insurance, preventing water damage to your home can not only save money, it can also keep your important possessions and documents safe and prevent the headache of dealing with flood damage.
Review your homeowners insurance plan each year. Because changes can happen to your policy and coverage, be sure to review your plan before renewing your plan, to avoid costly gaps in coverage.
Do routine maintenance. Check your roof, windows, hurricane shutters, and gutters regularly for loose shingles, panes, and hardware. Keeping your home in good repair can help prevent major damage from rain and high wind, avoiding larger problems.
Reconsider Your Homeownership Goals
Lastly, if you're looking to save money on homeowners insurance costs, the easiest thing to do is to reconsider where and what kind of property you are purchasing.
You may want to look into purchasing a property farther from the coastline. While everyone dreams of a beach house, coastal homes not only have higher insurance rates, you may find it difficult to find insurance coverage at all. Inland Florida can be just as beautiful, and much more affordable. Central Florida, including Alachua and Marion County, has many stunning waterfront homes and pool properties, allowing you to enjoy nature and the Florida sun without the high costs of the Atlantic and Gulf Coasts.
Additionally, you may want to consider a different property type. A smaller home or condo may have lower insurance costs than a larger, single family home. Adjusting your budget to accommodate ongoing expenses is often a reality of purchasing a home, especially if it's your first one. If you are looking for a winter home, you may also want to consider the cost of buying vs. renting a vacation home in Florida. Because second homes are considered a greater risk since they are unoccupied for part of the year, homeowners' insurance is higher for them.
Start Your Central Florida Homebuying Journey
At Showcase Properties, we can not only help you find the right home for your needs, we can also help you navigate the Florida home insurance market, exploring your options, and getting the best price on a plan that can keep your asset protected. And if you decide to rent instead, we can also assist you in locating the perfect vacation rental for your next Florida getaway. Contact one of our knowledgeable agents or browse our selection of homes in around Gainesville and Ocala to start on your path to living the Florida dream today!