Buying your first home is an exciting milestone for anyone. You'll finally have a place to call your own, put down roots in Gainesville and Alachua County, and start building equity in real estate.
But whatever your life circumstances are, buying a home for the first time can also be nerve wracking. You likely have many questions about the process, from figuring out how much you can afford to spend to what the process looks like when searching for property with a Gainesville realtor and ready to get the keys in your hand.
The Showcase Properties team have decades of experience working with new buyers, so we're here to help walk you through everything you need to know with a first time homebuyers guide that you can reference as you go through this exciting journey to buying a slice of Alachua County real estate.
Get Financially Ready
Before you start looking at homes, you need to know exactly how much house you can afford. There's nothing worse than falling in love with a place, only to discover that it's way out of your price range.
Calculate your monthly income and expenses to see how much you have leftover each month. From there, you can determine how much you can afford to pay on a mortgage. Your housing costs should be no more than 30% of your pretax income.
Remember, your home costs are more than just your mortgage. Property taxes, homeowners insurance, and any HOA fees and utilities should be factored into your budget too.
You also need to look at how much you have saved for a down payment, along with closing cost expenses, a home inspection, and any moving costs you might have—that's particularly important if you're relocating from out of state.
You should also check your credit score and ensure any outstanding debts are in good order before you apply for a mortgage. Avoid common financial mistakes at this time, like switching your job, increasing your credit card debt, cosigning on other loans, and depleting your savings.

Choose the Right Mortgage
There are many different kinds of mortgage you could take out for a new home, so it's important to understand the options and find one that works best for you. You could take out a:
Conventional fixed rate – this is the most common mortgage type
Variable rate
FHA loan
VA loan
USDA loan
FHA loans are popular with first time homebuyers, particularly if you don't have a great credit score. You should also look into any assistance programs you may be eligible for, like the Florida Low Down Payment Assistance Program. (Read about recent changes in mortgage fees that could affect first-time homebuyers). 
Get Preapproved
Before you start working with an Alachua County realtor, you should decide on a mortgage lender you want to go with and get preapproved. This is where a lender completes a background and credit check on you and provides details on how much they will allow you to take out as a mortgage.
As a first time homebuyer, preapproval gives you a better idea of how much you're eligible to spend, as well as making you a more attractive buyer when you've found the property you want. It's one step closer to a full mortgage application and approval, so can save time when you close if you've already taken those first few steps ahead of time.
Get Familiar with Alachua County Real Estate Prices
Once you know what you can afford, you can start looking at homes in Gainesville and Alachua County. Do your research to get a better understanding of property prices in your dream location, along with other cost-of-living factors to take into account. Alachua County is around 25% more expensive than the national average, so keep this in mind as you start your property search.
You can find homes throughout Alachua County at varying price points, from homes under $300,000, between $300,000 and $600,000, $600,000 to $900,000, and over $900,000.
If you're struggling to find a home within your budget, consider looking into foreclosures or short sales. Be cautious, though, if this is the type of sale you go for.
It can be a difficult and lengthy process, which makes it more challenging for inexperienced first time buyers. But if you're limited on budget and have the time and patience to wait for one of these homes, it's worth discussing with your Gainesville realtor.
Determine the Type of Property You Want
Just as there are different price points, the types of residential area and home style varies throughout Alachua County. As a first time homebuyer, you may want a simple starter home, but you may also have dreams of a property with a pool, a home near the waterfront, or property with acreage for maximum privacy. New construction homes are also appealing to first time buyers, as you likely won't have to make any immediate upgrades or repairs once you move in.
Decide Where You Want to Live
The style of property you choose to buy will likely be heavily informed by the area you want to live in. If a more rural location is for you, Alachua County has plenty of beautiful farm properties for sale. But if city life is more your speed, Gainesville is an excellent choice.
Home to over 130,000 residents with a diverse population of University of Florida students, young families, and retirees, Gainesville is one of the best cities to move to. There's plenty of everyday amenities like healthcare facilities, along with shops, restaurants, and bars to enjoy. You'll also have quick access to rural areas like Devil's Millhopper Geological State Park and Ichetucknee Spring State Park to spend your free time kayaking and hiking in.
If you're after a city vibe but on a smaller scale and without the price tag of Gainesville real estate, Alachua is also a wonderful place to call home. With a small-town feel but close to all the amenities Gainesville has to offer, the city of Alachua is perfect for both young and old, single working professionals and families alike.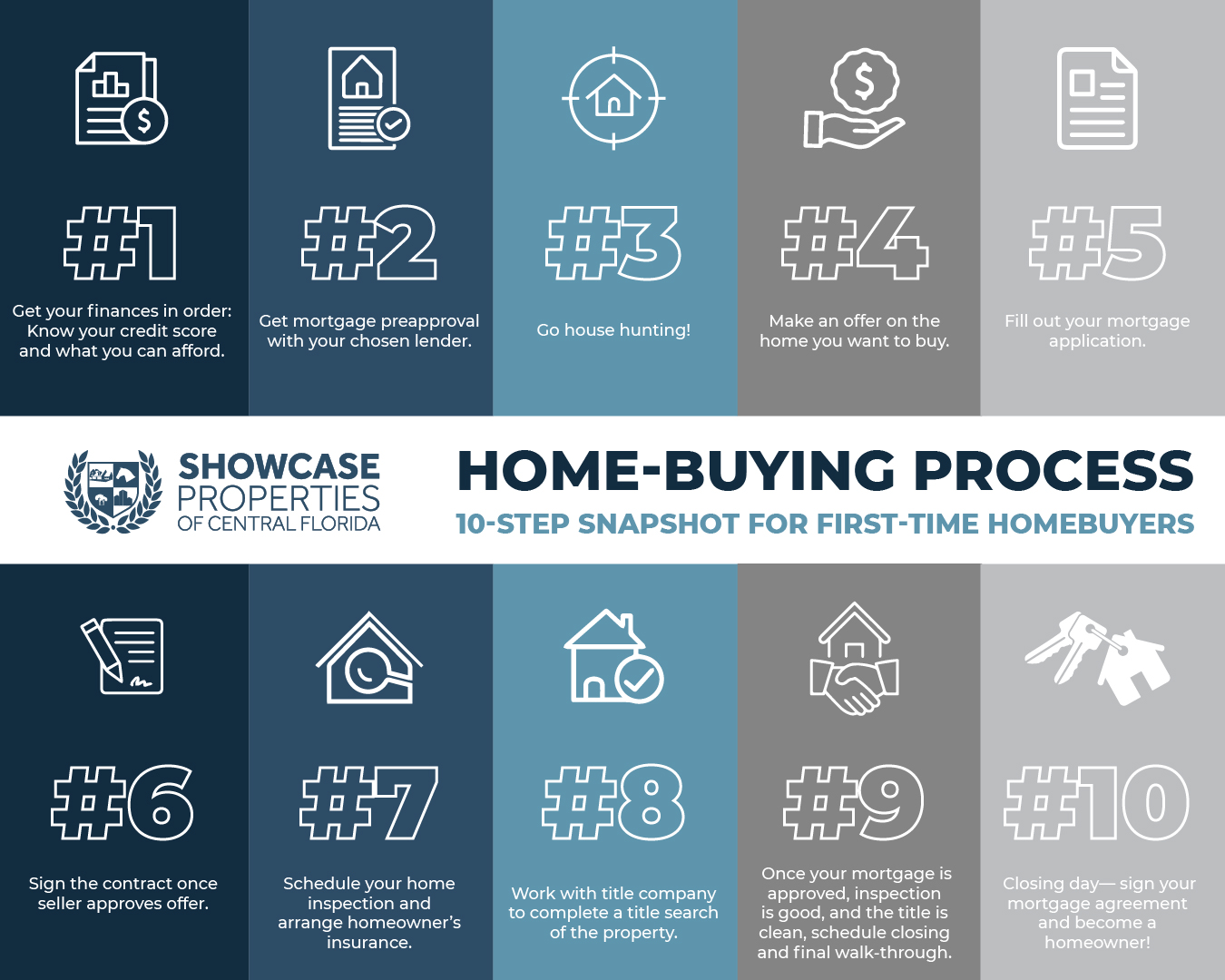 Be Open to Alternatives
Don't feel discouraged if your initial dream location is out of your price range. During times of higher inflation, you could quickly find that what you thought you could afford is no longer within budget. Instead, be open to alternative neighborhoods or style of home—you never know when you could find the perfect property.
Expanding your search area or home style could even offer you more for your money. Extra rooms, more yard space, a bigger property…all of this is possible if you look a little beyond your dream home list.
Decide what's non-negotiable and what you're happy to be more flexible on as you work with your Alachua County realtor. They're the expert, so talk to them and be open to their suggestions as you search for a home.
Get a Property Inspection
No matter what kind of home you buy, always have the property inspected before completing the purchase. This is an important step in your due diligence as a homebuyer. Even for a new construction, a home inspector can find potential issues that the seller needs to fix before the home becomes yours.
Review Options for Homeowners Insurance
Florida is a wonderful state to live in. But, like anywhere, there are state-specific factors that you need to consider as you buy your first home. In Florida, one of the biggest areas that gets overlooked by homebuyers is insurance.
Weather can be unpredictable in the Sunshine State, especially in coastal areas where hurricane risk is incredibly high. This can make homeowners insurance significantly more expensive than other places. In some cases, insurance agencies won't even consider insuring you if you're buying in Florida, particularly if it's a waterfront property.
The average home insurance cost in Florida is around $4,000 a year, more than $1,000 higher than the national average. When looking for policies, always read the fine print carefully and make sure a hurricane deductible is included. Without this, your home won't be covered if a hurricane causes damage to the property.
If you're struggling to find homeowners insurance in Florida, the team at Showcase Properties can help. With our years of experience working throughout the state, we can provide recommendations that work best for your budget and property location.

Understand the Homebuying Process
As a first time homebuyer, the whole process of searching for a property, making an offer, completing your paperwork, and finally getting the keys can seem daunting. Here's a quick reminder of the steps in the process that you'll need to go through:
Get your finances in order before you start looking for a home—that includes knowing what you can afford to spend.
Get mortgage preapproval with your chosen lender.
The fun part—start house hunting!
Once you're preapproved, you can make an offer on the home you want to buy.
Fill out your mortgage application when your offer is accepted. With preapproval in place, this part of the process should move a little quicker.
Sign the contract once the seller has approved your offer.
Schedule your home inspection once your mortgage is approved and start arranging your homeowner's insurance.
Complete a title search of the property to ensure there are no liens or restrictions.
Once your mortgage is approved, inspection is good, and the title is clean, you're ready to schedule closing and final walkthrough.
Closing day—this is where you'll sign your mortgage agreement and actually purchase your new home. Be sure to bring your ID, down payment and closing cost fees, proof of home insurance, and seller's contract.