From the rising cost of flood insurance to increases in mortgage fees, homeownership today costs more than it did in years past. For many, owning a home may feel like an impossible goal.
The state of Florida recognizes that rising home prices and other increasing costs associated with home ownership can become barriers to homeownership. That's why they recently expanded their popular and successful Hometown Heroes homeownership assistance program.
Once only available to frontline workers, today anyone who works fulltime for a Florida-based company can access this great program, which offers down payment and closing cost assistance, as well as affordable interest rates. Only a little more than a year old, the program has already offered over $100 million in assistance.
There are many reasons to settle down in areas like Ocala, Gainesville, and greater Alachua County in Florida, and programs like the Hometown Heroes program can help make it happen. Keep reading to learn more about it!
What is the Florida Hometown Heroes Program?
Provided through the Florida Housing Finance Corporation, the Hometown Heroes homeownership program aims to make purchasing a home affordable for first-time homebuyers that are first responders and other eligible FL community workers. 
The program is designed to remove many barriers to owning a home, from coming up with upfront funds to contending with high interest rates and associating monthly payments. Eligible homebuyers can receive:
Down payment assistance
Closing cost assistance
Competitive mortgage rates and lower than market interest rates on FHA, VA, RD, Fannie Mae or Freddie Mac first mortgages
Reduced upfront fees with no origination points or discount points
How does Hometown Heroes financial assistance work?
Assistance for upfront costs (down payments and closing costs) comes in the form of a 0% interest loan of up to 5% (maximum $35,000) of the main mortgage loan amount. As long as the homeowner occupies the home and has the original mortgage, this loan does not need to be repaid. 
However, the loan is not "forgivable." As soon as the home is sold, ownership is transferred, or the borrower no longer resides in the home, the loan must be repaid in full. Because the loan is tied to the original mortgage, when this mortgage is paid off (or refinanced), the Hometown Heroes assistance loan must also be repaid.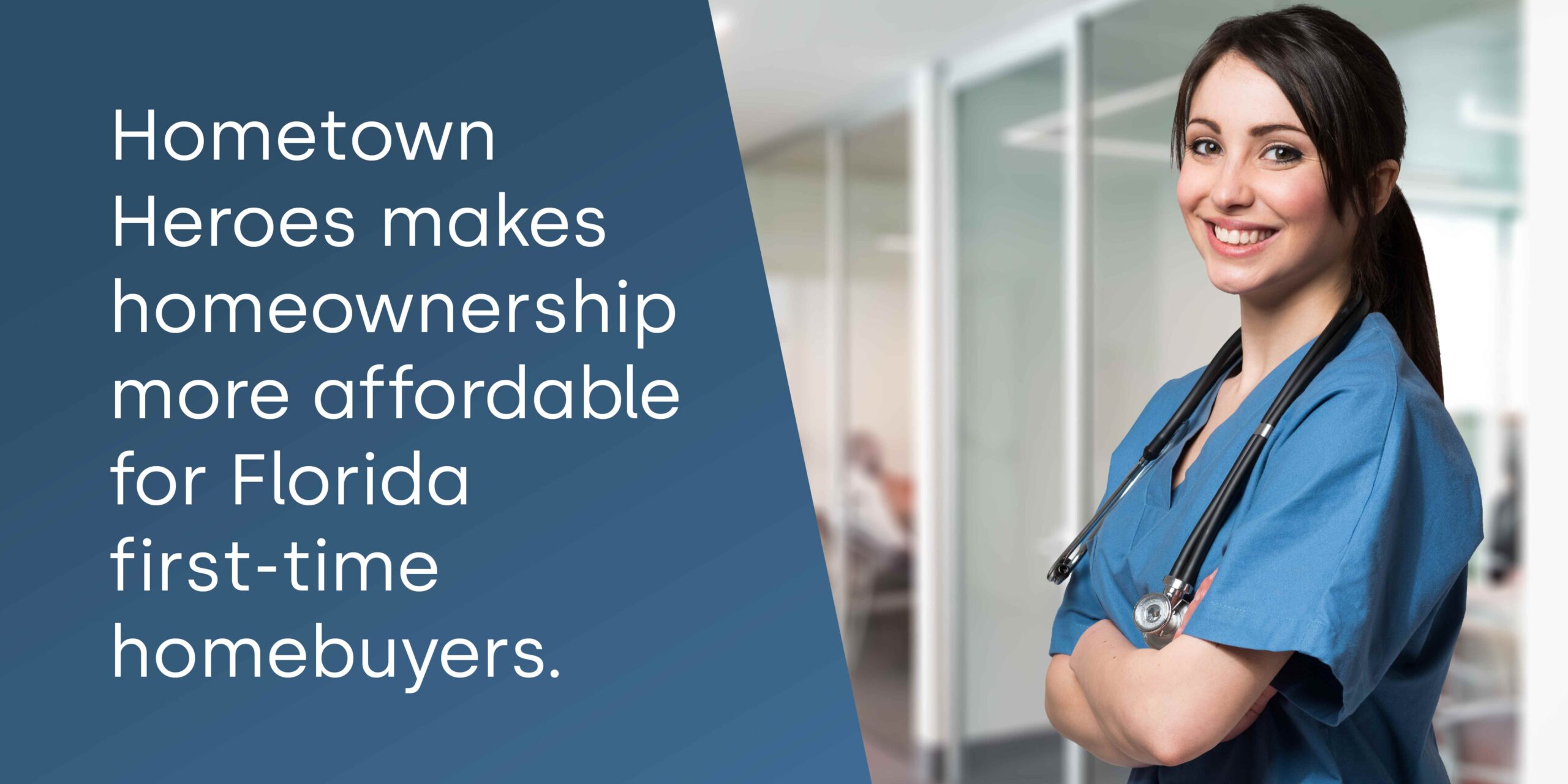 Who is Eligible for the Hometown Heroes Program?
As the name suggests, this home was originally created to help individuals with crucial roles in the community, including law enforcement, teachers, social workers, and medical staff. To combat the rising cost of homeownership, the Live Local Act was recently passed, infusing the program with another $100 million and opening it to all Floridians working for a Florida-based employer. 
Program Eligibility Requirements
In addition to being currently employed by a qualifying Florida-based employer, you must also be:
Employed full-time for at least 35 hours per week (unless in the military)
A first-time homebuyer
Purchasing a primary residence
Within income limits
Beyond meeting these eligibility requirements, you also must exhibit that you are prepared for the responsibilities of homeownership, including the financial dedication to repay your loan. Borrowers must:
Take homebuyer education courses through HUD
Have a minimum credit score of 640
Work with a participating lender who is experienced in working with first time homebuyers.
Lastly, the property must meet requirements as well:
Yes: Single family residences, townhomes, and FHA-approved condos.
No: Lot and/or land loans and homes that do not meet FHA standards for habitability (fixer uppers).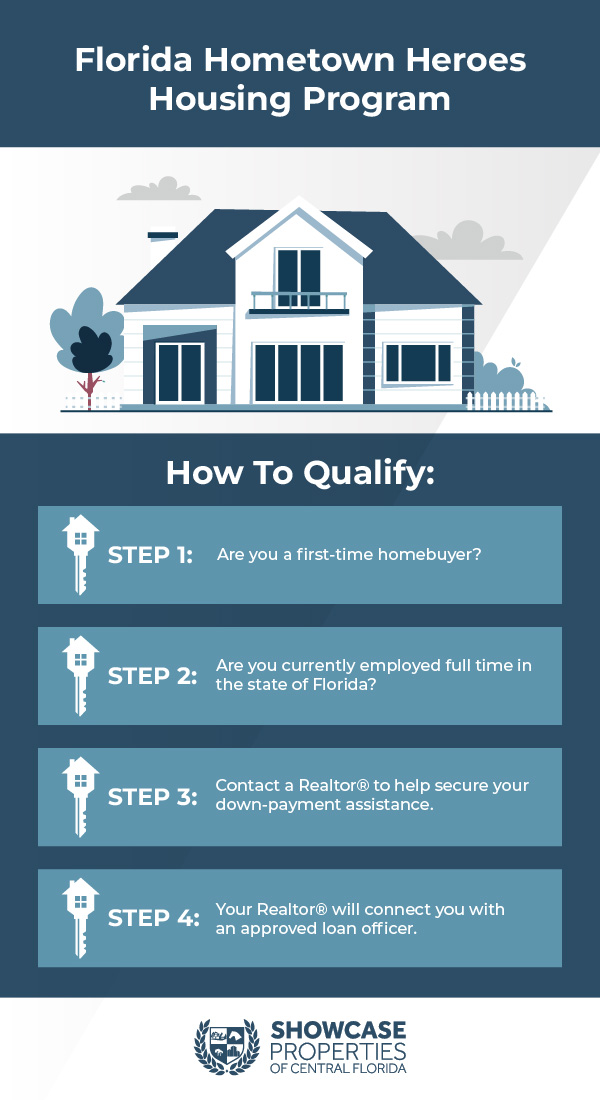 Additional Low Down Payment Options for Florida's Homebuyers
Unfortunately, all money for 2023 has already been allocated, which means if you hope to sneak in a home purchase this year, you won't be able to take advantage of the program. Buying a home earlier in the year may allow you to gain access to these funds, if you can wait.
However, if you're a first-time homebuyer in Alachua, Marion or Citrus County and are ready to make your purchase now, there are some additional programs to consider.
Florida's First Time Home Buyer Program (FTHB)
Florida's First Time Home Buyer Program matches eligible first-time homebuyers in Florida with 30-year, fixed-rate mortgage loans through participating lenders and financial institutions. Qualified borrowers can also access Florida Housing's secondary mortgage programs designed to help with down payment assistance and closing costs.
The Florida Assist (FL Assist)
A 0% interest, non-amortizing, deferred second mortgage that offers up to $10,000 and can be used with FHA, VA, USDA, and Conventional Loans. Like the Hometown Heroes loan program, the FL Assist loan can't be forgiven, and comes due when the home is sold, refinanced, no longer occupied by the owner, or once the mortgage is paid off.
The Florida Homeownership Loan Program (FL HLP) Second Mortgage
Unlike the FTHB and Hometown Heroes program, this loan requires monthly payments. A 3% fully-amortizing second mortgage with a 15-year term, FL HLP also offers up to $10,000 in assistance. Likewise, any remaining balance is due in full when the home is sold, refinanced, no longer occupied by the owner, or once the mortgage is paid off.
3%, 4%, and 5% HFA Preferred and HFA Advantage PLUS Second Mortgage
Borrowers using these down payment and closing cost assistance programs receive a forgivable second mortgage equivalent to 3%, 4%, or 5% of the total loan amount. This second mortgage is forgiven at a rate of 20% per year over its 5-year term when utilized with Florida Housing's conventional HFA Preferred for TBA or HFA Advantage for TBA first mortgage products.
Government-Backed Loans: FHA and VA
Not just available to first-time home buyers, these programs offer low down payment mortgage options, often paired with more affordable interest rates.
FHA loans are available to everyone, with no income limits. With down payments as low as 3% and flexible credit requirements, they can be a great option for individuals who may not qualify for other loans. Note, they do require an upfront fee and monthly mortgage insurance premium.
For veteran's and surviving spouses, VA loans can be a perfect option, with no down payment required and affordable interest rates. Like FHA loans, they do require an upfront fee and monthly fee.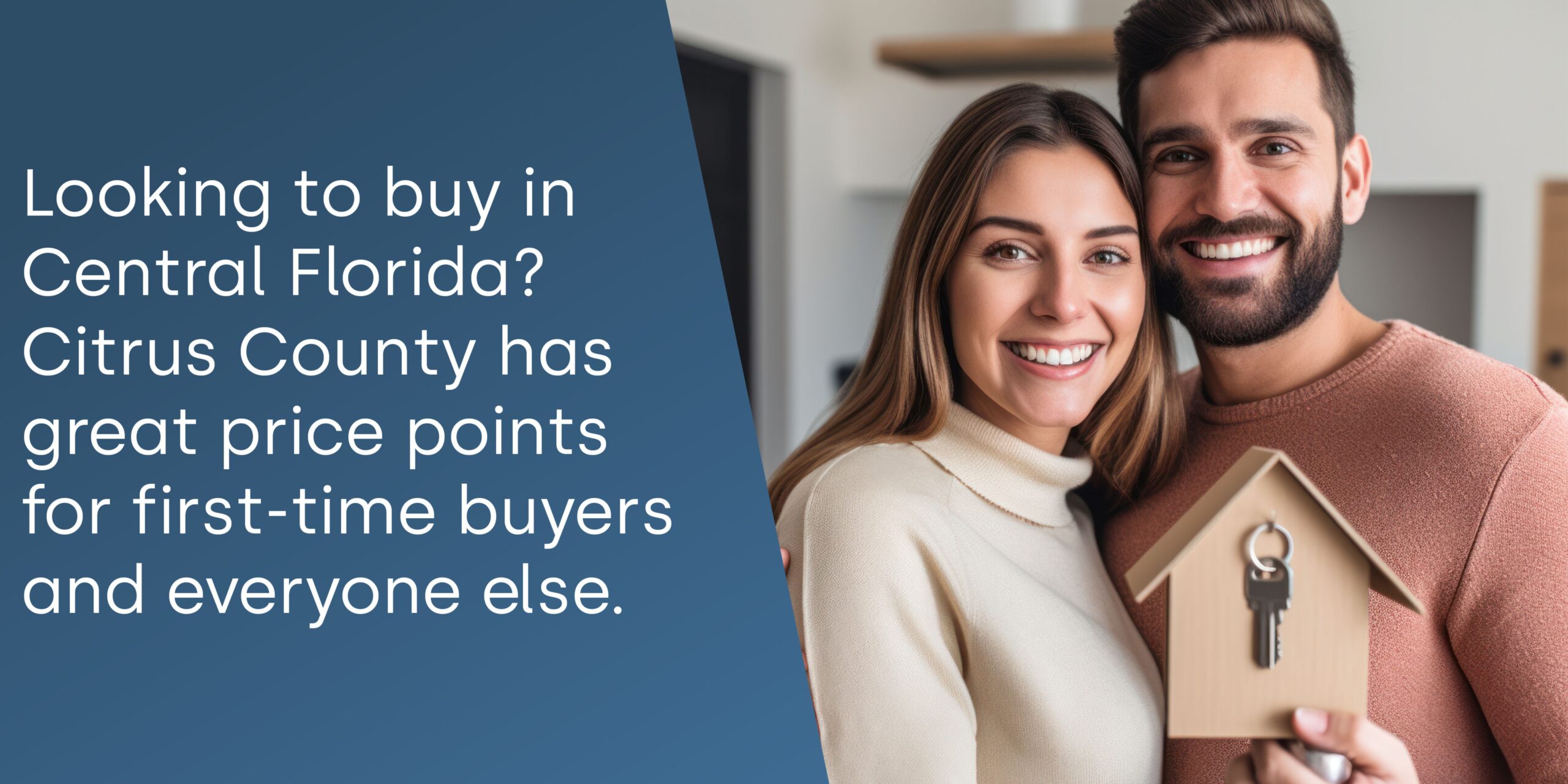 Finding the Right Home for a Hometown Hero
Ready to stop renting and start owning? If you're looking to apply for the Florida Hometown Heroes program in 2024, it's time to start your home search now.  Working with an experienced Alachua, Marion, or Citrus County Realtor can help ensure that you don't miss out on an opportunity to own your own home.
Showcase Properties is here to help you find your perfect home in Central Florida. Browse our extensive listings of Ocala and Marion County homes for sale and Gainesville and Alachua County homes for sale or homes for sale in Citrus County to start exploring your possibilities. And when you're ready to tour homes, contact a realtor to see all that Alachua, Marion, and Citrus Counties have to offer.
First-time homebuyer? Check out these other great resources!