Now that the holidays are over, we feel sufficiently recovered to take a look back and recap December – a month that lives in the collective American consciousness as something of a psychedelic blur of tinsel and ribbons.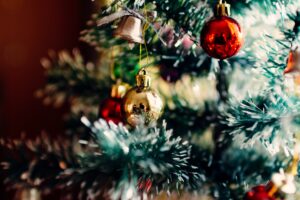 Between frantic shopping both in-store and online, scouring the inventories for That Perfect Gift, frenzied mayhem in the kitchen as we try valiantly to come up with something besides turkey for Christmas dinner – casting envious glances at the Hanukkah latkes and Kwanzaa Groundnut stew – and the overall resignation that yes, regardless of which holiday we observe, we are going to gain back some of the weight we lost for summer swimsuit season, it's really a wonder any of us are sentient before mid-January. It takes a calendar and copious notes to remember the details of what we did during December. It all kind of blends together.
Here at Showcase, we were no different, although there was the extra added impetus for our agents to close out their sales before the end of the month, and all of us juggling upcoming schedules for 2022 while also managing the Holidays. In a pandemic year, there weren't as many events and parties as there have been in the past, but that didn't mean we were bereft of opportunities for fun.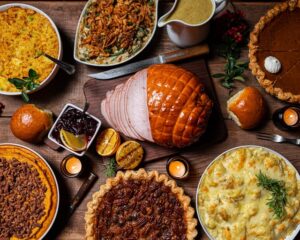 Being who we are, our Christmas party was a mix of sophistication and silliness – because that's how we roll. Our offices were transformed into an elegant, fragrant dining room with candles, wooden banquet tables, and gorgeous centerpieces for an afternoon, and various people began trundling in with pot luck offerings that made everyone salivate.
Those of us who got there too soon and had to wait for luncheon were able to sate ourselves with the absolutely incredible mocktails served up by the delightful Marion Mobile Bar and Bubbles. We were treated to delectable non-alcoholic beverages that were so good, several of us went back for seconds. We didn't really even miss the booze. Bar and Bubbles is a full-service mobile rental you can book for parties, banquets, and events of all kinds, offering both alcoholic and non-alcoholic selections.. The little trailer bar is absolutely charming – you can even add your own decor or rent them as a dessert/ice cream bar – and they service all of Marion County and Central Florida. Check out the FAQ on their website, and if you have an upcoming event, we highly recommend them.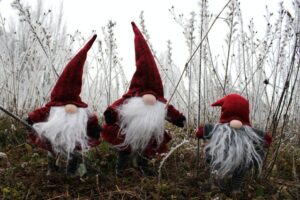 After a scrumptious meal (we went back for seconds on the food, too), we were promptly informed of a gnome hunt on the premises; there were six teeny-tiny little figurines hidden throughout the office, the discovery of which would grant the boon of an extra prize to the triumphant discoverer.
This sent several grown adults scampering through hallways and offices, scouring bookshelves and rooting through the Xerox room in search of the Mulligan. You have not lived until you've seen your boss searching – laser-focused and unwavering – on hands and knees, peering through the cracks between a filing cabinet and the wall. When she finally emerges, triumphantly with a shout, and scurries to the game master with the innocent gnome held aloft, you can only observe and appreciate the express joy on her face as she claims her booty.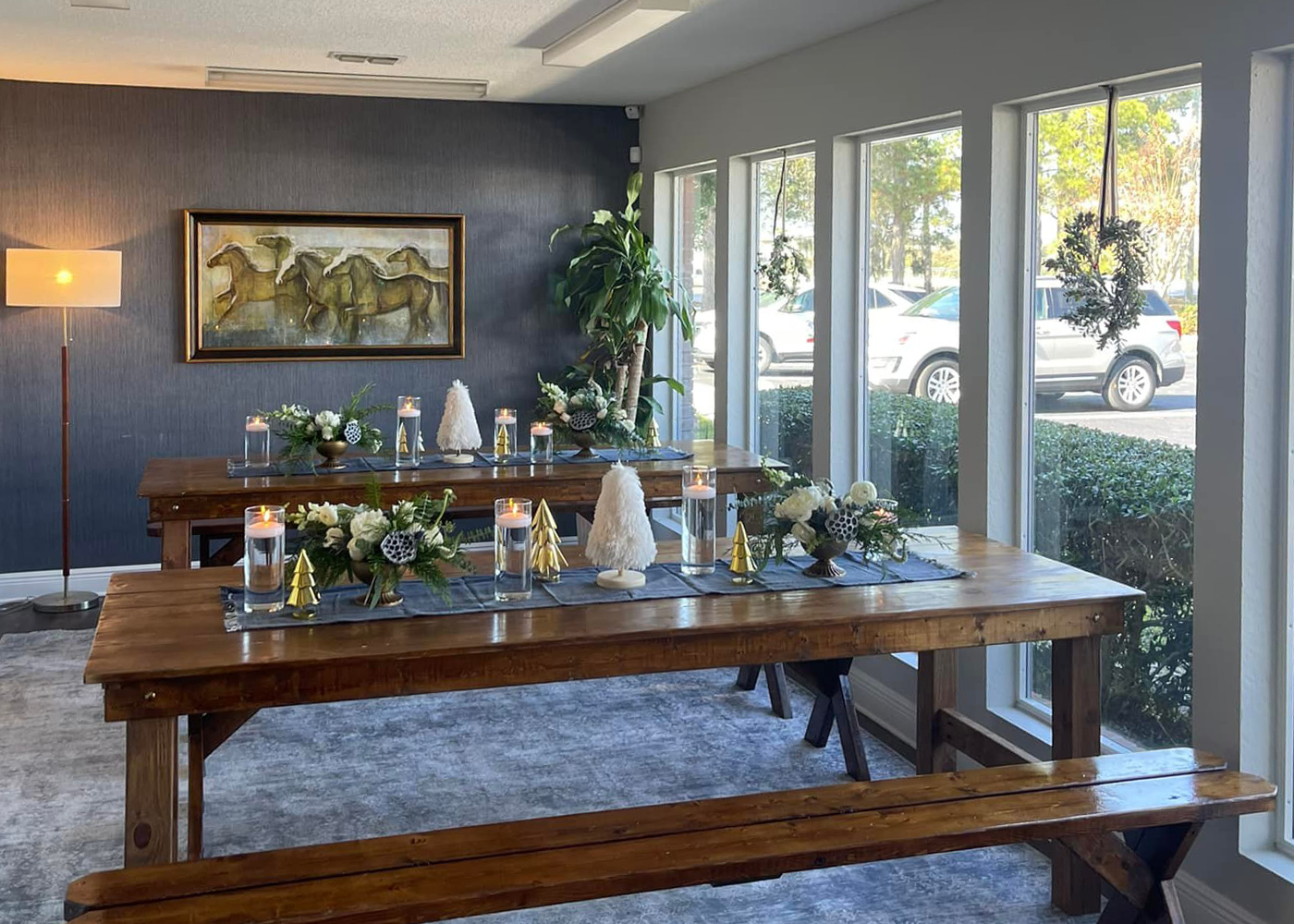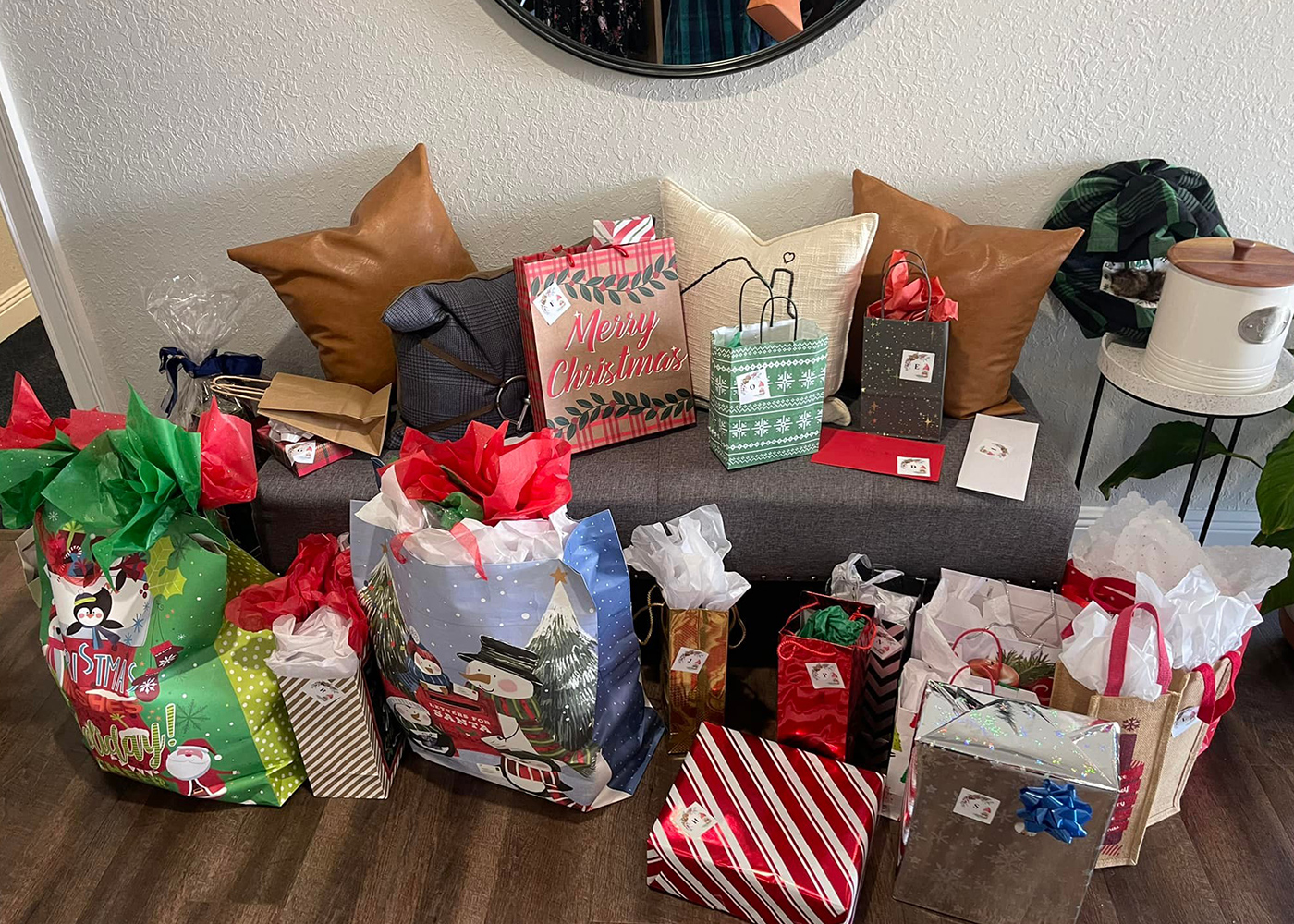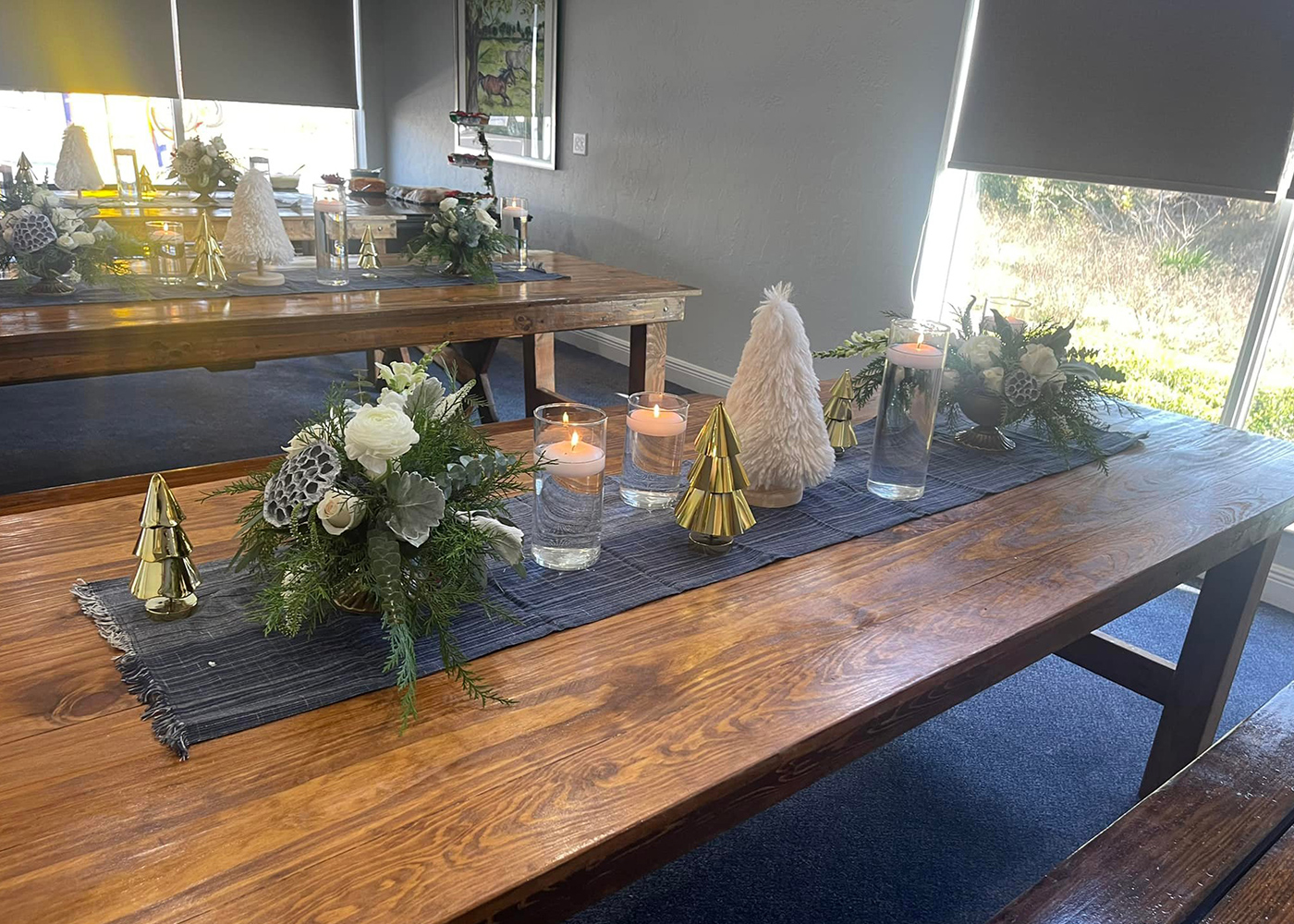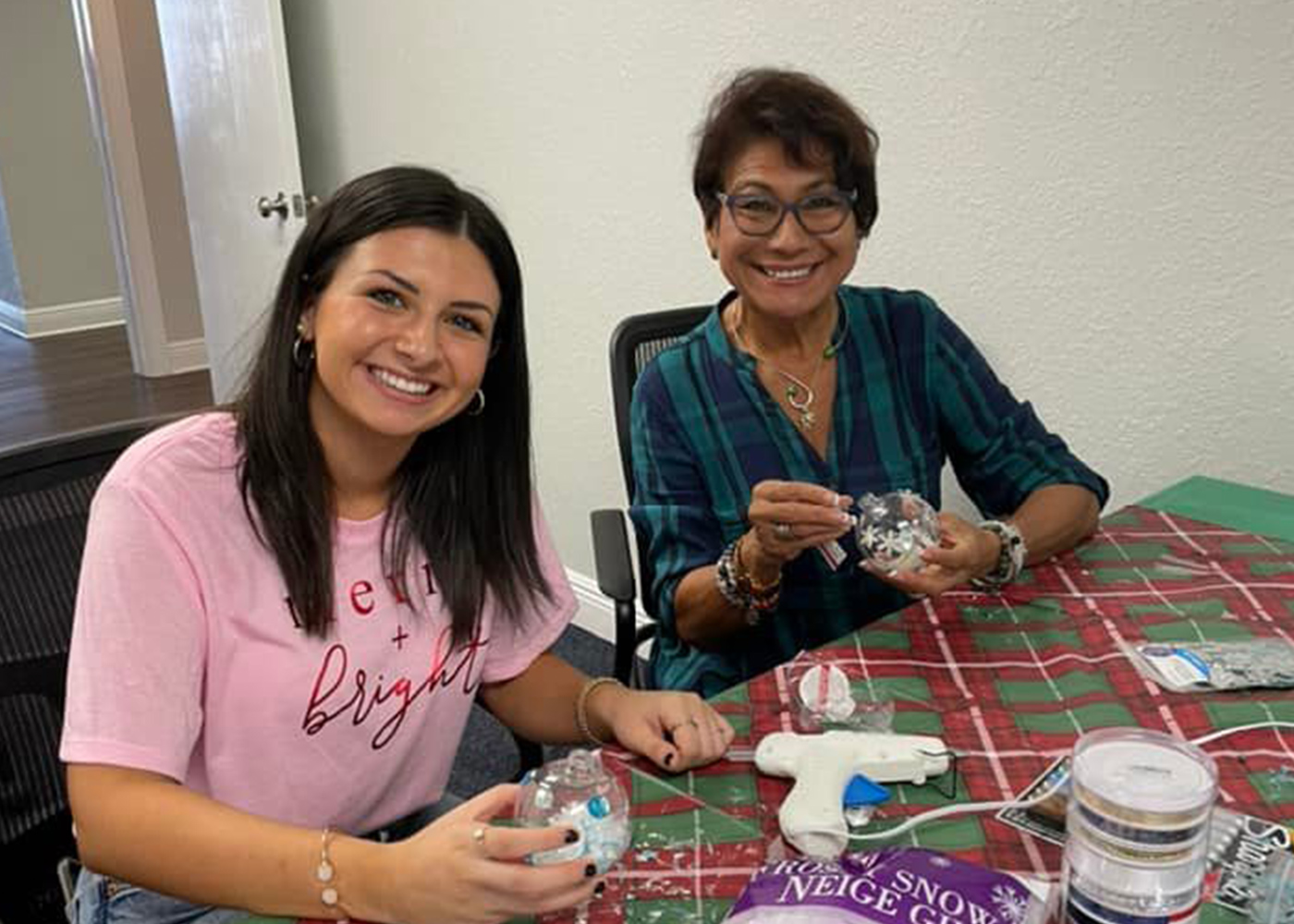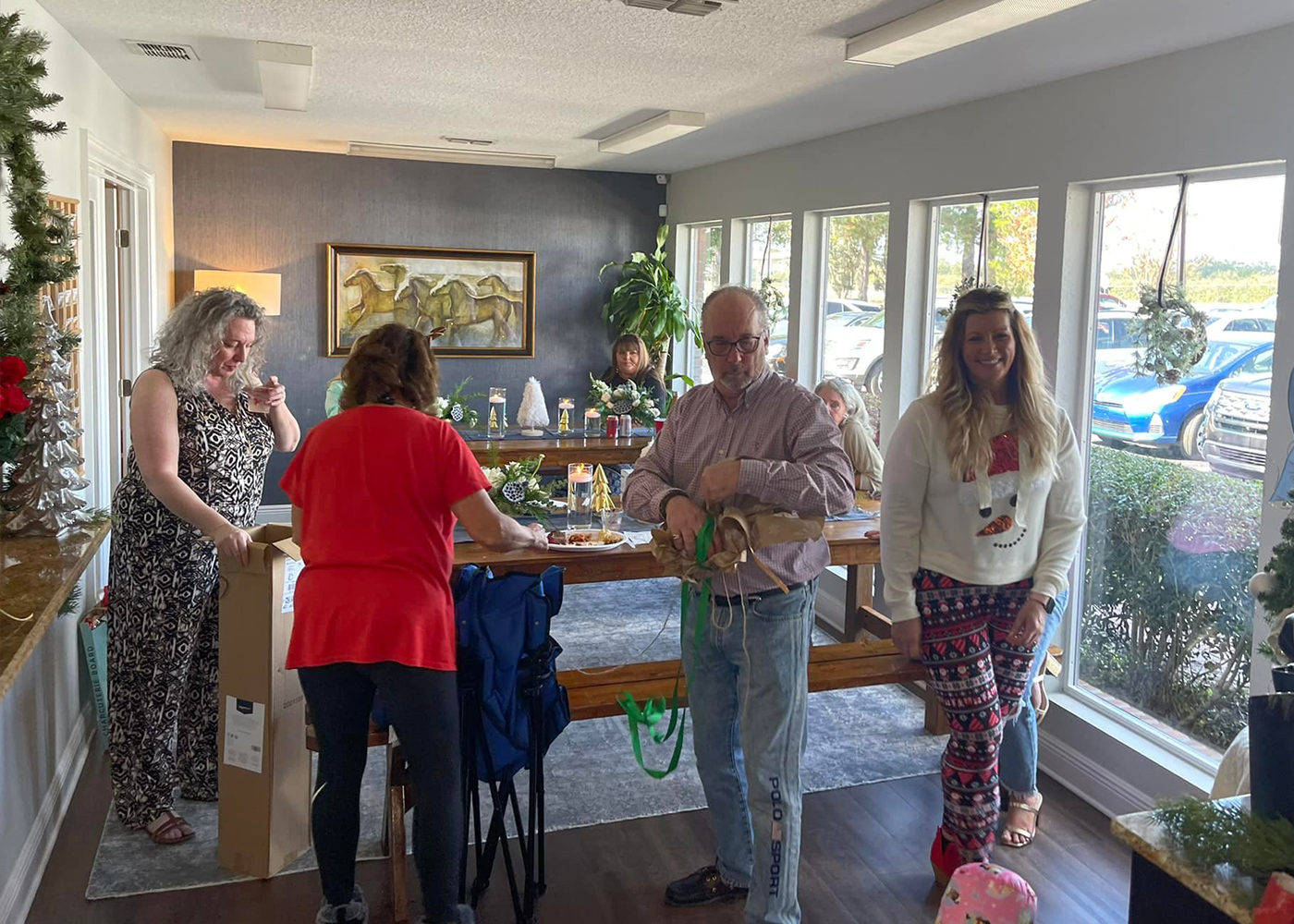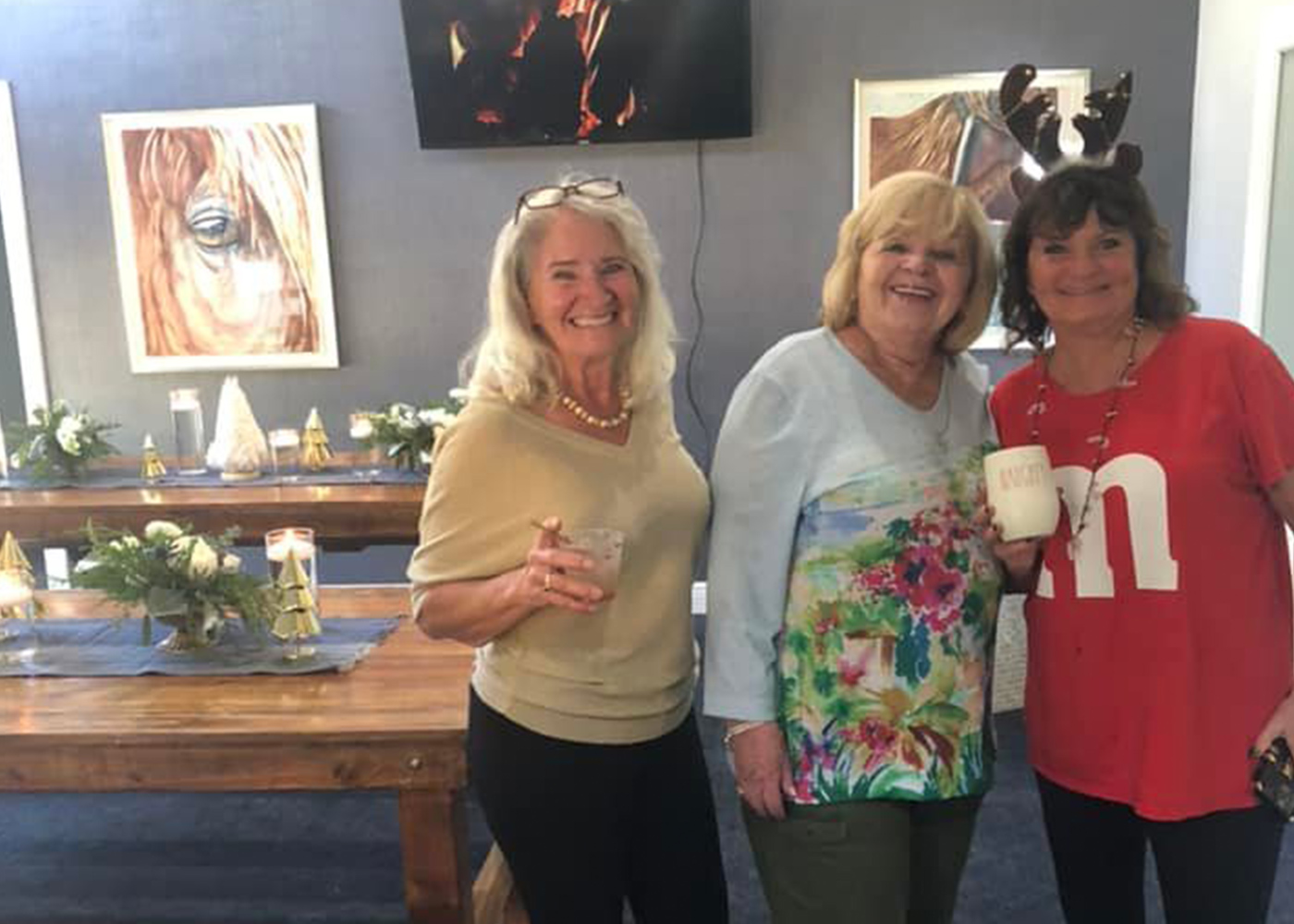 This is second only to the sight of Lee Kerr, Chris Workman, and Fearless Leader Valerie Dailey haplessly seated in the dunk tank (we had a dunk tank), waiting with trepidation as all-too-enthusiastic employees line up to take them out. One of the many benefits of living in Florida is that it's never too cold to drop people in a large vat of water, and this was an extra-special bonus of our Christmas gathering at which almost everyone had a go. Lee, being the planning and preparation kind of guy he is, had judiciously packed an extra set of clothing and his game face. We anticipate a rousing encore at next year's party.
Our toy drive, spearheaded and managed by our very ownClayton Wagner for McKenzie's Moment was a gratifying success. The donations were so generous and numerous that our lobby was starting to look like Santa's Overflow department. We collected over 700 toys collected and donated gifts for McKenzie kids, many of whom weren't expecting it. The only thing that could have made it even better was seeing every one of their faces when they received their brightly-wrapped packages.
"There were five or so locations total, including Showcase; it was a really great turnout," Clayton told us.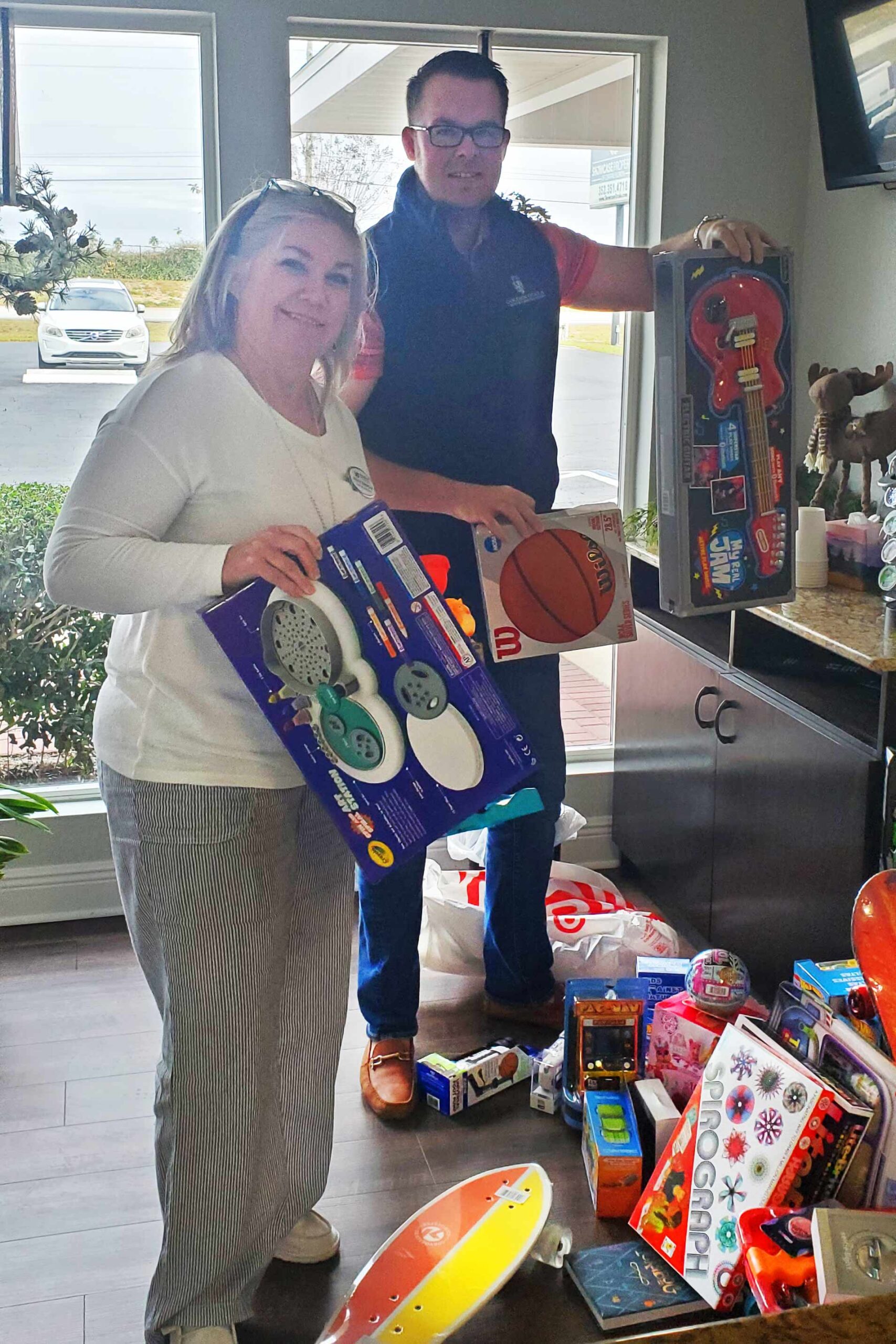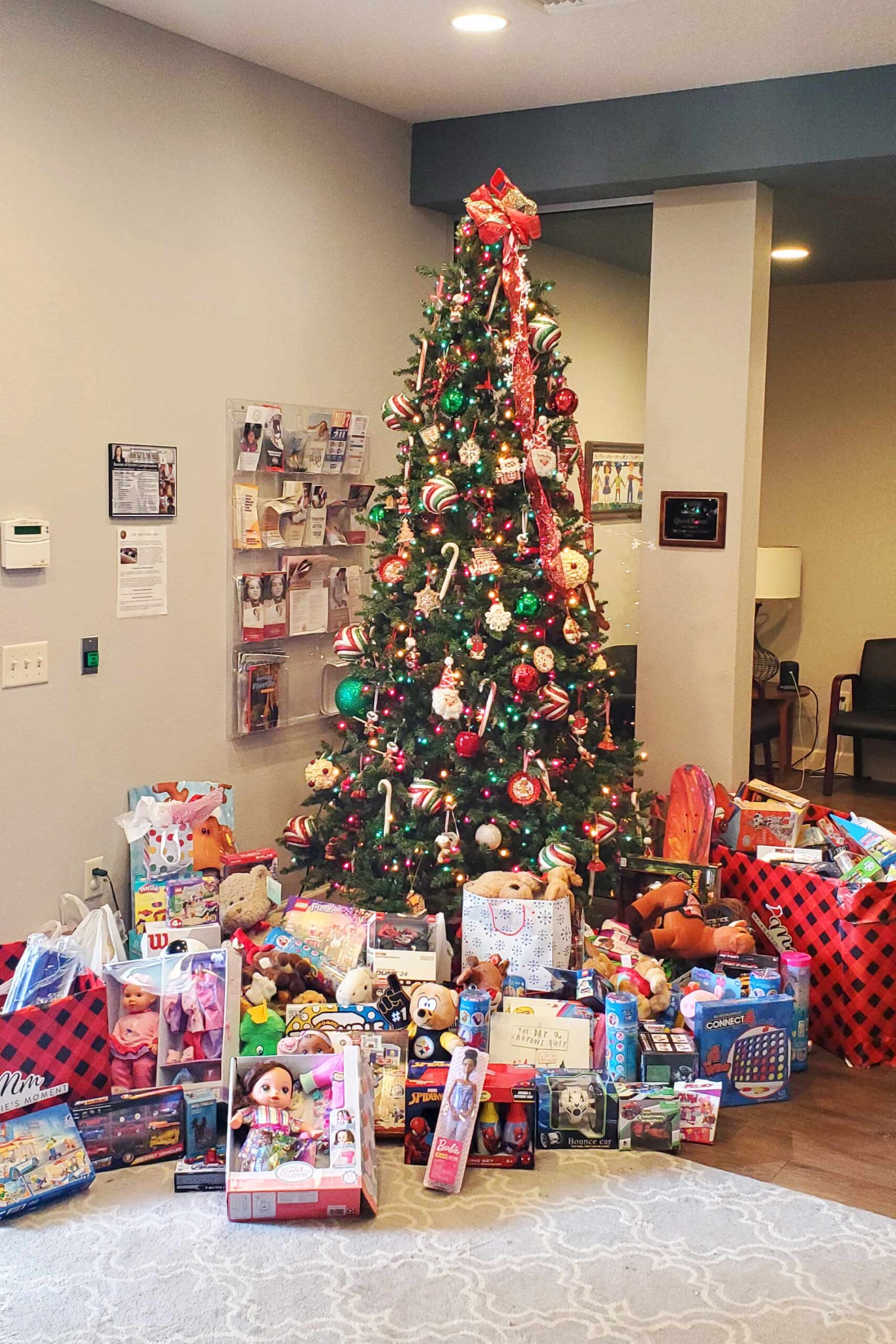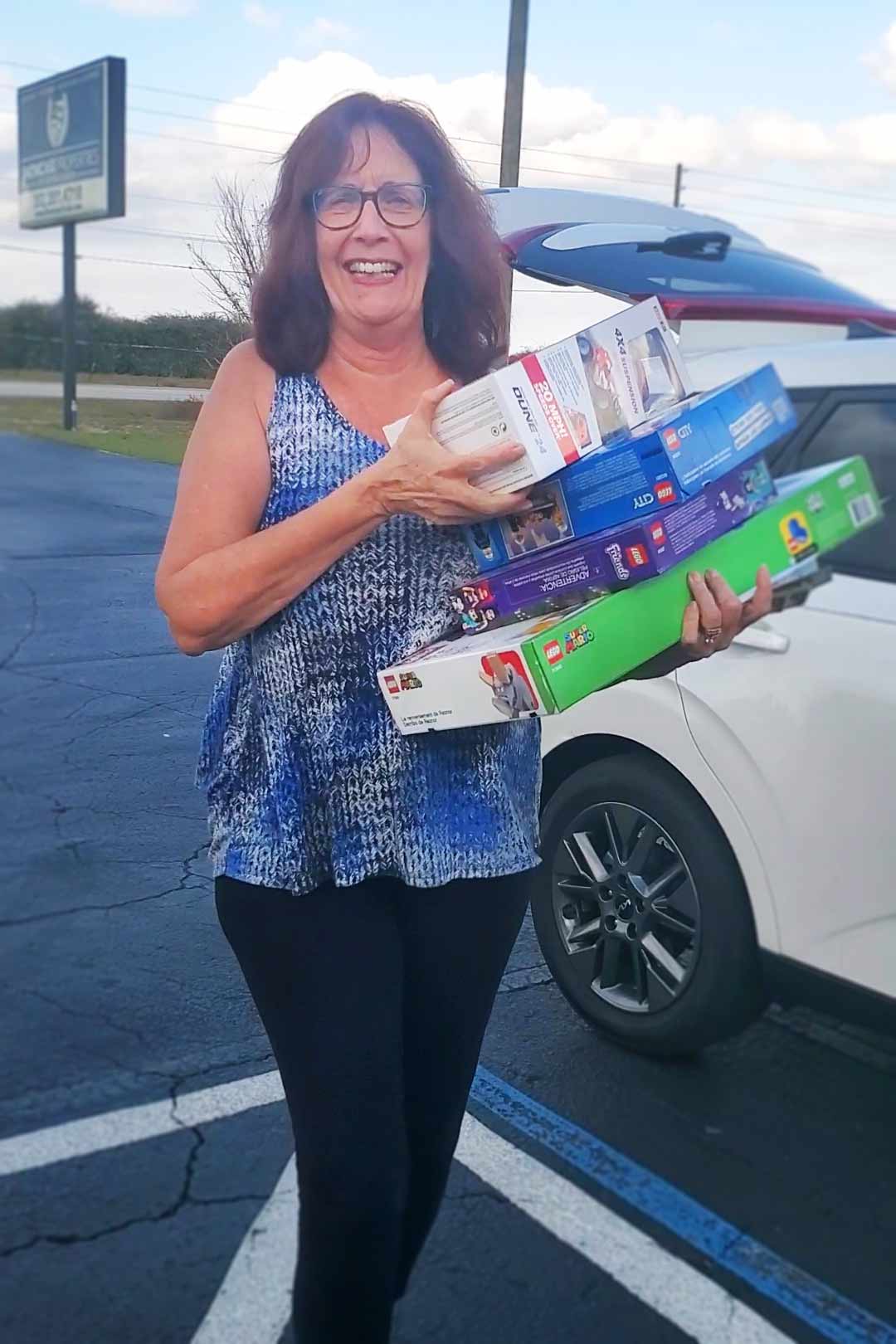 McKenzie's Moment is a non-profit organization that helps women and children in Ocala who are struggling and need support. MM offers them help, encouragement, education, health and welfare as they recover and rebuild, and Showcase was extremely proud and pleased that we could help. We also want to recognize Clayton for his passion and inspiration as he captained the entire effort, handled the drop-off locations and introduced us to this amazing organization.
Many, many thanks to everyone who took the time out of a busy holiday schedule to bring a gift and make the holidays a joy for these children. If you'd like to find out more about McKenzie's Moment and give your support, please visit their website or their Facebook page to donate.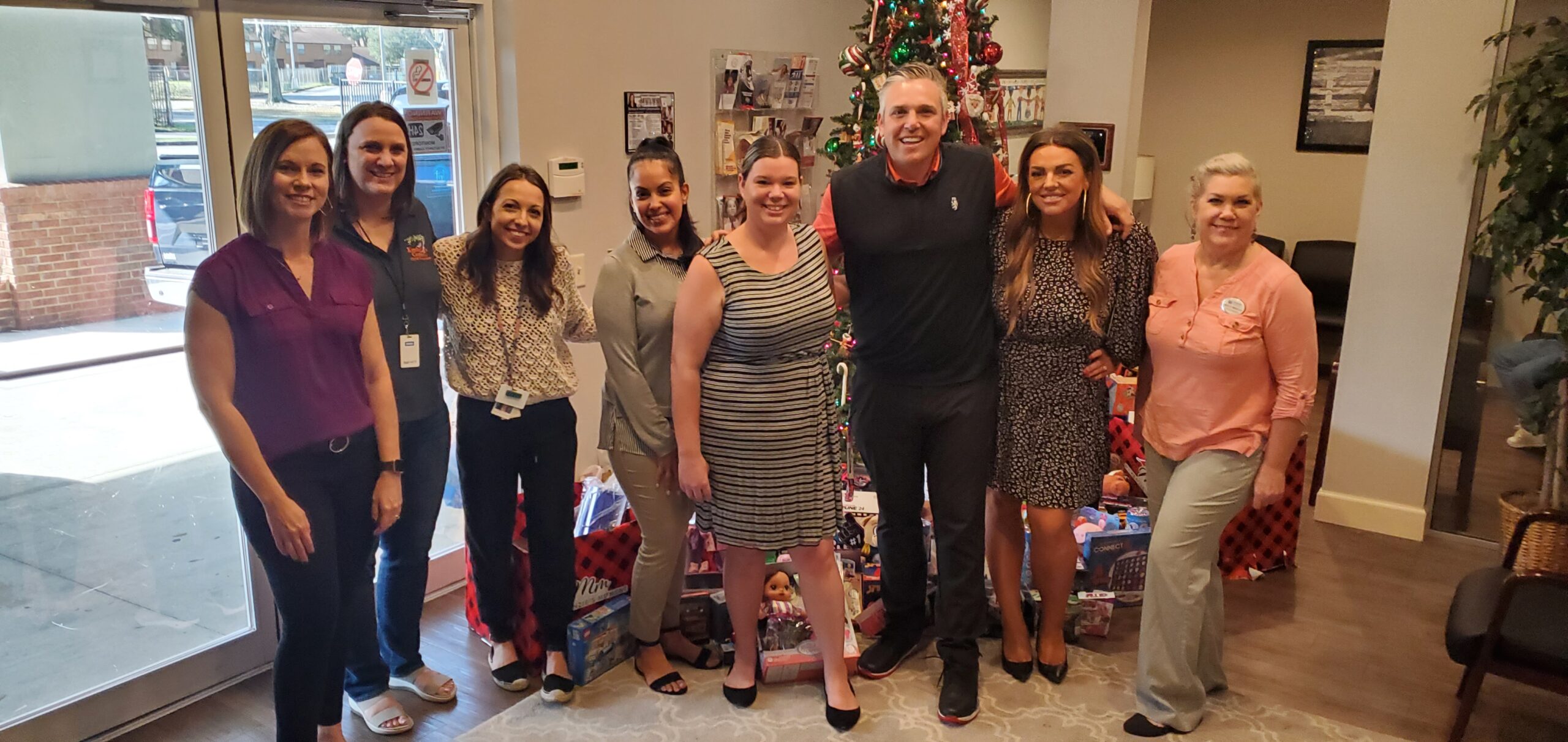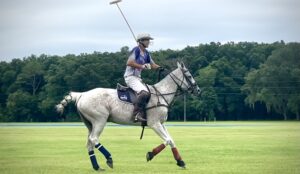 Last – but definitely not least – The
Ocala Polo Club
is BACK HOME at the idyllic, 500-acre
Florida Horse Park
in December! If you missed the Fall season, fear not – you can come by on any given Sunday through March 2022 at 1pm and watch the matches. Visit the Polo Club website for match schedules and information.
Bring friends, your kids, your pets, and hang out with us. If you want to go the whole shebang and set up a tent, the fee is $25, or if you want to reserve a spot on the field, $15. That money goes towards operational costs for the Polo Club so that they can continue playing throughout the season.
You can also just show up, find a spot, and plop down with a cooler and a chair at no cost. Showcase is proud to continue our sponsorship of the OPC in 2022, and we have a nice spot next to the announcer's booth. Feel free to stop on by and say hello. We have snacks.
January is upon us, and year is starting off strong, with the official Ribbon Cutting and Launch Party for
Gainesville City Life
magazine on the 6th. Showcase has a monthly column in CL, and we look forward to continuing that over the next year.
We're looking forward to seeing their official debut into the Gainesville business scene, and we'll be there to support them.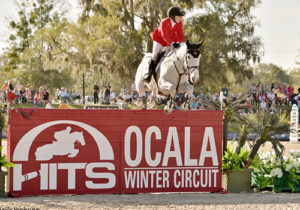 HITS is also officially back in Ocala, with the HITS Ocala Premiere from December 1st-5th, and the Ocala Holiday Classic from the 15th-19th. This continues each week starting January 18th, culminating in a big finish with the HITS Ocala Great American Grand Prix coming up in March. Showcase is once again very pleased to be sponsoring the Lead Line, and we're excited to be part of the fun.
Hope everybody had a great Holiday season and a spectacular New Year! Here we go headlong into 2022…
At Showcase  we love where we live and we love supporting local businesses and events within our community. If you have any questions about the Ocala area or if you have a real estate question — contact us, we would love to hear from you!