As Merriam-Webster
explains,
the term 'due diligence' has been in circulation since at least the middle ages, and has eventually come to refer to "the care that a reasonable person takes to avoid harm to other persons or their property." In real estate transactions, this also refers to steps buyers can take to protect themselves.
Because homes are usually quite a valuable asset, it's necessary to take the time verify and validate the value and condition of a home, as well as details of its legal ownership, before the deed can change hands. This process is often called the buyer's 'due diligence' and has become a standard procedure with many different components.
Due diligence can be complex, which is why we're dedicating this post to discussing the ins and outs and answering our clients' common questions, from What does due diligence mean? and What is the due diligence process? to Are due diligence procedures required? Keep reading to learn more about this common but complicated real estate process. 
What Does Due Diligence Mean in Real Estate?
In real estate, 'due diligence' is the name given to the process that most buyers undertake to ensure that the home they are purchasing meets certain standards for safety, soundness, and value. Generally, buyers will work with their real estate agent to perform a series of inspections, verifications, and research into the property, its background, and even the surrounding neighborhood.
Common elements of the due diligence in the homebuying process include a professional home inspection, title search, official appraisal, land survey, as well as the homebuyers' personal investigation into the overall location and any other questions they may have about the property. Additionally, during this time period the homebuyer will be expected to acquire insurance on their new home.
As a whole, due diligence isn't legally required—it's for the benefit of the homebuyer. If issues become evident, it may be possible to renegotiate the terms of the offer or back out altogether before closing. But once the home closes and the deed is transferred, there may be little you can do as a buyer.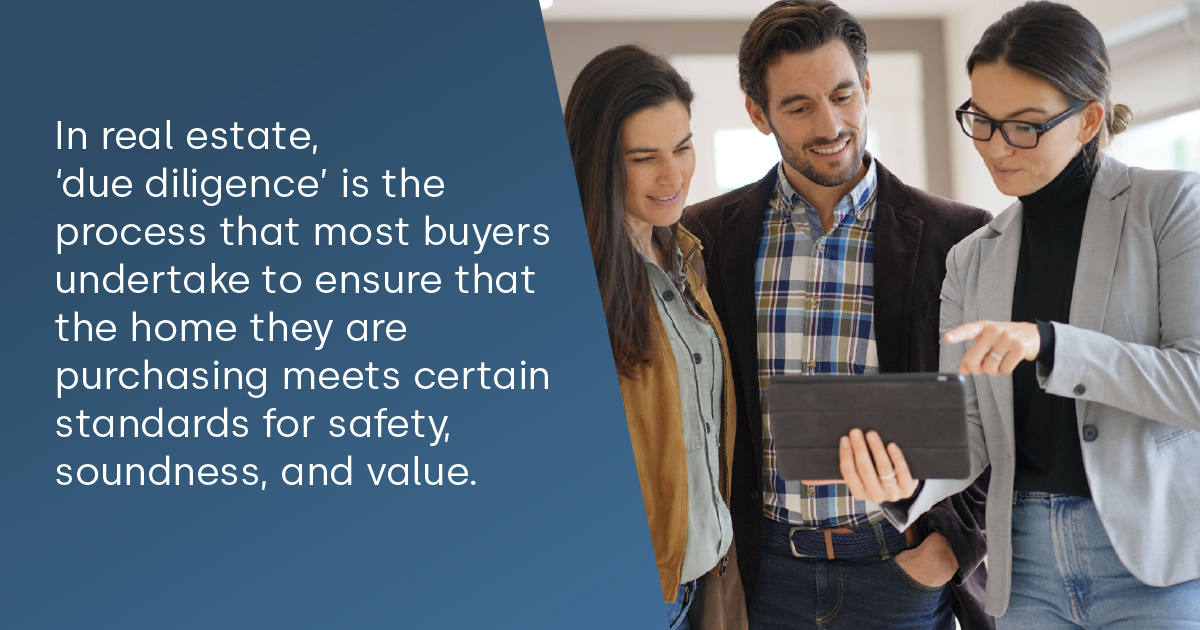 What Happens During the Due Diligence Period?
During the homebuying process, due diligence is usually confined to a short period of time between when an offer is accepted and before everything needs to be in order for closing. In Florida, buyers usually have 15 days from the time an offer is accepted to complete the home inspection (a major part of the due diligence process), and most other elements of due diligence will be done in this same time frame. Because typical closing periods last 30-45 days, this allows for plenty of time for possible price renegotiation before the mortgage application is finalized.
Let's take a look at the individual components of this process.
Home Inspection
Home inspections are not required, but strongly recommended. During a home inspection, a professional inspector will take a close look at all the house, including its windows, walls, roof, foundation, plumbing, and electrical and HVAC systems. Inspectors in Florida also look for wood-destroying organisms like termites, though you may also hire a specialist for this purpose. After the inspection, the inspector will supply you with a detailed report that lists any problems that they uncovered or potential concerns.
If your offer had an inspection contingency, you can legally back out of your offer, request repairs, or renegotiate the selling price if major issues arise during inspection. If you choose to waive the inspection contingency, you can still ask for an inspection, but you can't change your offer based on the outcome.
Home Appraisal
Home appraisals are required by your mortgage lender if you financed your home. Home appraisals assure your lender that the home is worth as much as it was purchased for, protecting them from potential losses should you default on the loan. During turbulent times for home prices, appraisals can be an especially useful tool.
Appraisers will view the home, compare it to recent similar sales, and come up with an estimate of how much they believe the home is worth. As we discuss in our blog "The Appraisal Process," an appraisal "is highly educated and informed, but there's no guarantee that the estimate will match the market value of your home." When appraisals come back high, it might leave the seller with regret, but it's not an issue for the mortgage company. When they come back low, that's when problems can arise. There are lots of reasons why an appraisal could be lower than expected: Appraisers may pull comparisons from less-desirable neighborhoods, they could be relying on data which quickly became outdated, or they could simply be discovering that a house isn't as valuable as the seller (and the buyer) think.
If a mortgage approval is threatened by an appraisal, there are a few recourses: lower the selling price, come up with the difference in cash, or try to get another appraisal. Your real estate agent can work with you to determine the best path for you.
Title Search and Insurance
Because homes are such valuable assets, they may become entangled in legal disputes, have undiscovered liens for unpaid taxes or loans against them, or have unknown persons who can claim partial ownership. Additionally, the title or deed to a home may contain inaccuracies (or even forgeries!) that need to be addressed before it can change hands. These are just a some of the reasons why conducting a title search and purchasing title insurance is an important part of the due diligence process.
While we outline title searches in great depth in our post, "What Does The Title Company Do In A Real Estate Transaction?", the purpose of the search is to "look for any obstacles that could prevent the sale from going through." In addition to verifying information on the title companies look for outstanding loans or liens on the property, judgements or unpaid taxes, unpaid homeowner's association due, leases, restrictions, and easements. Once everything is complete, they will issue a title abstract and an opinion of the title.
Who pays for title insurance depends on the county of sale—sometimes it is split between the buyer and seller, sometimes it is paid by the buyer, but it's often paid by the seller in Florida. Title insurance is a requirement for most lenders and can protect both the lender and the buyer from issues that arise from a bad title, including disputes on property ownership, boundaries, or undiscovered liens.
Property Survey
As with most aspects of the due diligence process, a survey isn't required—unless a mortgage company requests. Real estate agents, inspectors, appraisers, and title companies will usually rely on existing data about property boundary lines when conducting their services. However, surveys are certainly an important part of the buyers' due diligence process, as they can uncover discrepancies and help you avoid future disputes with neighbors.
Whoever requests or requires the survey—the buyer or the seller—will usually pay for it. Your agent can arrange the survey, and a surveyor will visit the property with current details in hand, verifying every boundary, corner, and geological feature for accuracy. Possible discoveries include the property being smaller or larger than originally known, property structures or neighbor property structures crossing boundary lines, potential flood or erosion issues, or easements containing inaccurate details. Additionally, if you plan on adding new structures to the property, the survey can provide topographic information that can be useful in finding an appropriate location.
Homeowner Research
In addition to the standard due diligence procedures, homeowners may choose to do their own research about the property. Some of the following should be done before putting in an offer (we'll talk more about this later), but if your offer happened quickly, it's still a good idea to learn more about the following, to put your mind at ease and prepare to move to your new home:
Schools
Neighborhood conditions
Location
HOA rules and fees
Zoning regulations
History of flooding
Local crime trends
Criminal or unusual activity on the premises
While you can't simply back out of a deal for many of these reasons (without losing your deposit, at least), if other issues arise (for instance, a bad inspection), an unfavorable discovery that you make about the home may be the tipping point for re-evaluating your desire to buy it. It's important to remember that no home is perfect, but taking this time to do your own due diligence can help you be sure you are making the right choice for your family.
Purchasing Homeowners Insurance
Though expensive, homeowners' insurance is necessary for financed homes, and in Florida (a state prone to more extreme weather), an important way to protect one of your biggest assets.
If you are getting a loan, you'll need to have these details in place before final approval. But even if you aren't, this period is a great time for getting this step completed. Not only will it mean that your home is covered from day one, it is also a good idea to get a handle on new, ongoing homeownership expenses.
Practice Due Diligence During the Entire Homebuying Process
While 'due diligence' is an official period in the home buying journey, your due diligence—in the general sense—should be an integral part of the whole process, starting before you make an offer.
Whether you're a first-time homebuyer, or an existing homeowner rusty on the homebuying process, there are a few steps crucial to being diligent homebuyer these include:
Hiring a real estate agent. Perhaps the biggest and most important step in doing your due diligence. While you can try to do everything yourself, a real estate agent will guide you step by step through the homebuying process and ensure that your rights as a buyer are protected.
Getting preapproved or prequalified. Before you can start seriously looking, you need to make sure you are financially ready to buy a home and have a firm understanding of your budget. A preapproval is a good first step. The more rigorous prequalification, where income, assets, and debts are verified, is often necessary for sellers to take your offer seriously.
Getting to know the area where you want to live. Before you look for homes, save time by doing research about potential neighborhoods, schools, amenities, traffic patterns, and other local characteristics first.
Finding the right mortgage. Working with a lender, learn about your different loan options to find the best choice for your current and ongoing needs. Discuss interest rates, and whether a fixed or variable rate loan makes the most sense. If you may have trouble qualifying for a conventional mortgage, research other options including FHA loans. Buying a luxury property? You might need a jumbo loan if conventional loans won't cover the purchase price.
Not taking on new debt or depleting savings. Between the time you are prequalified and the time you close on your home, your approval isn't finalized. Based on the financial conditions at the time of application, if you make any major financial changes, you could risk losing your home.
Understanding homeownership costs. From HOA fees to ongoing maintenance, the true cost of homeownership goes beyond your mortgage payment. Knowing what to expect is essential in preparing financially to be a responsible homeowner.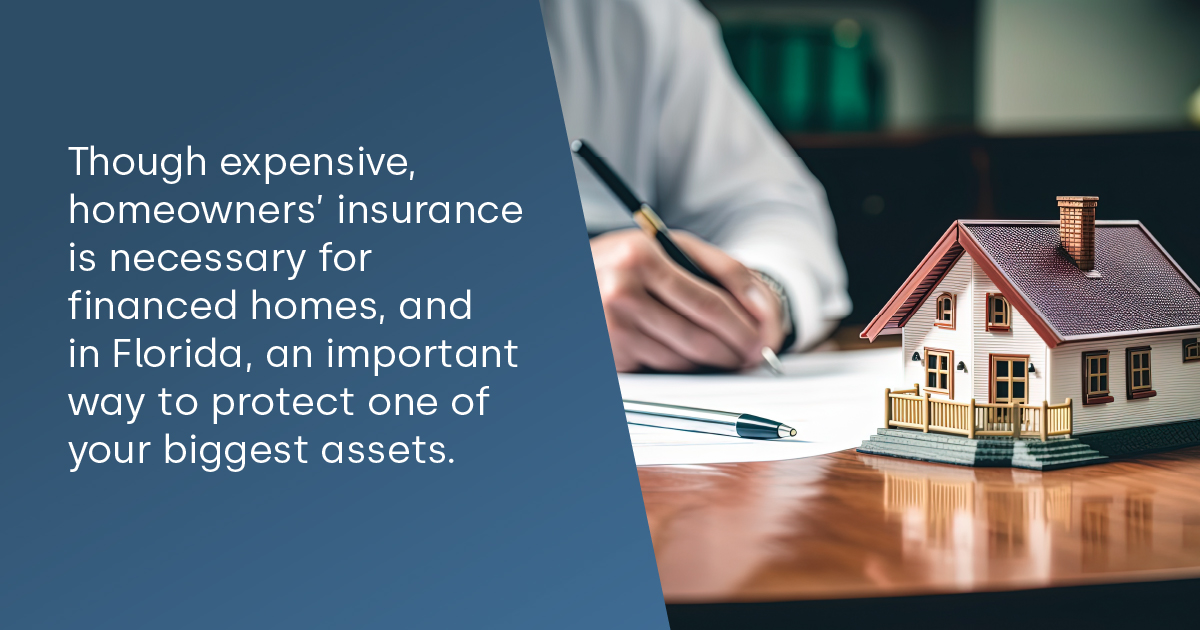 When You May Need to Exercise Extra Due Diligence
Over the course of this post, we've mostly focused on the traditional homebuying experience, when you have a buyer and a seller, each represented by a licensed real estate agent, and a home sold through the residential real estate market.
However, when purchasing a for-sale-by-owner (FSBO) home, a foreclosure, or short sale, these circumstances require additional time, effort, and patience in order to protect yourself as a buyer and be sure that you are not getting more than you bargained for.
For-Sale-By-Owner Homes
As a buyer, even when you purchase a home where the seller isn't represented by an agent, your real estate agent will still be able to assist you, performing title searches, inspections, and other typical verification procedures. Because an agent isn't listing the house, it may not be as "ready for showing" as other, represented homes, and there could be more cosmetic, mechanical, or structural issues. Additionally, listing prices arrived at without a professional opinion could be higher than actual home values, causing problems for appraisals. With FSBO homes, it's important to take the time for each step in the due diligence process.
Foreclosed Properties
As we write in our post "What To Know About Buying A Foreclosed Home", "For property bargain hunters, there are few homes more enticing than a foreclosure. But a great price often comes with a catch–endless red tape, possible hidden costs, and competition from other buyers." For these reasons, it's essential to do your research on potential properties, from checking titles to doing a thorough visual inspection, before making an offer on a foreclosed property. In a hot housing market, there are fewer deals to be had with foreclosures, and for many buyers it's not worth the added risks for lower payoffs.
Short Sales
Lastly, a short sale is when a seller sells a property for less than what they owe on their mortgage. In other words, the sale price falls "short" or the mortgage balance, and the seller will need to make up the difference. Lenders must approve short sales, and it can be a lengthy process. Additionally, the home will be sold as-is—the biggest risk of the process. As with a foreclosure, before purchasing a short sale home, you'll need to take additional precautions to make sure you are aware of any issues with the condition of the property.
Let a Trusted Realtor Guide You Through the Homebuying Process
The homebuying process is complex, with many stages and steps along the way. Even experienced buyers may be overwhelmed with the number of details that go into a successful home purchase.
Helping you find the right home is only the first step in a realtor's job—ensuring a smooth purchase process, from offer to closing, is just as important. At Showcase Properties, we are experienced in the unique rules and procedures of the Central Florida communities we serve and will work hard to protect your interests and help you navigate your home purchase with ease.
Looking to buy a home in Marion County or Alachua County? Reach out to an Ocala or Gainesville Realtor today.